Under 140 Characters
The Grandeur Pizza at KODE is priced at ₹5000 and for good reason. It contains gold, lobster, black truffles and caviar. 
What Is It?
KODE in Kamala Mills, Lower Parel might be famous for their 3-course meal cocktails, but coming from the same creative geniuses is the Grandeur Pizza which is possibly the most expensive pizza you can find in this town.
The Grandeur Pizza is 'grand' in all its account. It contains gold plating, lobsters, Oscietra Caviar and Black Truffles (extremely hard to find ingredients). It is priced at ₹5000, and the taste is well worth it!
Also read: Zorawar Kalra's KODE Is The New Addition To Mumbai's Social Scene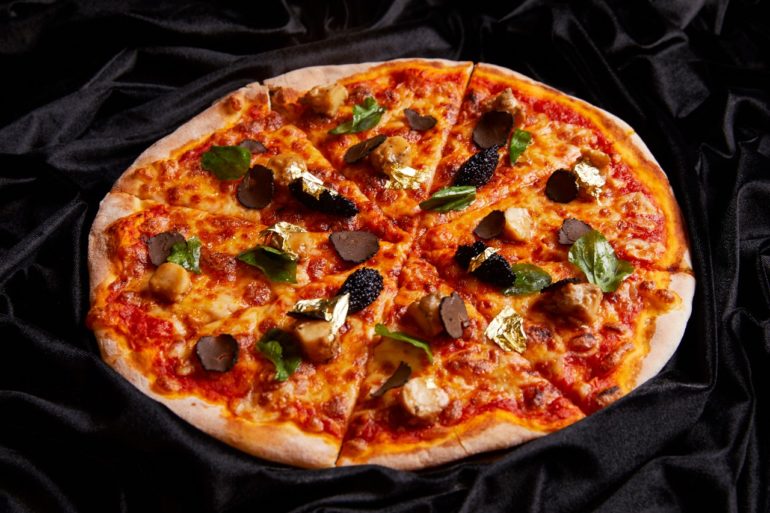 About KODE
There's a lot that's different about KODE. The concept of freestyle cuisine and a curated cocktail tasting menu. KODE also claims to have the largest selection of whiskies in all of India.
What To Eat? 
KODE calls itself a cuisine agnostic modern 'freestyle' bar & kitchen. If that isn't enough to pique your curiosity, then the names of the dishes definitely will. There's the delicious avocado carpaccio with bell pepper drops (₹395), the shrimp cocktail with cucumber Carpaccio (₹425) and the togarashi and garlic olives with chives crème fraiche (₹180). KODE promises to be a culinary destination where innovation and tradition are both honored.
Also read: Spend A Day In Kamala Mills With These 6 Unique Restaurants
What Else?
KODE will give you an amazing culinary experience. They have a vamped up menu dedicated to eggs including eggs coated with chicken served with creamy béarnaise, pickled onions and micro greens. The Kale salads are also one of a kind including Bombay Salad Co, Suzette, Ministry of Salads. 
Among the pizzas, you can try out the Turkey, Mexican Pizza, Italian Pizza, Indian Pizza, Bulgogi Pizza from Korea, that won't dig a major hole in your pocket. Specializing in the fries section, KODE serves Sweet Potato, Bacon, Truffle and Parmesan, Lobster Poutine, Soggy Four Cheese fries too. 
Deets
Where: KODE, Gate No 4, Kamala Mills Compound, Lower Parel, Mumbai 400013
Phone: 077188 82924
Approx cost: ₹2400 for two people
LIKE Curly Tales on Facebook | Instagram | Twitter
You can subscribe to our newsletters