Tired of the usual wine and dine plans? This year, you could indulge in some unique plans or even surprise your bae with an exciting idea for V-day. We've got some excellent tips for you and your SO to enjoy plus have a romantic time in Mumbai. So here are some ideas to spend Valentine's day with your bae in Mumbai –
1. Dine Under The Stars With Taj
Taj Land's end is here with an exciting new menu to ensure you and your bae have a sizzling hot date. Imagine sitting under the stars with the person who means the entire Universe to you! As you listen to the waves of the Arabian Sea and enjoy the cool breeze, the warm hospitality of Taj will ensure you have a fabulous evening at the Alfresco. Hand-picked by the executive chef himself, the exquisitely crafted spread of exceptionally marinated grills and barbeque will add the right amount of spice to your date. Wash it down with an eclectic collection of the finest single malts, wines, and cognacs!
Also read: 6 Romantic Winter Getaways In India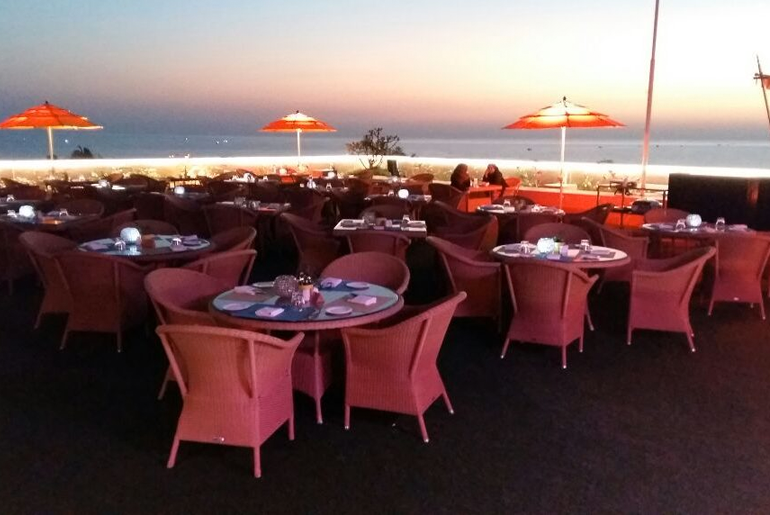 Where: Alfresco, Vista, Taj Lands End
Time: 7:30 PM Onwards
How Much: ₹3,000 (For Buffet)
2. Helicopter Ride At Pawan Hans
Celebrating V-day at the height of 1000 feet is surely an experience you won't forget. Enjoy the panoramic beauty of Mumbai while you're sitting across your partner. The briefing before the flight will involve some regular security procedures but when you're in the air, it will feel like a once in a lifetime chance. 
P.S – The time slots are bound to change so make sure you keep yourself updated.
Book here
3. Dine In The Middle Of The Sea
Ark Deck Bar, anchored in the middle of the sea offering a spectacular view of the city skyline. Welcome to a new concept of dining! Ark Deck Bar in Bandra has firmly anchored itself into the Arabian Sea and will give you a wonderful experience of floating on the Mumbai waters while you enjoy delicious food. With an extraordinary food and lounge vibe, Ark Deck and Bar boasts of an ambiance that is futuristic, vibrant, intriguing and inviting.
Also read: Mumbai Welcomes A Floating Restaurant In The Middle Of The Sea
Address:  Bandra-Worli Sealink, Mumbai, Maharashtra 400050
Phone: 079755 82052
Approx cost: ₹2000 per person (5 pm to 8 pm) & ₹3000 (8 pm to 1 am)
4. Set Sailing In Mumbai's Waters With Bae
Contrary to popular belief, yachting in Mumbai isn't an expensive affair! Get off the shore and celebrate the special day on the yacht for as little as ₹1300 per person. You can now get a glimpse of Mumbai's picturesque shorelines and be treated to a sight of Mumbai's skyline. So make it as special as you would like and watch the sun melt into the ocean.
Also read: You Along With Your Friend Can Win A Free Sailing Service Experience In Mumbai
The sailing services are on from 7 am to 9 pm but the most recommended ones are the morning sunrise cruise from 7 am to 9 am or an evening one at 4 pm to 6 pm. There are many companies offering sailing services in Mumbai. But we booked ours through Oyster Sailing Services
5. Head For A Romantic Getaway At Radisson Karjat
Now we all know of the good ol' Radisson Alibaug, but here's a new addition from the Radisson family. Drive down for a holistic experience. Located just beyond city limits, Karjat is famed for much more than just its vada-pav. We suggest the Radisson Blu Resort and Spa. The resort boasts world-class service and they're on point. Sparkling pools and manicured landscapes await you. The resort has 102 rooms and villas and the staff is committed to providing a stress-free environment.
Also read: 12 Luxury Resorts Near Mumbai To Check Out For The Long Weekend
Cost per night: Approx INR 6300 per night
Address: Village – Khandpe District – Raigad, 410201 Karjat India
Contact: +91 2148 240240
Website: https://www.radissonblu.com/en/resort-karjat
6. Rent A Private Villa In Mumbai
Relax in seclusion or host an exclusive party, at this lush private villa just outside of Mumbai. RiverRock in Panvel is luxurious farm-stay overlooking a lazy river. A quintessential retreat less than a 2 hour drive from both Mumbai and Pune, and set in tranquil nature. It's perfect for a quiet romantic getaway, rejuvenating family vacation or a Lively Celebration. RiverRock is the perfect place to leave the life and the ways of the city behind and have a dialogue with nature.
Also read: A Private Getaway Abode Just Outside Mumbai With An Outdoor Jacuzzi Awaits You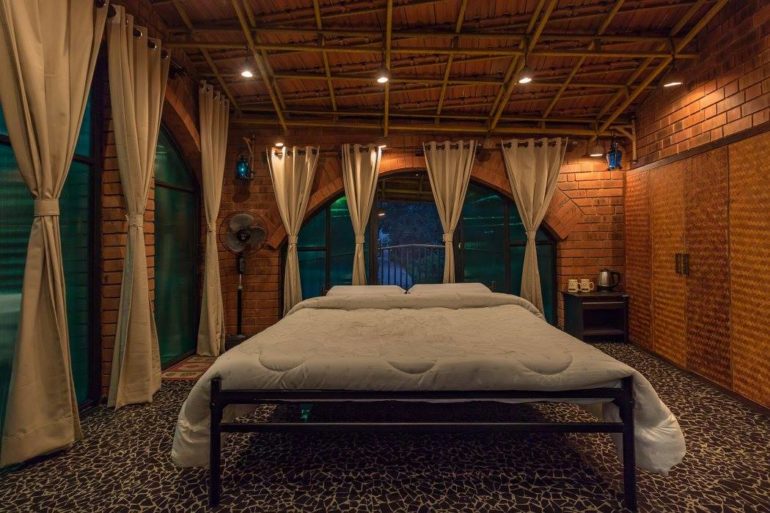 Price: Daily tariff for the villa is about ₹7000-8000 [incl. of breakfast]
caretaker available on property.
Contact: 084240 40040
Where: RiverRock, Kalle rd, Karnala, Maharashtra.
Click here to book
7. Get Goa Vibes In Mumbai With Estella, Juhu
Estella doesn't only serve some amazing food and cocktails, but it gives you the best view of the sunset. It could turn into a serene place to go out on a romantic date with bae. Visit Estella to hit the pause button on life and unwind with a relaxing sea breeze.
Also read: 5 Restaurants In Mumbai That Will Take You Back To Goa
Address: Nichani Kuttir Building, Juhu Tara Road, Juhu, Mumbai, Maharashtra 400049
Timings: 6PM–1:30AM
Phone: 079999 98232
8. Go On A Hot Air Balloon Safari
Lonavala offers a hot air balloon ride that would be perfect to spend the special day. Book a ride in Lonavala to surprise your bae! Get 'high' by taking the trip of your life with this hot air balloon safari. Whether you're planning to pop the question this V-day or preparing for a special date, this would be super romantic!
Also read: Try A Hot Air Balloon Safari Just A Few Kms Out Of Mumbai
Price (Per Person) on weekdays: ₹9,800
Price (Per Person) on weekends: ₹12,000
Duration: One hour
Book here
9. Visit A Vineyard Resort
Sula goes 'Beyond' its old resort and opens a new heritage winery resort. The Source At Sula is near the Gangapur lake in Nashik. The Source At Sula is a winery resort with a Tuscan twist offering 23 rooms. Rooms here are bifurcated into different categories depending on the wonderful views they provide. Each room here is built to give a spectacular vineyard experience. Besides this, you can also chose to stay in one of the 4 tree houses and feel closer to the nature.
Also read: Sky Villa In Sula Is An Ultimate Luxury Experience That You Just Can't Miss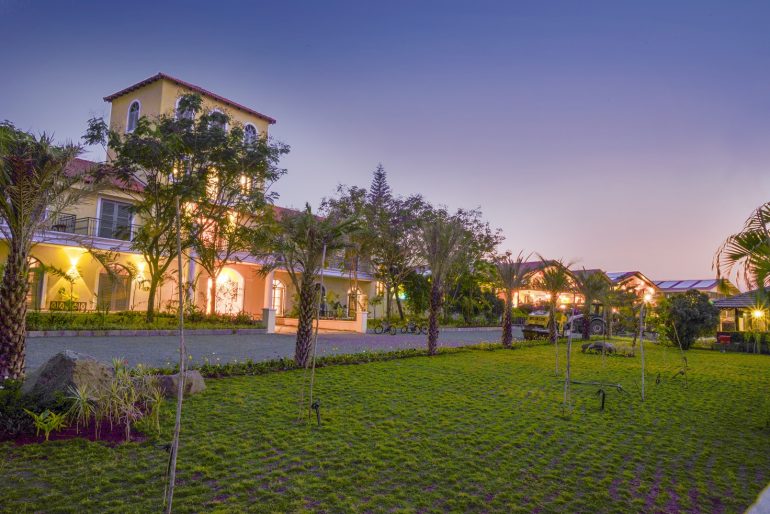 Doubles at ₹6,500
Address: Gat 36/2, Govardhan Village, Off Gangapur-Savargaon Road, Nashik, Maharashtra 422222
Contact number : +91 78755 55735
LIKE Curly Tales on Facebook | Instagram | Twitter
You can subscribe to our newsletters