On 13 June 2011, Etihad operated its first flight with an Emirati female pilot on board. That was the first time Salma Al Baloushi stretched her wings and flew her first flight- EY 091 from Abu Dhabi to Athens. Well, this might have been 10 years ago, but the fact that we're still talking about it makes it an episode that will go down not just in Etihad's history, but also in the UAE.
Vatika and Curly Tales salute such history makers. In fact, GCC's leading haircare brand, Vatika Naturals has launched a campaign 'Vatika Voices' to empower women in the GCC. The brand aims to help women by listening to their powerful stories and helping them achieve their dreams. The aid provided by the brand will differ from person to person. The brand will ensure to help the women with just one aim – Empowering Women to shape the future of our society.
In the past, Vatika has also worked with popular and powerful Arab Celebrities and Influencers like Haifa Beseisso, Rima Zahran, Jood Aziz, Tamara Farra, Renee Farah and Yara Aziz and collectively, the brand has celebrated these powerful women and their success stories. And now, Vatika presents to you the story of Salma Al Baloushi stretched. Read on to know more about her journey.
On Becoming The First Woman Rising To First Officer's Rank
Al Baloushi was the first female Emirati to graduate from the airline's cadet program as a co-pilot. Back then, Al Baloushi lead the way in expanding the female Emirati community and remains an inspiration to many women out there to date. She joined Etihad in 2007 after she completed her initial training at the Horizon International Flight Academy in Al Ain. She studied the basics of flying, navigation and other techniques associated with aviation.
After this, Salma spent some time in Etihad's A320 full-flight simulator and after about 18 months she became the first Emirati female pilot to graduate alongside nine male colleagues. "It was such an honour to be awarded with the rank of First Officer. I can only hope my accomplishment encourages many of my Emirati sisters and brothers to push the boundaries and reach their goals", she said in an interview with the Arabian Business.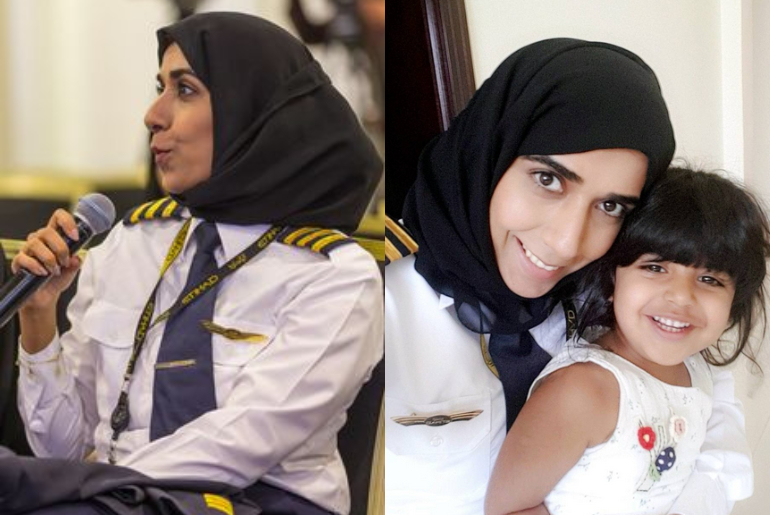 The Moment That Sparked Her Passion For Aviation
While she has been an inspiration to many women, little did she dream of a career in aviation. She recalls seeing a picture of the first Emirati female pilot, Captain Aysha AlHameli, and saying to herself – "One day I'll be someone, something, in this country." She then went on to study nursing. During this time, her grandmother was admitted to the same hospital she was training in. Salma remembers hugging her grandma to ease her back pain. Her grandma said she felt like she was flying and said she wished she could see her fly someday. Two days later, she passed away.
At the same time, she heard that Etihad Airways had announced that it was offering aviation scholarships. She felt it was all a sign. Salma then quit her nursing job to pursue aviation and never looked back.
The First Flight
The first time is always special because it happens just once. Salma flew a plane for the very first time on her birthday and knew then that this was something she wanted to do for the rest of her life. It was the first time she actually learned to drive anything. It's been 15 years, but Salma still feels the same thrill and joy every time she sits on the pilot seat.
Well, while becoming a female Emirati pilot has brought her laurels, it certainly was not a walk in the park. Just like most other fields, aviation is also considered a male-dominated industry and Salma had to walk on eggshells to ensure she achieved her goal.
"People kept telling me aviation was not for me, or this field was only meant for men, but my batch mates believed the opposite. It's exhausting, but with the right support of your family, your company and a good understanding of the work environment, it's possible," Salma said in an interview with Emirateswoman.
View this post on Instagram
Today, Salma is not just a pilot, but also a doting mother to her children. Juggling career and home is something all women need to do at some point and a little support from family and friends makes the process easier. Thankfully, Salma was blessed with all of it. Her husband's involvement in caring for her kids helped her devote more time to her career.
"People felt I would have to choose between my career and family. But I love both my work and my family and it is support at home, from my husband, my family and from my batch mates, that has helped me focus on my job," she said.
Lessons From Flying
Salma says experiencing Mother Nature's power-up in the air, has humbled her and helped her clear her mind. Passing through clouds is very different from merely staring at them from the land because you experience turbulence every time you pass through one and that helped her dive deeper into morals and values in life.
*This article is written with inputs from Emirates Woman & The Arabian Business.*