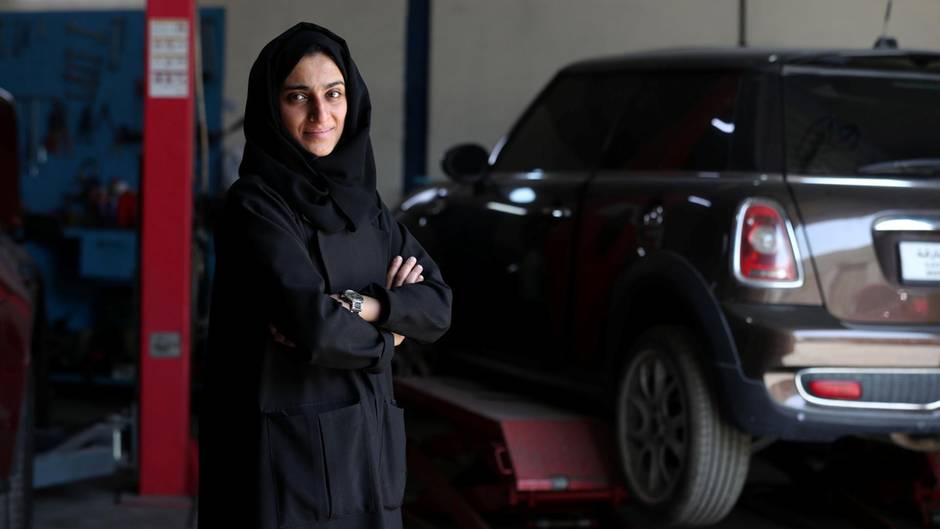 Gone are the days when women were confined to the kitchen and were expected to handle household chores. Today, women have overcome odds and have achieved their dreams. While the challenges and situations might be different, one thing that remains intrinsic to womanhood is grit and determination. And that has led them to carve a niche in a wide range of fields
Vatika & Curly Tales team up to launch the Vatika Voices- an initiative to shed light on women in GCC who have made the world sit up and take note. As a brand, Vatika has always stood for and encouraged women to be and live their Natural best. This campaign aims to build a community which understands, appreciates and acknowledges beauty from the inside. Women empowerment is the need of the hour and we at Vatika want to help accelerate the movement. 'Vatika Voices" will give women an opportunity to express their challenge to achieve their dreams and we will help them fulfill their goals.
Women are going that extra mile today, to fulfill their dreams. In fact, recently, a young Emirati made heads turn after becoming the first Emirati female car mechanic. Huda Al Matroushi is one of the very few Emirati women in the UAE who owns and runs a garage. She made the UAE proud and in fact, she also received a phone call from his highness Sheikh Mohamed bin Zayed Al Nahyan. The 36-year-old always had a passion to fix engines, from toy cars to Toyotas.
However, making her way in a male-dominated industry might have been a huge challenge. Read on to find out how she derived confidence to become what she is and to shine in front of the world.

A Passion Turned Into Profession
Even as a child, Huda had a passion to fix anything, not just toys or cars. She lay on ben wondering why and how things worked the way they did. In an interview with Khaleej Times, Huda recalls trying to fix her cousin's broken car and being up until 2 am. She would then miss school the next day because she would be tired. It was from then that she developed a compulsive need to fix things.
"It wasn't just cars. It was everything. I wanted to know why a toy would stop working and I would try to fix it. I would put a working toy next to one that wasn't working and try to figure out why," she told The National.
After high school, she wasn't accepted in university because of her low grades. Her father then told her she had to try for herself and learn to stand on her own feet. Those words stayed with her forever and helped her differentiate between the right and wrong and solve problems on her own.
Huda later studied for her master's degree in management leadership. Today, Huda is determined to change the game and break the myth that women can work only in certain industries.
In her teens, she spent hours in garages learning how to fix cars. After finishing her graduation, in 2017 she became a licensed broker fixing cars for customers. Her ambition was to open her own car repair shop and her family was fully supportive of her dreams. Huda saved up enough to start her own business and in 2020 she opened her own garage, Imex Car Service, in Sharjah. She became the first Emirati woman to own a car repair shop in the UAE.
Breaking Gender Stereotypes & Starting Her Own Garage
With an undying passion right from her childhood, Huda firmly believes that women can do whatever they want today and can prove their worth in any field.
Initially, Huda faced a lot of challenges when she spoke about her passion. Most people reacted in a way that is normally expected. People told her that this path was going to be very difficult and not an easy one for women to sustain. However, Huda did not let anything come her way. She took all the advice that was thrown at her, put at the back of her mind and chased her dreams with passion.
"It isn't just about opening a hairdresser or a sweet shop – women can be in any field they want, and I would like to see more women in the auto industry."
One day, she walked up to her father and said she plan a layout for a garage. Her father instantly asked who's garage she was talking about. Huda then told him it would be her own garage. While her family was supportive later on, her father initially had a lot of apprehensions about how a woman would run a mechanic shop. Huda however convinced him saying the job was not just for men, but for anyone who loved cars and liked to know more about them.
" I have to fix things — that's my nature. I am a winner or a learner — but never a loser".
Challenges Of Being A Female Car Mechanic
It's not very often that we see female car mechanic and Huda did get second glances when her customers saw a female fixing cars. However, she never let it affect her. During her free time Huda would visit industrial areas in Sharjah and Dubai to understand the process of repair. People would ask her what she was doing in an area like that to which Huda would reply that this was her hobby. Besides, Huda also spends a lot of time underneath the car, understanding why a car part would stop working, depth the warranty.
Traditionally, being a mechanic is a business that only men have been a part of. Customers are often taken aback when they see an Emirati woman running a car repair shop. In fact, she even recalls that one of her customers tried to hang up the call, after he realized it was a woman who owned the garage. Huda was surprised at first, but later laugher over the episode.
"I had one customer call me and try to immediately hang up when he found out I was a woman and owned the garage."
That said, most of the mechanics in her garage are men. Huda calls them her second family and steps in even if they volunteer to change parts or fix something. "I tell them this is my work, how will they judge it if they don't get to see it themselves", she told the Khaleej Times.
On Her Phone Call With HH
Huda received a phone call from Sheikh Mohamed bin Zayed Al Nahyan, crown prince of Abu Dhabi and their conversation went viral on social media. Speaking to Huda, HH said: "I am proud of you." This took her by surprise and her happiness knew no measures. Little did Huda expect a call from someone like that. HH also told her that she was a powerful woman who can reach anywhere if she puts her mind to it. To this Huda said she absolutely will.
Future Goals & Ambitions
Apart from running her own garage and being successful in her business, Huda hopes to open a workshop for children to teach them how to fix toy mechanical engines. She urged that children these days spend most of their time on electronic devices and she would love for them to move away from screens and be interested in how things work and how to fix them on their own.
*This article is written with inputs from The Khaleej Times & The National*