The Internet is now a melting pot for viral food trends, many of which are just indigestible. Giving ice cream rolls a bad name, many of these viral reels prove that pretty much any dish— burger, pizza, dosa, idli-sambhar— can be smashed, mixed with milk and turned into instant ice cream. Following suit is a viral Chole Bhature Ice Cream, which believe us, is what nightmares are made of. Warning: If you watch the viral reel below, you can't unsee it.
Chole Bhature Ice Cream Video Goes Viral
Instagram food page @cravingseverytime posted a reel of Chole Bhature Ice Cream. Ironical for "cravings every time" to post this video as we don't anyone would anytime crave this dish. Anyways, the video shows a person cutting a delicious crispy, fluffy bhatura. He cuts them into small pieces. Then, he tops the pieces of bhature with chole, pickled carrot and chilli.
View this post on Instagram
At this moment, you'd probably think it's a deconstructed take to the popular chole bhature, and even forgive him for the same. But here's where there's no going back for the comfort dish. In a not-so-comforting, more like horrifying step, the vendor goes on to add milk to the mixture. Next, he blends it using a spatula, flattens it and finally makes ice cream rolls out of it. The light-brownish, grainy texture of ice cream rolls, would leave you almost nauseated.
Also Read: 5 Places To Eat The Best Chole Bhature In Delhi
Netizens Say 'Sooryavansham Kheer Is Better Than This'
Finally, he serves the Chole Bhature Ice Cream Rolls on a plate and garnishes it with more chole, sliced onions, green chilli and pickled carrot. In no time this abomination went viral, garnering 5733 likes and many comments. One Netizen hilariously comments that they'd prefer the Sooryavansham kheer with poison over this. Another summed the dish up in one word — disgusting.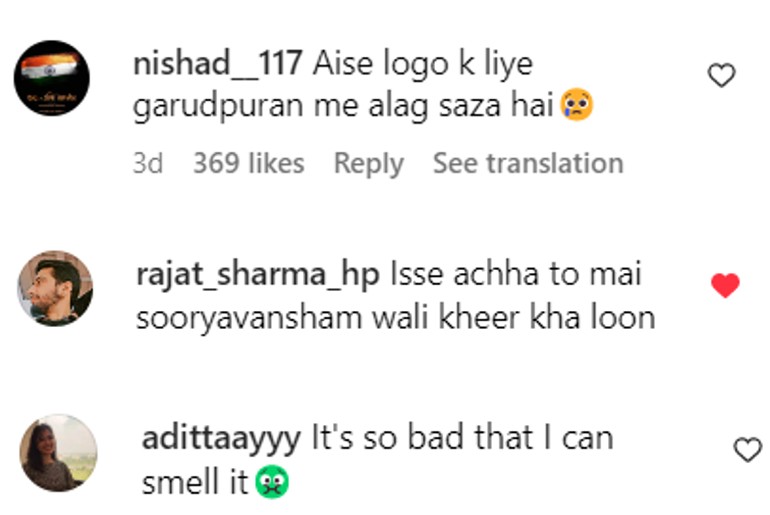 Also Read: Choosing Chole Bhature Over An English Breakfast, The Legend, Monty Panesar, Is A Desi At Heart!
Yet another Instagrammer comments that the end is near. A Netizen also comments from the movie Aparichit that there is a separate punishment for such crimes in the Garud Puran.
Well, what do you think about this chole bhature video? Do you think you can ever unsee it?
Cover Image Courtesy: @cravingseverytime/ Instagram