Under 140 Characters



Replicating the pod-hotel experience from Singapore, Mumbai gets India's first cheap & chic Pod Hotel, UrbanPod. Introducing a brand new concept to the Indian Hospitality Space.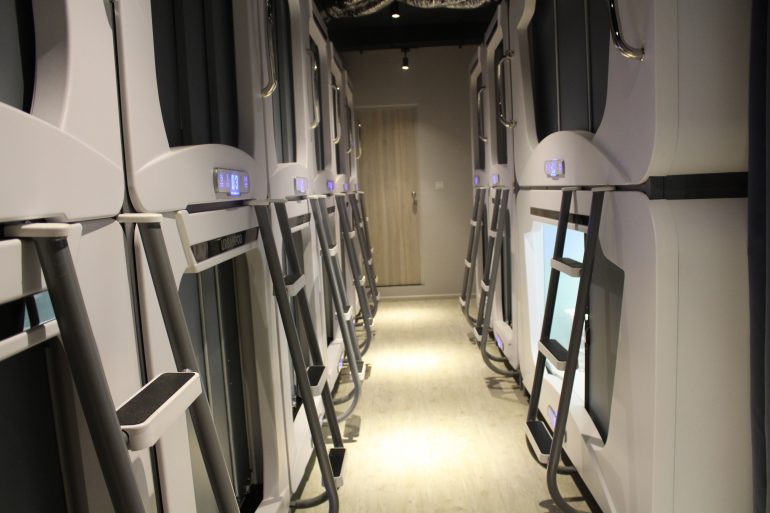 What Is It?
Stay smart and optimize your travel spends without compromising on quality, comfort & style. UrbanPod is ideal for new-age smart travellers who are looking for affordable, hygienic & a safe place to stay in. Pod hotels are more like a modern day hostels where a room shared with many other guests. But here's a twist: convert each bed into a futuristic self contained pod capsule with a cozy bed, touch button panels, LED lighting, your personal TV and a lot of privacy.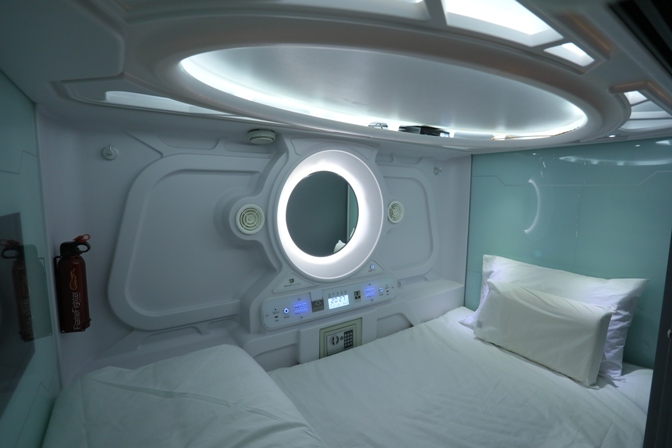 With a rapid increase in the number single-travellers, transit travellers, backpackers, pod hotels is clearly the need of the hour. It is for those who are looking to explore and experiment with practical & stay smart options to optimize their spends rather wisely. But if you are all about luxury and indulgence, this one is NOT for you. It is for those who are UP for uniques experiences.
Urban Pod is strategically located at an easy 5 km from Mumbai airport in Andheri Seepz.
How does it work?
With a total of about 140 pods, UrbanPod offers suite pods, private pods, classic pods for men & an exclusive ladies pod. With your key card, you can enter the room and use the card in your individual pod to access & operate lights, air conditioning, electricity plug points and television.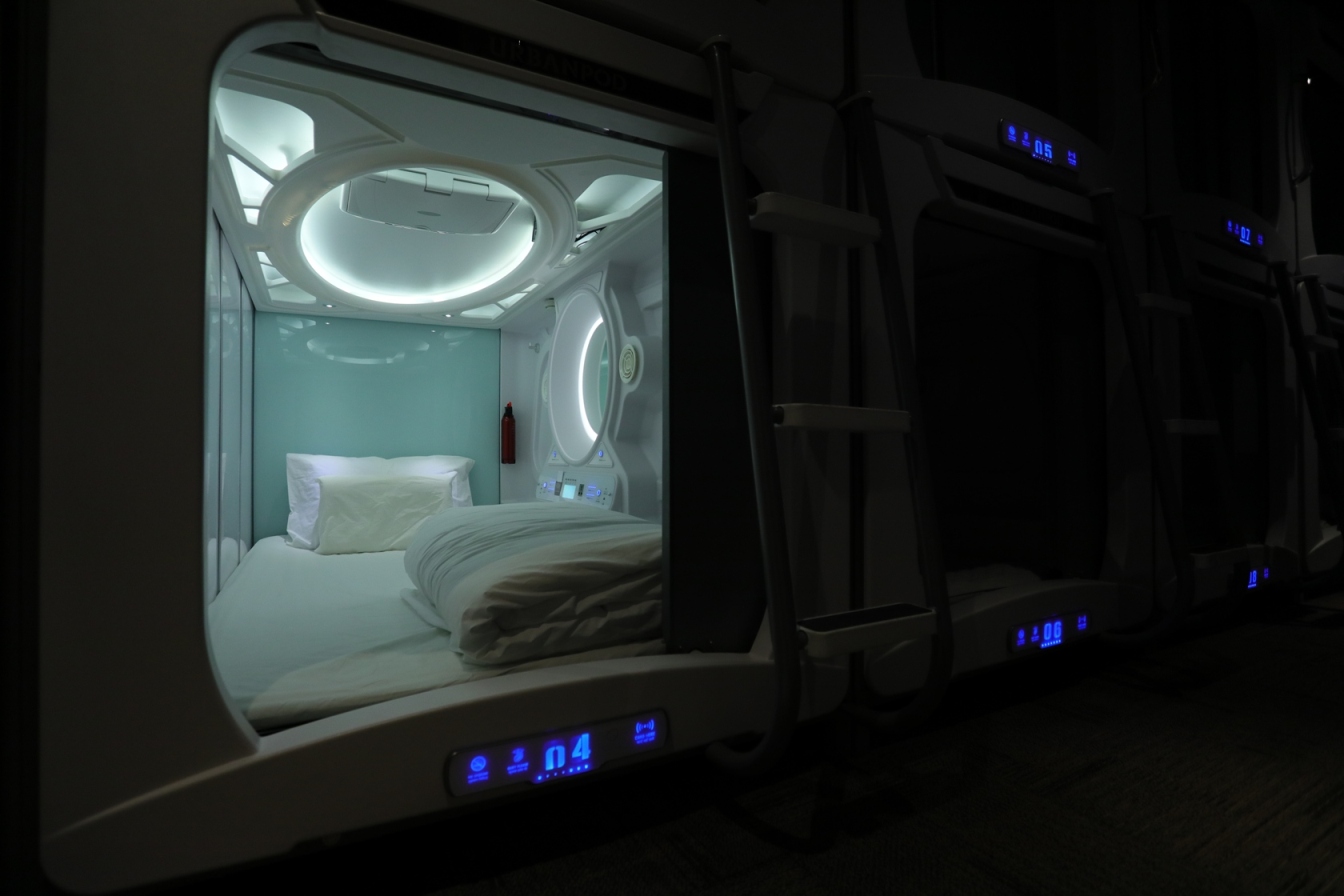 It is also a great arena to network as there is a common area which works as a restaurant, lounge and a business centre.
What's in it?
With a total of about 140 pods, each individual pod is self-contained with modern, technologically-superior interiors. Owners Shalabh Mittal & Hiren Gandhi brought the concept to India along with their Singapore-partner, Berlin Lee. Lee brings in experience in terms of running Pods in Singapore.
The modern architectural design & interiors have been done up by renowned Architect Firm from Singapore, Formwerkz.  Each pod comes with:
1. A cosy bed/ bed cover (3.5 ft X 6.5 ft)
2. Personal Locker
3. Plasma TV (with headphone facility)
4. Personal reading light
5. Power socket
6. Hangers
7. Dresser (Wall mirror)
8. Free Wi-Fi
9. Adjustable air-conditioning facility
10. Air-purifier (for pure air circulation)
11. A sliding door (shutter) with locking-facility for added privacy
12. Smoke detector
13. Fire Extinguisher
There clearly isn't enough place to stretch yourself but you will love the coziness around.
URBANPOD : India's First Pod Hotel In Mumbai

A common phenomenon in Singapore, pod style hotel comes to Mumbai, India. Watch our #InAMinute video of Urbanpod by Kamiya Jani VermaRead full story here: http://curlytales.com/mumbai-gets-indias-first-cheap-chic-pod-hotel/Insta: curly.tales | Twitter: CurlyTalesBlog

Posted by Curly Tales on Friday, 10 March 2017
Apprehensions?
1. Will you feel claustrophobic?
No, I did not. It has got an air purifier & an air conditioner.
2. Will you be sharing your room with others?
Yes. But you can lock your pod and enjoy privacy. There are exclusive set of pods for the ladies.
3. Do you have a private washroom?
No, each room which is shared with 11 other guests have a common washroom. But they are as clean and chic as the pods.
4. Can I eat inside the pod?
No, not allowed. You are only allowed to eat at the common area.
Any more questions, please write to me on hey@curlytales.com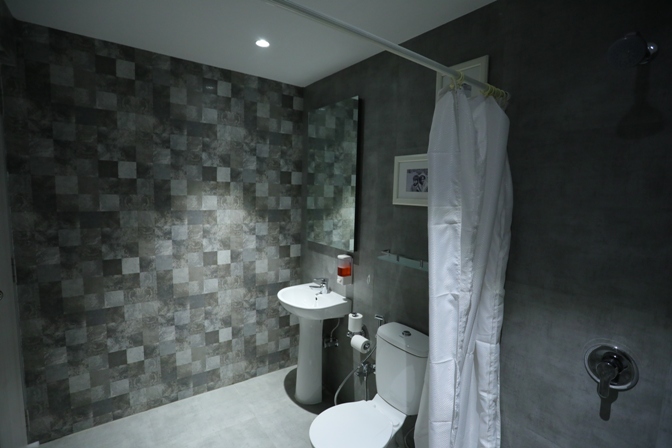 Verdict by Miss Jani
If you are someone who looks at a hotel as a place to only sleep, UrbanPod is perfect for you. It is actually so cool that I wouldn't mind spending my entire day here but I would need a really good book or a movie to keep me engaged. There are no windows or doors in here but a wall mirror. So if you don't mind your own company (well, I don't), consider booking yourself here. For a price of Rs 2000 a night, I would give it a thumbs up and probably 4 stars out of 5 for a new concept. I only wish it could have a private bathroom for myself.
Deets
Where: UrbanPod, Seepz, Andheri (East) Mumbai
How Much: Rs 2,030 – Rs 2,600 per night for single occupancy (breakfast included)
LIKE Curly Tales on Facebook | Instagram | Twitter
You can subscribe to our newsletters.
For my posts, also add:
LIKE Kamiya Jani on Facebook | Instagram | Twitter