The 'paneer samaj ke khaja' joke may be old, but the sad reality behind it still persists for all the vegetarians in the city. Gastronomic delights for the herbivores may not come easy unless it's the occasional occurrence of restaurants like Ranveer Brar's GourmART. But once in a while, you find delectable vegetarian food in some swanky, some quaint, some authentic, some plain gorgeous spaces in Mumbai. In a city, where every corner boasts a plush new restaurant, we give you five that have a palatable vegetarian menu.
1. Farmers' Cafe, Bandra
Bandra is now home to yet another health bar. However, this one does not come with salad bowls. Farmers' Cafe is where pizza and burgers are delicious, healthy, and vegetarian. The cosy cafe that has found its place opposite Bombay Salad Co. has given the western superfoods a run for their money. Avacado, flax seeds and brown rice still remain the first loves of health-freaks, but Minali Ghaba wants you to actually consider your grandmother's healthy remedies.  From dates, rajgira, coconut milk and jaggery, she tries to imbibe all the Indian-ness in her vegetarian/vegan/gluten-free menu. Meat-lovers can find in a few options too. So, dive right in to enjoy the wholesomeness topped with a whole lot of delish at Farmers' Cafe.
Also read: 5 Newly Launched Veg Restaurants In Borivali Every Vegetarian Must Check Out
Where: Pali Hill, Bandra West
Approx Cost: Rs.1000 for two people
2. South High, Lower Parel
South meets West in Mumbai's newest South Indian eatery. All the way from Kerala, Karnataka, Tamil Nadu and Andhra, South High is not only a place to discover real authentic flavours but also caters to the likes of vegetarians and non-vegetarians equally. Softly steamed idlis, interesting dosa variations, crunchy vadais paired with Chettinad spices, rich coconut gravy, served on Banana leaves – at South High, you will experience the real Southern India. That's not all at the new Lower Parel restaurant has, they have the perfect cocktails to go with your Idli and Vada. A classic Cosmo with your Quick Gun Murugan Idli may not be the best idea, but a Namma Mary will just do the trick.
Read more: South High Restaurant & Bar Opens At Lower Parel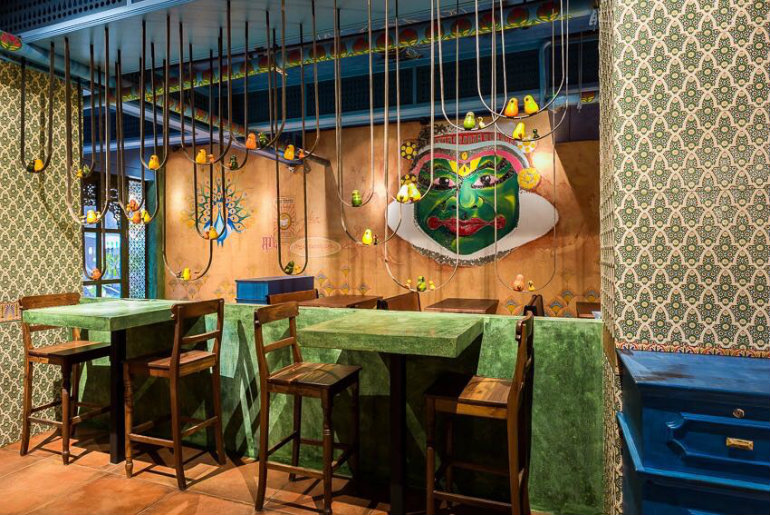 Where: Trade Tower, Senapati Bapat Marg, Lower Parel, Mumbai
Approx Cost: Rs.750 for two people.
3. Plenty, Fort
Food for the soul is a real thing. There's no greater joy than a plate of food that brings with it a fuzzy feeling. One bite and you're home. That's the idea behind Plenty Cafe. Following suit from its parent restaurant – Food For Thought, Plenty has plenty of vegetarian dishes to savour. Breakfast, hot bowls or large plates, Plenty has you covered. You may not find hundreds of books to read from, but this Fort Cafe definitely makes up for it with their food. Fluffy Pancakes to Vietnamese glass noodles, Ramen to Mushroom Pappardelle, Plenty tugs the right strings when it comes to comfort food.
Where: Samachar Marg, Fort, Mumbai
Approx Cost: Rs.1,300 for two people.
4. Candy and Green, Breach Candy
Al-fresco dining, a wooden deck and a terrace garden that houses home-grown micro-greens. Candy and Green is doing their bit to promote sustainability and at the same time gives you a taste of the freshest ingredients in their hearty meals. A multi-cuisine, all-veg restaurant, sounds like the stuff of dreams right? But Candy and Green checks all the boxes when it comes to Italian, Mexican and Mediterranean cuisine. The European Bountiful Board with cheese logs, chives and onion dip, the Kale Crumble Tart, or the Sesame Soba Noodles, Candy and Green does not disappoint with their nutrient packed enticing dishes. Head to the bar for cold-pressed juices and their house cocktails made with fresh fruits. 
Also read: Try Out The Funkiest Loaded Cocktails At Candy & Green
Where: Hub Town Sky Bay, Bhulabhai Desai Road, Breach Candy, Mumbai
Approx Cost: Rs.1600 for two people.
5. Aharveda, Andheri 
Vegetarian often goes hand-in-hand with a vegan diet and when you look up vegetarian, you are offered a host of new vegan eateries. Let that not disappoint you, because you're in for a guilt-free, healthy lifestyle. Going one step further in the guilty-free genre is Dr. Harish Shetty's Aharveda. Served on a silver platter are rice rotis, a roasted potato and corn cutlet, besan chura, rasam, cauliflower sabzi and sukka suran (elephant yam) and a serving of kheer – The Aharveda Thali. If you'd rather pick from their multi-cuisine menu, you can choose anything from a vegan pizza, a Hawaii Salad or their Mexican Platter. Let the variety of cuisines not fool you. Aharveda is not only about delicious food, it's an extension of the philosophy that promotes peace-keeping in your body. Besides the curation and preparation of the food, the decor of the place is also Vedic inspired.
Read more: Andheri Gets A Nutritious New Addition With Aharveda
Where: Opposite Shoppers Stop, 7 Bungalows, Andheri West
Approx Cost: Rs.500 for two people
LIKE Curly Tales on Facebook | Instagram| Twitter
You can subscribe to our newsletters