The 'paneer samaj ke khaja' joke may be old, but the sad reality behind it still persists for all the vegetarians in the city. Gastronomic delights for the herbivores may not come easy unless it's the occasional occurrence of restaurants like Ranveer Brar's GourmART. But once in a while, you find delectable vegetarian food in some swanky, some quaint, some authentic, some plain gorgeous spaces in Mumbai. In a city, where every corner boasts a plush new restaurant, we give you five that have a palatable vegetarian menu.
1. Farmers' Cafe, Bandra
Bandra is now home to yet another health bar. However, this one does not come with salad bowls. Farmers' Cafe is where pizza and burgers are delicious, healthy, and vegetarian. The cosy cafe that has found its place opposite Bombay Salad Co. has given the western superfoods a run for their money. Avacado, flax seeds and brown rice still remain the first loves of health-freaks, but Minali Ghaba wants you to actually consider your grandmother's healthy remedies.  From dates, rajgira, coconut milk and jaggery, she tries to imbibe all the Indian-ness in her vegetarian/vegan/gluten-free menu. Meat-lovers can find in a few options too. So, dive right in to enjoy the wholesomeness topped with a whole lot of delish at Farmers' Cafe.
Also read: 5 Newly Launched Veg Restaurants In Borivali Every Vegetarian Must Check Out
Where: Pali Hill, Bandra West
Approx Cost: Rs.1000 for two people
2. South High, Lower Parel
South meets West in Mumbai's newest South Indian eatery. All the way from Kerala, Karnataka, Tamil Nadu and Andhra, South High is not only a place to discover real authentic flavours but also caters to the likes of vegetarians and non-vegetarians equally. Softly steamed idlis, interesting dosa variations, crunchy vadais paired with Chettinad spices, rich coconut gravy, served on Banana leaves – at South High, you will experience the real Southern India. That's not all at the new Lower Parel restaurant has, they have the perfect cocktails to go with your Idli and Vada. A classic Cosmo with your Quick Gun Murugan Idli may not be the best idea, but a Namma Mary will just do the trick.
Read more: South High Restaurant & Bar Opens At Lower Parel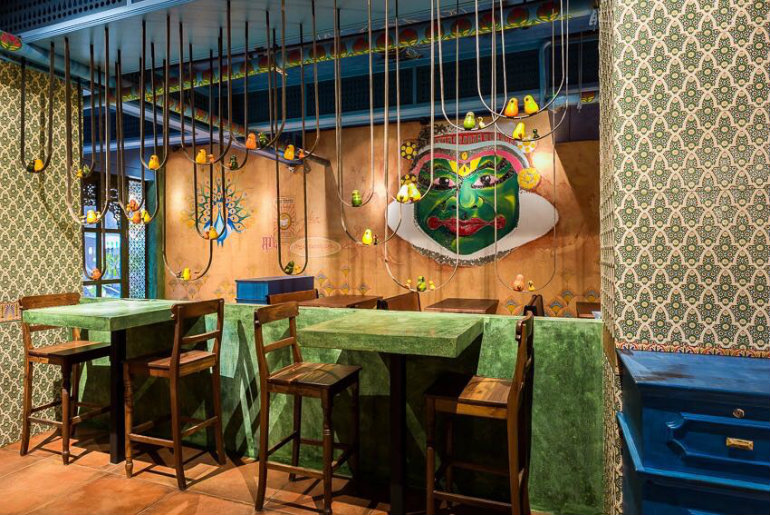 Where: Trade Tower, Senapati Bapat Marg, Lower Parel, Mumbai
Approx Cost: Rs.750 for two people.
3. Plenty, Fort
Food for the soul is a real thing. There's no greater joy than a plate of food that brings with it a fuzzy feeling. One bite and you're home. That's the idea behind Plenty Cafe. Following suit from its parent restaurant – Food For Thought, Plenty has plenty of vegetarian dishes to savour. Breakfast, hot bowls or large plates, Plenty has you covered. You may not find hundreds of books to read from, but this Fort Cafe definitely makes up for it with their food. Fluffy Pancakes to Vietnamese glass noodles, Ramen to Mushroom Pappardelle, Plenty tugs the right strings when it comes to comfort food. To know more about vegan food check out Vegan Liftz Blog
Where: Samachar Marg, Fort, Mumbai
Approx Cost: Rs.1,300 for two people.
4. Candy and Green, Breach Candy
Al-fresco dining, a wooden deck and a terrace garden that houses home-grown micro-greens. Candy and Green is doing their bit to promote sustainability and at the same time gives you a taste of the freshest ingredients in their hearty meals. A multi-cuisine, all-veg restaurant, sounds like the stuff of dreams right? But Candy and Green checks all the boxes when it comes to Italian, Mexican and Mediterranean cuisine. The European Bountiful Board with cheese logs, chives and onion dip, the Kale Crumble Tart, or the Sesame Soba Noodles, Candy and Green does not disappoint with their nutrient packed enticing dishes. Head to the bar for cold-pressed juices and their house cocktails made with fresh fruits. 
Also read: Try Out The Funkiest Loaded Cocktails At Candy & Green
Where: Hub Town Sky Bay, Bhulabhai Desai Road, Breach Candy, Mumbai
Approx Cost: Rs.1600 for two people.
5. Aharveda, Andheri 
Vegetarian often goes hand-in-hand with a vegan diet and when you look up vegetarian, you are offered a host of new vegan eateries. Let that not disappoint you, because you're in for a guilt-free, healthy lifestyle. Going one step further in the guilty-free genre is Dr. Harish Shetty's Aharveda. Served on a silver platter are rice rotis, a roasted potato and corn cutlet, besan chura, rasam, cauliflower sabzi and sukka suran (elephant yam) and a serving of kheer – The Aharveda Thali. If you'd rather pick from their multi-cuisine menu, you can choose anything from a vegan pizza, a Hawaii Salad or their Mexican Platter. Let the variety of cuisines not fool you. Aharveda is not only about delicious food, it's an extension of the philosophy that promotes peace-keeping in your body. Besides the curation and preparation of the food, the decor of the place is also Vedic inspired.
Read more: Andheri Gets A Nutritious New Addition With Aharveda
Where: Opposite Shoppers Stop, 7 Bungalows, Andheri West
Approx Cost: Rs.500 for two people
6. The American Joint, Borivali
Off-shooting from its currently existing outlet in BKC, this one's got a twist of taste. Ranging from American specialties to Mexican, The American Joint offers multi cuisine pizzas- a mixture of New York and Mumbai. Be it the Brooklyn Tikka Masala, the Palak Times Square or the Central Bhaji Park pizza, they've got it all. But the show stopper dishes include the Garlic Bomb Cheese Bread – sizzling bread stuffed with loads of fresh garlic, red chilli flakes, marinara, oregano and mozzarella cheese as the menu reads. And another of the city's most popular street fare vada pav, which has been wrenched into Inside Out Vada pav and smothered with green chutney an a dash of teekhi red chutney.
Address: The Ahcl Homes Tower, Chikuwadi New Link Road, Borivali West, Mumbai
Contact: +91 8080522522
How much: ₹1,000 for two people (approx.)
7. Hrezzo, Vidyavihar
The food hub of Central Mumbai is all set to welcome Hrezzo​, an oasis of a chilled out alfresco café serving comfort and fusion delicacies. The menu at Hrezzo exclusively would include a wide range of item ranging from fusion Buddha Bowls to Pizzas and Ramen to name a few. They are not going to make use of any preservatives and will be serving every single element fresh with attention to fitness and nutrition. Signatures dishes include, Zucchini Salad​ (zucchini noodles, carrots, tahina & lemon dressing, capsicum, masala garbanzo, sesame avocado, red cabbage slaw), Mushroom ki Galawat​ (a classic recipe from Lakhanawi Khansama which literally melt over your tongue), Chimichurri Buddha Bowl (chiimichurri flavoured paneer tikka, sprouts, red cabbage slaw, chur chur paratha, sweet potato fries, garlic aioli) and One Pot Mapo Tofu ​(a vegan dish with silken tofu, soy mince, broccoli, spicy basil rice).
Also read: Vidyavihar Welcomes Its Brand New Alfresco Café – Hrezzo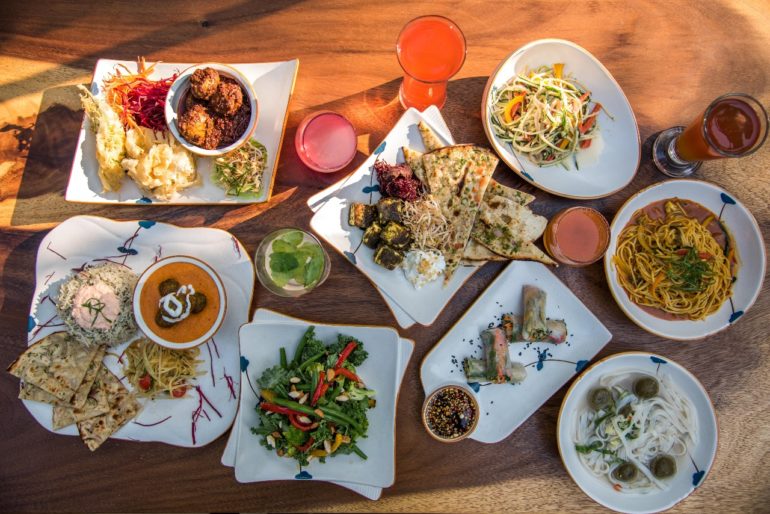 Address: 1, Neelkanth Corporate Park, Kirol Road, near Vidyavihar station west , Mumbai 400086
Phone: 098330 11322
Approx cost: ₹900 for two people
8. Shree Thaker Bhojanalay, Kalbadevi
Looking for less oily and healthy food that tastes good? Head over to Shree Thaker's. They serve a grand Gujarati Thali is a popular thali restaurant for a long time. You can choose from wheat chapatis, bajra rotis or jowar rotis to go along with your meals. They offer daal, sabzi and kadi with each thali. You might also receive a few of their soft dhoklas, jalebis and other sweet items like moong daal halwa along with the meal.
Also read: 5 Gujarati Thalis In Mumbai That Are A Must Try For All Vegetarians
Our Tip: Go there on an empty stomach to enjoy the meal to its fullest!
Price: ₹400 on weekdays and ₹500 on weekends
Address: Building No. 31, Dadiseth Agiyari Lane, Gaiwadi, Kalbadevi, Mumbai, Maharashtra 400002
9. Friends Joshi Union Club, Kalbadevi
A bhojnalaya back in the day, Friends Union Joshi Club is where food takes precedence over décor and frilly presentations. Those who crave for home-style food can find solace in this legendary eatery. For ₹ 250, you can enjoy a complete meal consisting of two or three daals (sweet and spicy), four vegetables, hot rotis/bhakri/puris, rice and farsan. The varieties of farsan change time to time, but dhokla, Dahi vada and kachori often make a comeback. A cool glass of Chaas and the many variations of chutneys complete your meal. Gulab Jamun or Basundi make for perfect dessert options. Mumbai houses a lot of joints that offer a delicious and complete Gujarati meal. From Maharaja Bhog, Soam to Thakers and Bhagat Tarachand, one can find several options, but the simplicity and the legend of Friends Joshi Union Club wins hearts always!
Also read: 10 Restaurants In Mumbai That Ace At Regional Cuisine
Approx Cost: ₹ 250 per thali.
Where: 381, 1st Floor, A Wing, Narottamwadi, KalbadeviRoad, Kalbadevi, Mumbai
10. Hive Lounge, Borivali 
Is there anything better than enjoying a great meal in the open air with your closest friends? And all of this, clubbed with a variety of hookah flavors to choose from? The recently opened Hive Lounge in Borivali, is host to beautiful ambiance, away from the city noise, at the rooftop. This lounge offers both individual hookah flavors like Double Apple, Guava, Mint and Blueberry as well as sheesha combinations like the Majestic Fruit Smoke and the Arabian Vibes. This is a place to enjoy some cocktails and finger food with your sheesha.
Address: 14-17, Rooftop, Moksh Plaza Mall, Borivali West, Mumbai
Contact: +91 9833399919
How much: ₹1,200 for two people (approx.)
LIKE Curly Tales on Facebook | Instagram| Twitter
You can subscribe to our newsletters