قد يكون إرسال البشر في رحلة إلى عالم آخر هو الإنجاز النهائي لبرنامج الفضاء. لكن هذه الرحلات صعبة للغاية، وتستغرق عدة سنوات من التدريب للقيام بهبوط آمن. من المؤكد أن تصبح رائد فضاء ليس شيئاً هيناً! بالرغم من ذلك، لم توقف مثل هذه التحديات النساء من السير نحو أحلامهن ورؤوسهن مرفوعة.
وتتقدم ڤاتيكا وكيرلي تيلز بتقديم التحية لهؤلاء النساء من خلال حملة تسمى"أصوات لها حكايات". تتعاون ڤاتيكا مع كيرلي تيلز لإطلاق مبادرة "أصوات لها حكايات" وهي مبادرة تسلط الضوء على النساء في دول مجلس التعاون الخليجي اللواتي يعملن على ترك بصمتهن في العالم.
لم تتردد الإمارات في تشجيع النساء على تحقيق أحلامهن. في الآونة الأخيرة، اتخذت البلاد خطوة جديدة نحو الريادة العالمية في مجال استكشاف الفضاء. أعلن صاحب السمو الشيخ محمد بن راشد آل مكتوم، حاكم دبي، أسماء رائدي الفضاء الإماراتيين الجديدين اللذين سيشكلان الدفعة الثانية من برنامج الإمارات لرواد الفضاء. ومن بين هؤلاء أول رائدة فضاء عربية نورا المطروشي.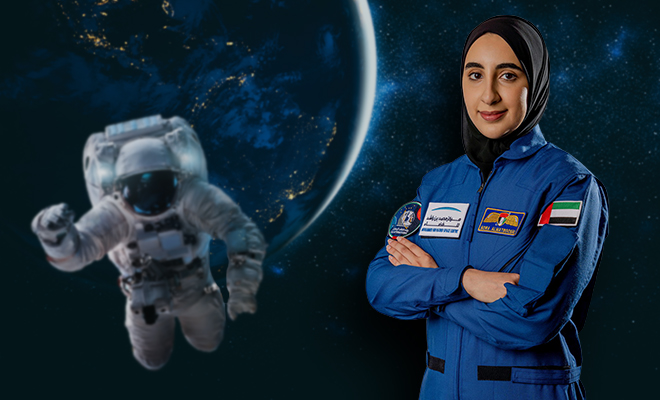 عندما كانت طفلة، استمتعت نورا بالتحديق بالنجوم ودروس الفضاء
أعلن الشيخ محمد بن راشد آل مكتوم، نائب رئيس الدولة رئيس مجلس الوزراء في دولة الإمارات العربية المتحدة، السبت 10 أبريل، لمجتمعه على تويتر، الفائزين اللذين تم اختيارهما للمشاركة في مهمة الفضاء العربية المقبلة ، وهو قرار اتخذ بعد 7 خطوات صارمة. عملية الاختيار بين 4305 مرشحا.
We announce the first Arab female astronaut, among two new astronauts, selected from over 4,000 candidates to be trained with NASA for future space exploration missions. Congratulations Noura Al Matrooshi and Mohammed Al Mulla. pic.twitter.com/bfyquyzqAJ

— HH Sheikh Mohammed (@HHShkMohd) April 10, 2021
اعتبارًا من اليوم، تواجدت في الفضاء 65 امرأة فقط في جميع أنحاء العالم، ونورا المطروشي، في طريقها لتصبح رقم 66. تم اختيار نورا البالغة من العمر 28 عامًا من بين أكثر من 4000 متقدم ومن المقرر أن يبدأ التدريب مع برنامج رواد الفضاء التابع لناسا. ولدت المطروشي عام 1993، وكان لديها شغف بالفضاء وعلم الفلك منذ سن مبكرة جدًا. لقد استمتعت بالذهاب إلى فعاليات مشاهدة النجوم عندما كانت طفلة. وكانت دروس الفضاء هي المفضلة لديها في المدرسة. حملت هذا الشغف إلى الأمام وحلمت بأن تصبح أول رائدة فضاء إماراتية.
نورا حاصلة على درجة البكالوريوس في الهندسة الميكانيكية من جامعة الإمارات العربية المتحدة وهي أيضًا عضو في الجمعية الأمريكية للمهندسين الميكانيكيين. تشمل إنجازاتها المهنية إدارة المشاريع الهندسية لشركة بترول أبوظبي الوطنية (أدنوك). كما شغلت نورا منصب نائب رئيس مجلس الشباب لمدة ثلاث سنوات متتالية في الشركة الوطنية للإنشاءات البترولية.
تفوقت نورا في الرياضيات والهندسة، كما احتلت المرتبة الأولى في أولمبياد الرياضيات في الإمارات العربية المتحدة 2011. مهندسة في الشركة الوطنية للإنشاءات البترولية، كانت نورا أيضًا نائبة رئيس مجلس شباب الشركة لمدة خمس سنوات. لديها سجل طويل من العمل التطوعي والتميز في مجال العلوم.
نورا تستوحي حلمها من نيل أرمسترونج، أول إنسان يمشي على القمر. تعيش بشعار "افعل ما يجعلك سعيدًا". بالحديث عن أحلامها، تعترف نورا بأنها تريد رفع اسم الدولة ووضع الإمارات العربية المتحدة في أعلى مكان في مجال استكشاف الفضاء.
على المستوى الشخصي، تطمح المطروشي إلى تطوير قطاع الفضاء في دولة الإمارات العربية المتحدة بشكل أكبر والهبوط في النهاية على القمر على متن مركبة فضائية إماراتية.