If you live in the UAE, impromptu travel plans are no biggie. Wanderlusts, here's some great news for you. Airline companies have granted us brand new flight routes for us to explore the world better. Here's a list of flight routes that have been introduced from the UAE this winter! Happy holidays!
Flydubai has started service to the land of gooey Italian Pizzas – Naples! The airline would be flying 3 times a week from Dubai International Airport Terminal 3. The land is renowned for its cultural magnificence, beautiful landscapes and for its notable association with Pizzas. Here are other pizza places in Dubai that give serious competition to the original. Consider this Italian gem for your next getaway with this budget carrier.
Time to Destination:
6h 30m (Direct Flight)
Krabi
Starting December, FlyDubai would be running services to Krabi daily. Krabi is a striking natural phenomenon in the heart of Thailand. The route is operated via Yangon in Myanmar and it would commence on December 10th. The flight is a codeshare service with Emirates Airlines hence would be boarding from Dubai International Airport Terminal 3. Speaking of which, did you know about these 10 things you can do at Dubai Airport to kill time?
Time to Destination:5h 35m to Yangon, 8h 35m to Krabi
Mexico
Picturesque beaches with palm fringes, spicy Mexican food, deep dark jungles, colourful villages, festive fireworks – Mexico evokes a variety of tourist experiences. Emirates Airlines announced operations starting from December to Mexico. Since Mexico Airport is at a high altitude, the flight would be via Barcelona, another gem of a destination. The service starts in the month of December, just in time for Winter Break travel! Speaking of which, if you wish to indulge in some crazy Mexican cuisine – head to ZOCO!
Time to Destination: 22h 45m (Layover in Barcelona)
Budapest
Budapest is one of the most celebrated cities in the world when it comes to its history. It is also crowned as a food capital by globetrotters over the years. FlyDubai launched direct flights to this Hungarian address from October. Since FlyDubai is a budget carrier – your travel plans to Budapest just got a whole lot better (and affordable)
Time to Destination: 5h 55m (Direct Flight)
Vienna
Vienna is a centre that been linked to music with prominent names like Mozart, Beethoven etc. for ages. They are also renowned as to be one of Europe's most prosperous cities in terms of history. Air Arabia began operations to the address much recently. The carrier operates in Vienna across four days in a week.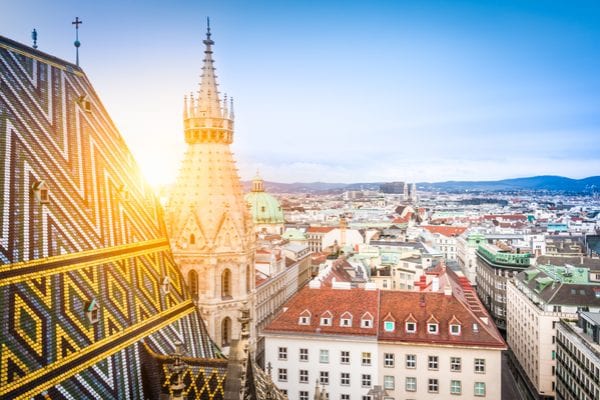 Time to Destination: 6h 0m (Direct Flight)
Kuala Lumpur
Kuala Lumpur is a magnificent city sporting some of the most scenic locations. From the tall, grand skyscrapers, colonial structures, inviting locals, and an abundance of natural attractions – the city is a complete package. Air Arabia started services to Kuala Lumpur earlier this year. The budget carrier flys out daily from Sharjah International Airport. Malaysia is a popular getaway choice amongst family-friendly destinations.
Time to Destination: 7h 0m (Direct Flight)
Tunis
Renowned for its sandy beaches, sunshiny weather and affordable extravagances, Tunisia offers its tourists a wide range of attractions from its cosmopolitan capital Tunis to the ancient Carthage ruins and coastal resorts. Air Arabia launched a direct flight from Sharjah to Tunis, Tunisia's capital city earlier this year. With this, Air Arabia made its establishment in Morocco stronger in addition to its services to Casablanca. The flight operates 3 days a week – Tuesday, Thursday and Saturday.
Time to Destination: 7h 10m (Direct Flight)
Tashkent
Flydubai began operations to Tashkent, Uzbekistan earlier this year. They pioneered as the first UAE-based aircraft to provide direct flights to the city. Tashkent, the city lives the story of how the city rebuilt itself from the ruins in 1966 when they were struck by the worst natural calamity since time. Today, the city sports a charming scenery of restored mosques and ancient Russian architecture alongside grand structures and sculptures. The flight takes off 5 times a week to the glorious city.
Time to Destination: 3h 30m
Phnom Penh
Phnom Penh is Cambodia's vibrant, busy capital. It is also the country's cultural, commercial and political centre. Visitors can explore the magnificent temples, palaces, and remnants of its colonial history in France. Consequently, Emirates direct operations between Dubai and Bangkok will be complemented by the daily operation between Dubai and Phnom Penh via Bangkok.
Time to Destination: 9h 40m
Sochi
Located on the Black Sea, Sochi is an amazing city that blends beautiful scenery, vibrant architecture and tranquil beaches with a spectacular backdrop of dense forests and great mountains. Flydubai started two weekly flights to Sochi, Russia from the month of June. The flights run each week on Mondays and Fridays. As a matter of fact, Flydubai is the first budget carrier is the UAE based provider to extend services to Sochi.
Time to Destination: 3h 50m