The Dalai Lama rightly said 'Once a year, go somewhere you have never been before.' This very quote has thoroughly inspired me to travel to some new place every year and immerse myself in the culture and experiences of that place in a budget-friendly manner. I am  Pallavi Rangavajhala, an avid reader, foodie, traveller and an IT professional residing in Mumbai. Apart from travelling, I really like indulging in sketching, painting and embroidery. For the creative soul in me, I like picking up inspirations of colours and creativity from my travel outings. So this year, to satisfy the globetrotter in me, I embarked on a Europe trip with my friend. And here's my memorable journey in the gorgeous continent.
Travel Trip To Europe
A hardcore movie buff, Bollywood films like the iconic DDLJ, Queen, popular romcom Hum Tum sparked my interest in the fascinating European countries. This thought, ultimately took shape and overwhelmingly turned into reality. Accompanying me on this Europe trip was my friend, who prefers to remain unnamed in this article. So let me just lovingly call her, 'the girl who has no name'. But my friend loves travelling as much as I do. So we decided to plan this trip in utmost detail. We contacted a few travel agents and we were unhappy with the exorbitant rates that they charged. So we decided to do our own research, make our own itinerary, contact friends living in Europe and who have already travelled to Europe, to give us some tips and just embark on our own adventure which would be both super exciting as well as budget-friendly. So, we went on a 12-day trip to Europe, where we visited the Netherlands, Germany, Czech Republic and Austria from 10th September 2019 to 22nd September 2019 for ₹1,40,000 per person( including tickets)
Day 1
We took a flight from Mumbai and reached Amsterdam in the Netherlands, to witness severe rains. The rains and gloomy weather initially dampened our spirits but not for long.  We first checked into our hostel, Stayokay Amsterdam Vondelpark. This is a popular hostel in Amsterdam. My friend and I shared a room with 4 other women who were from different parts of the world like the USA, China, the UK and there was also an Indian who was on a solo trip. The room was quite cramped, to be honest, but it had an attached bathroom, so that was saving grace. The hostel was super clean and well maintained. The best part was that staying in a hostel was a great way for us to save up on our budget, cause Amsterdam was an expensive city. So we paid around ₹5000 per person, per night.
Once the rains stopped, we started exploring the fascinating city of Amsterdam. No visit to Amsterdam is complete without a canal cruise. So we decided to explore the remarkable canals of Amsterdam. Canal cruising is considered to be the best introduction to Amsterdam.
The canal tour guide gave us a detailed explanation on the canals, with a unique view of the city, accompanied by the marvellous gingerbread houses of Amsterdam. Gingerbread houses in Amsterdam are homes along the canal, which are tall and narrow. A view of the gingerbread houses along the canal is breathtaking and makes for a great Instagrammable spot.
After this, we explored a few museums like Rijksmuseum, Van Gogh Museum and the Anne Frank house. As the tickets were too expensive, we decided to explore these from outside and read the history of the museums from outside itself.
In the afternoon, we enjoyed few local beers sitting by the canal and tried the traditional Dutch stroopwafels, which is a wafer-thin waffle between a layer of gooey caramel syrup, creating a chewy cookie-like dessert that tastes incredible. We also tried the amazing French Fries at Manneken Pis which is very well known.
Also Read: Madhav Bagga Visited 7 Cities In 7 Countries Across Europe All Under Rs 80,000
My friend and I had a wonderful time on our first day in Europe. The weather was beautiful, the view was scenic, food was scrumptious, and the air was fresh. It truly felt like I was living my own Bollywood dream here. And I simply loved every bit of it.
Day 2
The one thing I would recommend every traveller out there is to speak to the locals and ask them for travel recommendations. You know, no amount of online research is enough to perfectly jot down the best sightseeing spots in a place. Locals are the best people to give you first-hand information about hidden gems in the city. So we checked with a few locals and the hostel if we could do a day trip around Amsterdam. And most of them suggested that we should visit Zaanse Schans. This is a stunning Dutch Windmill Village.
This was one hour away from our hostel. So we took a train and went on a picturesque rain journey to Zaanse Schans. My first glimpse of Zaanse Schans was picture perfect. There were iconic views of the 6 windmills set on the river Zaan with guided tours. We spotted some stunning traditional houses.
There were a lot of cheese factories in this village as well. The huge windmills, green wooden houses in Zaanse Schans gave it a distinct 18th-19th-century vibe. It's as if, time just paused at this quaint little town. And my friend and I didn't feel like leaving this place. We spent many hours just exploring the culture and breathing in the homely vibes.
At 4 pm, we rented bikes and explored Amsterdam's upscale neighbourhood, Jordaan. The narrow canals, trendy streets, beautiful boutiques in Jordaan made for an amazing biking experience. Since I don't know the lanes of Amsterdam well, I did ride my bike along the wrong lanes, only to be guided by the locals. But it made for a funny story.
Day 3
The next morning, we checked out of our hostel and left for Berlin. This was a 6-hour long train journey. I even met a friendly passenger. She was localite travelling to Berlin. She was very helpful, gave me a lot of tips when it came to travelling around Europe and even ensured that my friend and I got down at the right station.
We reached our Airbnb in Berlin, cooked a good lunch, and then left for the City Centre. And explored the city centre, shopped in Primark,  bought souvenirs, butter biscuits, beauty products and even reasonably priced liquor.
We took a stroll around Berlin and just marvelled at the majestic architecture. After which we had an amazing dinner overlooking the Berliner Dome. This is a magnificent dome of the Cathedral Church. Berlin is just magical in the evenings.
Day 4
On our next day in Berlin, we decided to take the free walking tour which started from Brandenburg Gate which is Berlin's most famous landmark. A symbol of German division during the Cold War, it is now a national symbol of peace and unity. The walking tour was for 2 hours and the tour guide had given us a detailed explanation of each place.
We saw the Konzerthaus, the Berlin Wall, Checkpoint Charlie which was the name given by the Western Allies. We also witnessed the historic Berlin Wall, which was the crossing point between East Berlin and West Berlin, during the Cold War. I loved the interesting trivia, historic information and titbits that the tour guide gave us during the 1-hour walking tour around berlin. It was detailed and I got to know the place and its rich history in depth.
During this walking tour around Berlin, we spotted a lot of interesting things. Tourists were exploring the city on horse carriages and Segways. We were also amazed to see a beer bike. This is an innovative way of people tasting local beer while sightseeing at the same time.
But the most breathtaking experience which we got to witness had to be the Harley Davidson Bike Rally. Hoards of professional bikers rode their Harley Davison bikes in a parade. And I just couldn't take my eyes off this amazing experience.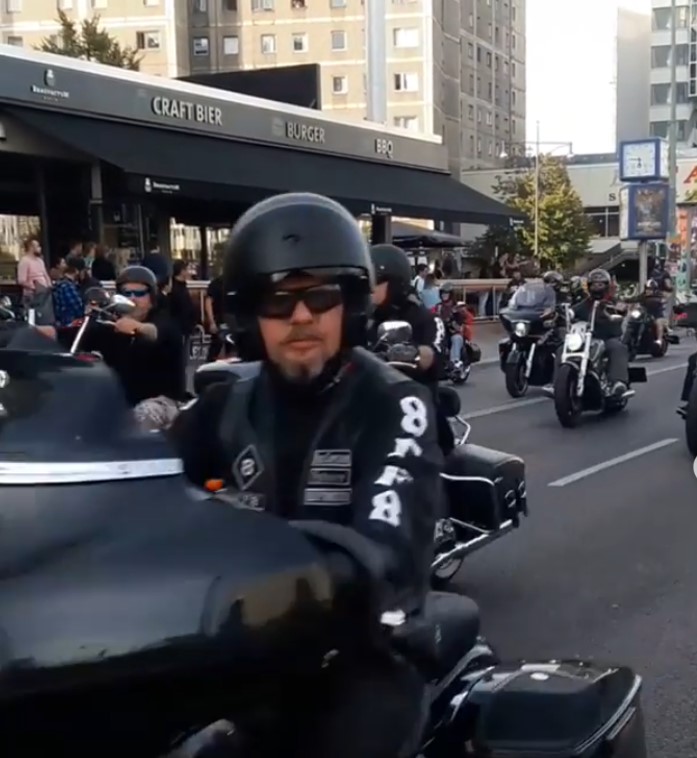 Day 5
On my 5th Day in Europe, my friend and I explored Potsdam. This is a culturally rich city located in the border of Berlin. Potsdam is well known for its castles. It has been the favourite residence of Prussian kings in the 18th and 19th centuries.  Potsdam is known for its beautiful architecture and equally breathtaking landscape. The architecture and landscape have a wonderful balance to it.  The beautiful city of Potsdam is part of an extraordinarily rich and attractive landscape: expansive parks, majestic tree-lined avenues and some 150 buildings from the 18th to the 20th century all combined, made an outstanding cultural treasure
The summer palace of Frederick The Great, King of Prussia named as Sanssouci was one of my favourite palaces here. It was majestic and simply gorgeous. I came to know that Sanssouci was a French phrase which meant "without concerns" or "carefree", symbolising that the palace was a place for relaxation rather than a seat of power. And trust me, the light yellowish hue of the palace, gave it an airy breezy vibe to it. This palace is not only a popular tourist site but has been also honoured with the title of the UNESCO-World Heritage Site.
We spent the rest of the day visiting the plethora of gorgeous palaces, vast English gardens with intricately designed fountains and even architecturally styled Roman baths. Each palace had its own unique history and story to tell. And I just couldn't have enough of viewing these breathtaking man-made wonders. We ended our day by going back to our AirBnb, all enriched with culture and historical knowledge. We cooked ourselves a hot plate of maggi and ended our day on a satisfactory note.
Day 6
The artist in me had a gala time visiting  The East Side Gallery in Berlin. This is the largest open-air art gallery in the world. This wall consists of a series of murals painted directly on a 1316m long remnant of the Berlin Wall, located near the centre of Berlin.
And let me tell you the art here is just out of this world. The paintings are vibrant, filled with colours, some of them have touching social messages too. My friend and I, even witnessed the world-famous painting titled 'The Kiss'. This painting depicts the Soviet leader Leonid Brezhnev kissing the East Germany President Erich Honecker in 1979.
The Berlin Wall at The East Gallery truly celebrates art. It does the remarkable thing of uniting all art lovers from around the world. Just visiting this place, inspired me to continue painting during my free time and express myself through art.
Day 7
We started our 7th day in Europe by embarking on a beautiful train journey from Berlin to Prague. Prague is the capital and largest city of the Czech Republic. It lies on the banks of the beautiful, meandering Vltava River that reflects the city's golden spires and 9th-century castle that dominates the skyline.
We reached Prague in the afternoon and checked in to our Airbnb. We cooked ourselves a delicious meal of pasta. If you're wondering how we have the energy for that let's tell you, that we got with us some soup packets, pasta sauces and other ingredients from home. So we can cook ourselves a good meal, and save our pockets.
Anyway, after our lunch and some well-needed rest, we set off to explore Prague on foot.  We roamed around the city centre and also went to the Charles Bridge. This is a historic bridge which crosses the Vltava river. The construction started in 1357 and finally ended in the 15th century. This is the only connection between Prague Castle and the old town. We had a scenic evening stroll in Prague and we were waiting to explore the city in depth the next day.
Day 8
We started our day on a peppy note, as we were excited to cover the picturesque European city of Prague. We visited and the Old Town Square which is one of the most historically significant parts of the city. The square houses the great tourist attractions of the Czech Republic like the Charles Bridge and the Prague Castle.
We explored Prague Castle, which is one of the largest castles in the world. The 130-metre wide medieval castle and its 70,000 square metres of land attract almost 2 million visitors every year and has also landed it a spot in the Guinness Book of World Records. I was truly awestruck to witness this marvel.
We stopped by to try out the local delicacy of Trdelnik, which is one of the most common pastries to find on Prague's streets. It is made from rolled dough that is wrapped around a stick, then grilled and topped with sugar and walnut mix. It just satisfied our sweet tooth.
We then walked to the top and got to top view of the city. I loved the view from the top. The reddish-brown rooftops and white houses resembled a postcard picture. It was so beautiful.
Later in the evening, we went to the Prague cathedral, St. Vitus Cathedral which is the spiritual symbol of the Czech state and was founded in 1344. I was mesmerized by the intricate Gothic architecture of this church. It's majestic and even contains tombs of many Holy Roman Emperors and Bohemian kings.
Day 9
On my 9th day in Europe, I visited the Karlovy Vary Region which is situated in the centre of Europe and borders on the German Free States. This is an administrative unit located in Bohemia, in the western part of the Czech Republic.
Karlovy Vary, meaning "Charles' Bath" was named after Charles IV. It is famous for its hot springs and its colourful and whimsical architecture. The region is well known for its spas. It's known for almost half of the country's spa industry. Karlovy Vary is so famous for their spas, that they have a special 'Spa Wafer', which is a super-thin wafer, sprinkled with sugar, often given to spa guests. 
Being a huge foodie, I just had to sink my teeth into those traditional Czech Spa wafers. So I tried one of them and just loved the super-thin, flaky texture of this snack. It's a popular street snack and you must munch on them when they are hot and freshly prepared.
Day 10
My friend and I started off early in the morning and took off on a nice long train journey to World's Capital of Music, Vienna in Austria. Once we reached Vienna, we spent the rest of the day exploring the city on foot. We had a lovely evening stroll, admiring the city lights, architecture, spectacular landscape and just breathing in the culture of the land. We first visited the Schönbrunn Palace which was the summer residence of the Habsburg Rulers. This is one of the most significant architectural monuments in the country.
 I even treated myself to some traditional Apple Strudel. This is a Viennese pastry which has a spiced apple filling. And let me tell you if you're a fan of the apple pie, then you must try this when you're in Vienna, it's just scrumptious.
Day 11
We commenced this day by taking a free walking tour around Vienna. Our tour guide gave us in-depth information about the historical relevance of the majestic monuments, palaces and beautiful landscape of the city. I found it informational and really interesting. The city was lively and bustling with people during the day.
We explored St. Stephen's Cathedral which is the mother church of the Roman Catholic Archdiocese of Vienna. This is one of the most important religious establishments in the city. It's well known for its gorgeous multi-coloured tiled roof and its rich Austrian heritage.
My trip to Vienna definitely included the majestic Hofburg Palace, which was the former principal imperial palace of the Habsburg dynasty rulers. It's the official residence and workplace of the President of Austria today. Located right in the centre of Vienna, this 13th-century, spread over 59 acres is one of the most spectacular palace complexes in the world. I ended my day by visiting a few more popular palaces of Vienna and was left feeling culturally enriched.

Day 12
On our last day in Europe, we wanted to make this an unforgettable day filled with jam-packed experiences. So we decided to let our hair loose, unwind, unleash the child in us and visit Vienna's largest public amusement park, Prater Park. Trust me this amusement park is full of scary rides like huge slides, swings, rollercoasters and whatnot.
One of Vienna's trademark sights is the Riesenrad or giant Ferris wheel located at the entrance of the Prater amusement park. The Giant Ferris Wheel is one of the city's symbols. Almost 65 meters tall, it offers a breathtaking view of the city on the Danube river.
After an enthralling time at the amusement park, we decided to end our Europe trip by visiting Vienna's stunning Opera House. We did save the best for the last.  Vienna Opera House also called as the Wiener Staatsoper. This is the most famous opera house in Vienna. Significantly, the State Opera is powered by a fantastic opera orchestra.
Many members belong to the Vienna Philharmonic Orchestra. The Vienna State Opera is one of the world's finest opera companies, famous for its first-class opera and ballet as well as its beautiful architecture. Vienna is often called The City of Music, and visiting the Vienna Opera House was just testimony to this fact.
With this, we ended our wonderful Europe trip. We flew back to Mumbai late at night, and bid farewell to this gorgeous European continent. We met warm and helpful people, made so many lasting memories, cooked together in Airbnbs, stayed in a hostel with roommates from around the globe, explored picturesque cities, immersed ourselves in the rich culture and history of the place, it just made me satisfied that I was able to go somewhere I have never been before. In spite of all the 'Chindi" things we did like carry theplas, ingredients from home, cooked our own food, stayed in a hostel, took free walking tours, cycled around the places, we still  made wonderful memories that will be etched in my heart forever, apart from being on my Instagram handle of course!
Tips & Recommendations
Now that you have read about my Europe trip. Let me give you some tips from my learnings, which will surely help you to plan your trip well apart from helping you save up on your budget.
Plan a trip on your own- If you are planning a solo trip to Europe or with friends.  Plan a trip on your own as travel agents charge a bomb. You will end up spending double. Everything is available on the net, including videos,  cheap Airbnb, trains for internal travel etc.
Try and book hostels or Airbnbs- Airbnbs and hostels are comfortable and worth the cost. Hotels, on the other hand, are way more expensive.  And what is the use of spending on a lavish hotel, if most of the time you are exploring incredible Europe!
Research well- Do proper research on the countries you are planning to visit, tourist destinations; currency, local food, how to get there etc. there are plenty of videos available to help you.
Decide which museums you really want to visit- Most of the museums in Europe are very expensive. Check if you are really interested in visiting or you just prefer to see it from outside. You can visit one or two of the best museums according to your taste.
Be careful while spending your money in Prague- In Prague there are many shops for food and souvenirs which are expensive and on the streets, there are similar things which are really cheap. So be careful while spending money and check if it's really worth it.
Most places have free walking tours- These free walking tours are almost for 1.5 to 2 hours and are really informative. The guides do an awesome job in explaining historic details. Don't forget to tip them in the end! Free walking tours are available in Berlin, Prague and Vienna.
Take a transport pass where ever possible- These turn out to be way cheaper. You can use the pass on the metro, trains, trams, buses. It should cost somewhere between 15 to 30 Euros ( ₹1187 to ₹2374 approx) for 3 days.
Follow Google maps for directions- It is very accurate and you will get all the information needed, like if you need to take a bus/tram to take to the nearest tourist destination, google maps will give you exact information about the bus no, bus stop and how long you'll take to reach your destination. In this way you are not dependent on others, as some places the locals don't understand English and so it becomes difficult to travel around.
Europe is quite expensive- If you plan on doing a budgeted trip. Cook one meal in a day.There are a lot of supermarkets which are cheap and available. A proper meal would cost around 20 euros (₹1582 approx) You have to spend 1 euro ( ₹79 approx) even to use a washroom.
Taste the local delicacies when in Europe-  Stroopwafels from Amsterdam, yummy French fries near Mannekin Pis with some mouthwatering sauces in Amsterdam, Apple Strudel from Vienna, Spa waffle from Karlovy Vary, Trdelnik from Prague. These are just too delicious. And don't forget to pack some for your home!
Hope these tips help you on your trip to Europe. Do visit Europe with your family, friends, bae or you can even go on a solo trip. It's truly worth it, you will learn and experience things worth a lifetime.
This article was contributed to Curly Tales by Pallavi Rangavajhala. If you'd like to contribute an article, please drop an email to hey@curlytales.com