Fan of fondues? Mumbai has got the best of them! Have you tried the beer fondue? or the mini-burger fondue? Keep reading to find out the best fondues in Mumbai city –
1. Mini-Burger Fondue, Frisbees
From the land of awesome burgers comes yet another wonder that will get you into a foodgasm almost instantly. Frisbees in Andheri, Bandra & Dadar serves burgers that are filling and cheesy at the same time! Totally worth drooling, is their Happy Pills – the 9 mini-burgers are dipped in a warm cheesy fondue and you can gobble them up after. The dish is named Happy Pills because duh! And you'll get 9 mini burgers with a side of fries and some ooey gooey cheese to go with it.
But here's some shocking news – the dish is not included in the main menu! The Happy Pills are something you have to bid for and it is available only at their Andheri outlet. The bidding starts at ₹200 on the Instagram handle of Frisbees and happens only on Sundays. Basically, Frisbees does not serve it on a regular basis, (but it's totally worth it!) so make sure you call the restaurant before going.
Also read: Up For A Challenge? 9 Mumbai Joints Where You Can Eat Gigantic Burgers!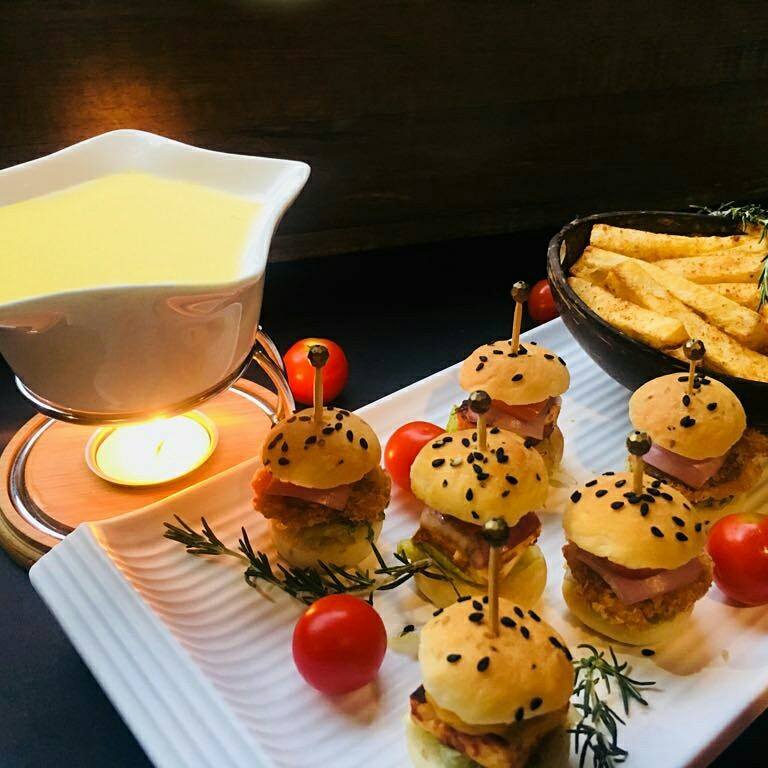 Address: 
Andheri: Shop 5, Rendezvous Building, Sab TV Road, Shastri Nagar, Andheri Lokhandwala, Andheri West
Bandra: Shop 6, A39, Labaik House, Chimbai Road, Near St. Andrews Church, Hill Road, Bandra West
Dadar: Shop 8, Near Keluskar Road, Dadar Shivaji Park, Mumbai
2. Sarso Da Saag Fondue, Vortex
Vortex South in Marine Lines has given a new avatar to a regular Punjabi dish – the infamous Sarson Da Saag. And it's served with Makki di roti, mini puris, tortillas & gur. This fondue is worth a try not just because it's a cool way to turn the dish around but also because it's absolutely delicious. Fresh cream is mixed with a pulp of Saag while makki di roti is baked in a sigdi. 
Also read: 5 Best Places To Have Butter Chicken In Mumbai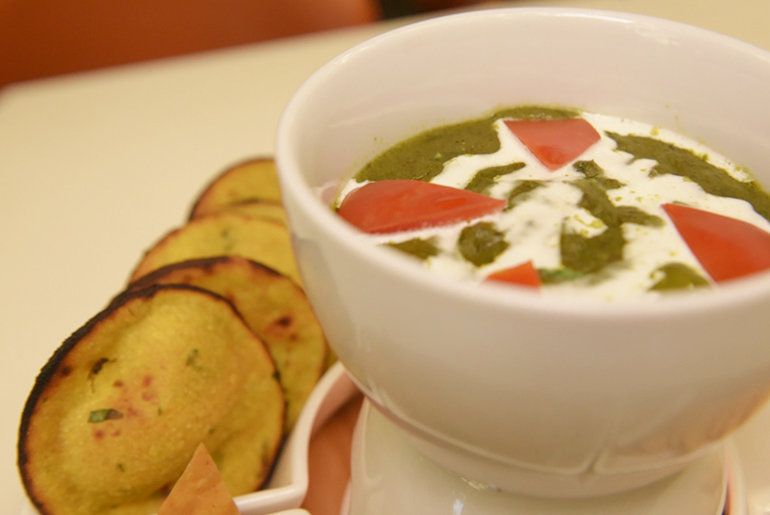 Fresh cream is mixed with a pulp of Saag while makki di roti is baked in a sigdi. 
Address: Vortex South, 104, Anandilal Podar Marg, Dhus wadi, Sonapur, Marine Lines, Mumbai, Maharashtra 400002
Price: Sarso da saag – ₹449
Contact: 022 3015 1836
3. Vada Pav Fondue, At MRP
The Vada Pav Fondue is made up with traditional vada and pav but served in a totally different style. Not only is the vada spiked with some spices and cheese to give it a new taste, but it is served with a fondue of gooey cheese that is a total hit with people.Not just that, they have a variety of twists on regular dishes. They have a 'palak chaat' that is spinach chaat. They also have butter chicken pasta, veg kulcha burger, the chocolate beer cake and french fries with chicken.
Also read: Get Vada Pav Fondue Only At MRP
Address: 3rd, Floor, Om Heera Panna Mall, Oshiwara, Andheri West
Phone: 022 30151799
Approx cost: ₹1,000 for two people, ₹360 for Vada Pav Fondue
4. Churro Fondue, Toro Churro
Located in Girgaum Chowpatty, Toro Churro is serving the yummiest Churro Fondue and Churro Pizza to gorge on! Mumbai welcomes a New-Zealand based brand that has opened its outlet in Girgaum Chowpatty is already making rounds for its tempting Churros
Also read: Indulge In The Dreamiest & Yummiest Churro Fondue In Mumbai
Address: Toro Churro, Shop 14, Sukh Sagar Building, N.S, Nanda Patkar Road, Girgaon, Chowpatty, Mumbai
Phone: 022 23676665
Cost for two: ₹200
5. Beer Fondue, 145
To give you a different kind of high, cheese and beer come together to make the Beer Fondue. With beer poured into a hot pan and 3 types of cheese inside the bowl, this Beer Fondue is one of a kind. The beer fondue has added seasonings and served with herbed bread croutons. So you can dip your bread crouton inside the fondue for a boozy taste along with the gooey cheese.
Address 
Bandra: 1st floor, HSBC Building, Off Turner Road, Pali Hill, Bandra West
Kalaghoda: 145, Kala Ghoda, Fort, Mumbai
Approx cost: ₹1,400 for two people
LIKE Curly Tales on Facebook | Instagram| Twitter
You can also subscribe to our newsletters