Sometimes all you need for breakfast is a tall stack of pancakes which are demanded to be drenched in maple syrup. From mini dutch pillow like pancakes to pancakes served in a brunch tray, we have picked some of the best pancakes throughout the city. Here are 5 Pancakes that you can't and shouldn't resist.
1. 99 Pancakes, Multiple Outlets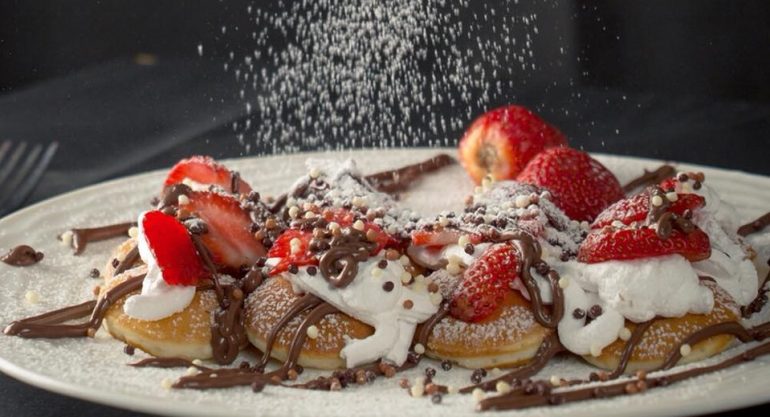 99 Pancakes, home to luscious pancakes, serves you over 15 different types of pancakes. With its 28 outlets spread across the city, 99 Pancakes is giving the other pancake joints a run for their money. Don't forget to try their Holla Nutella which are these perfectly round, light and spongy mini pancakes topped with Nutella chocolate syrup and sprinkled with the perfect dusting of confectionary icing sugar. Specializing in Mini Dutch pancakes, 99 Pancakes is a popular choice among all pancake lovers who indulge in classic desserts. You can choose to accompany your pancakes with their King Kong Shakes, priced at ₹270.
Where: Fort, Andheri, Borivali, Bandra and more.
Costs: ₹300 for two people (approx.)
Timing: 10am – 1:30am
Also Read: 5 Best Sizzlers In Mumbai That You Can't Resist
2. Social, Multiple Outlets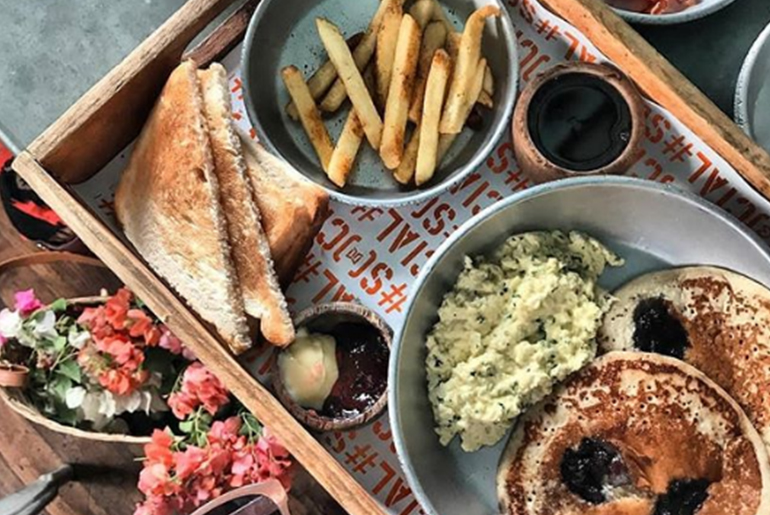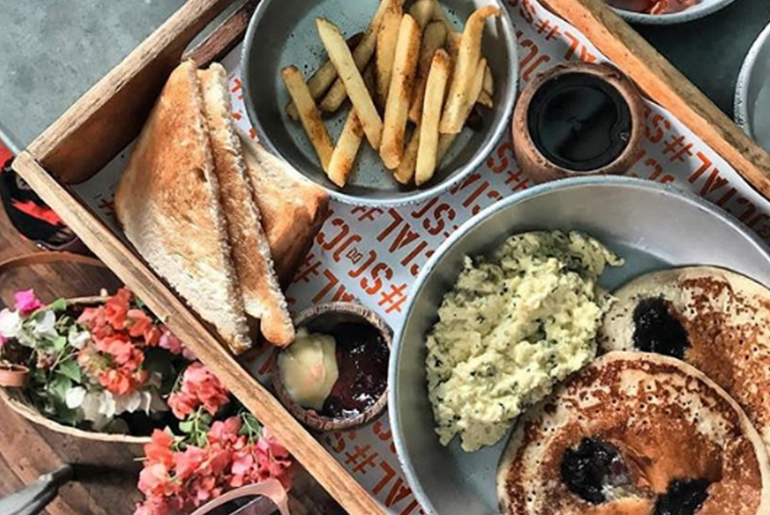 The pancakes served at Social are these slightly crispy, perfectly caramelized cakes that are demanded to be eaten. Sitting in the All day Breakfast section, their Blueberry Pancake is an hidden gem on the menu. Their perfectly round pancakes, which come two to an order, are these satisfying big, thick, infused with blueberry, drenched in maple syrup, fluffy bundles of joy. You can order just the pancakes, however if you want a complete brunch experience then their Kiran's Big Apple Breakfast is just what you need.
Where: Colaba, Andheri, Khar and more.
Costs: ₹1,400 for two people (approx.)
Timing: 9am – 1am
Also Read: 5 Maharashtrian Meals In Mumbai That Are A Must Try
3. Tea Villa Cafe, Multiple Outlets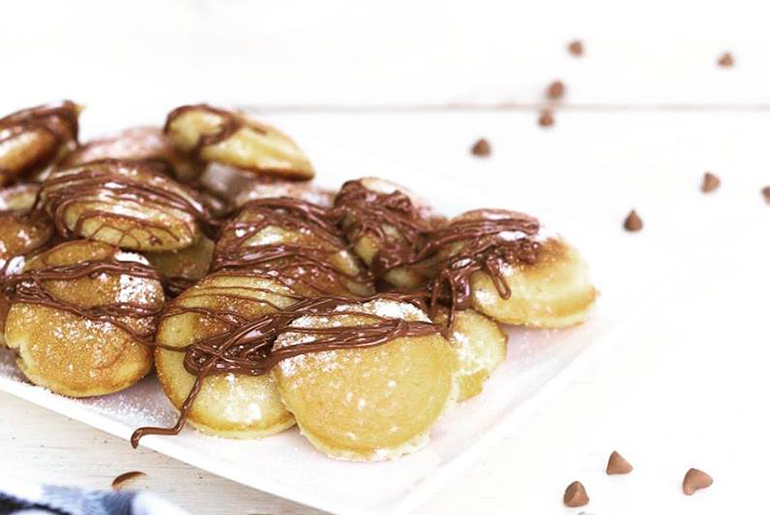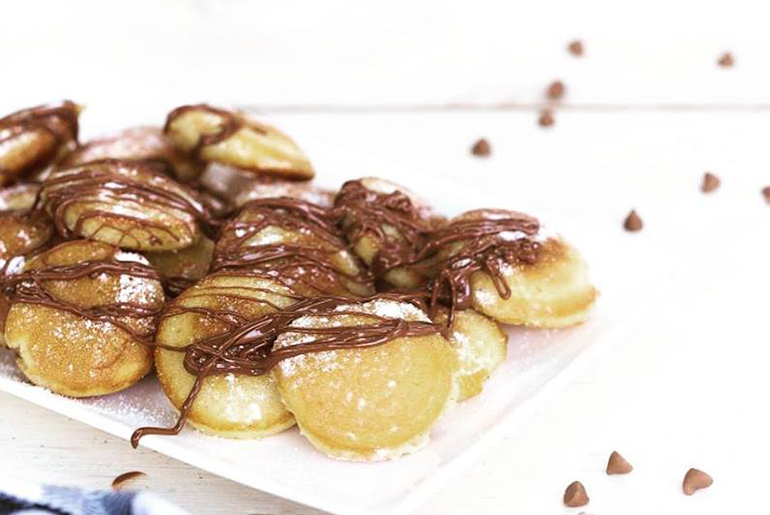 Many menus brag about their Nutella Pancakes but only few can brag about their Oats Pancakes and Tea Villa is one of them. Yes, this one on the list is for all the health freaks out there. Apart from oats, you can also indulge in their Soya Bean Pancakes.
Tea Villa has not left out those with a sweet tooth, indulge in their sinfully delicious dutch pancakes. The pancakes are served with hot butter, maple syrup or oodles of nutella  chocolate syrup.
Where: Kandivali, Bandra, Andheri, Ghatkopar, Thane and more.
Costs: ₹1,000 for two people (approx.)
Timing: 9am – 12:30am
Also Read: 5 Goan Restaurants In Mumbai That Are A Must Try
4. JamJar Diner, Versova
What makes a great pancake? It should be a fluffy big slab of cakes, perfectly drenched in chocolate. It should be this warm fluffy delicacy that almost melts in your mouth. The Nutella and Banana Pancake at Jamjar Diner almost accurately fit the bill. With three pancakes and two layers of Nutella and bananas, this mountain of a delicacy can easily be eaten by two. The Nutella and Banana Pancake surely takes the crown, however you can also try their Red Velvet Pancakes.
The ambiance of Jamjar is such that it deserves to be on your Instagram feed. We can say that JamJar is not playing any games when it comes to ambiance and pancakes.
Where:
Bandra: 133, 1st Floor, Gazebo House, Sayed Wadi, Hill Road, Bandra West
Andheri: 7A & B, Arram Nagar 2, Behind Washing Bay, Yari Road, Versova, Andheri West
Cost: ₹1,500 for two people (approx.)
Timing:  9am – 1am
5. The Chocolate Heaven, Vile Parle
Guys, its called Chocolate heaven for a reason! This outlet serves these soft yet mildly crispy, delicious pancakes that might be too much to handle for one person. Their Hot n Tropo Pancakes, topped with ice cream, dripping with oodles of chocolate syrup, grilled walnuts and bananas is something that you definitely need after a long day. While you're there given their Blueberry Pancakes a try too, a taste of heaven indeed.
Where:
Borivali: Shop 7, Silver Arch CHS, Opposite Soni Tower, Kalpana Chawla Chowk, Borivali West
Mahim: 96, Cadell Road, Near Hinduja Hospital, Shivaji Park, MahimWest, Mahim
Vile Parle: 4, Sheetal Smruti Building, 4 Swastik Society, Bhai Das Hall, JVPD Scheme, Vile Parle West
Cost: ₹600 for two people (approx.)
Timing:  9am – 11:45pm
Also Read: 5 Gujarati Thalis In Mumbai That You Should Definitely Try
LIKE Curly Tales on Facebook | Instagram | Twitter
You can subscribe to our newsletters