The pristine waters of Mauritius are so inviting that I bet, you would shed off all your inhibitions. Be it stripping yourself down to a bikini or facing your fears and indulging in water sports. To top it all, the beaches are a perfect haven for all water sports enthusiasts.
I just experienced the Mauritian waters in six different ways and I insist, you knock them off your list too!
1. Flying In A Sea Plane 
There is no better way to begin your adventures by first getting an aerial view of this beautiful tropical island. Its turquoise water, never ending beaches and dense coral reef are nothing short of a visual treat.
I experienced Mauritius by hopping onto a seaplane. With the water take-off and landing, this flight will be the experience of a lifetime. If you're not already convinced, let me tell you that in addition to the panoramic view you'll get to watch sea turtles and coral islands from a height of 500 ft up in the air.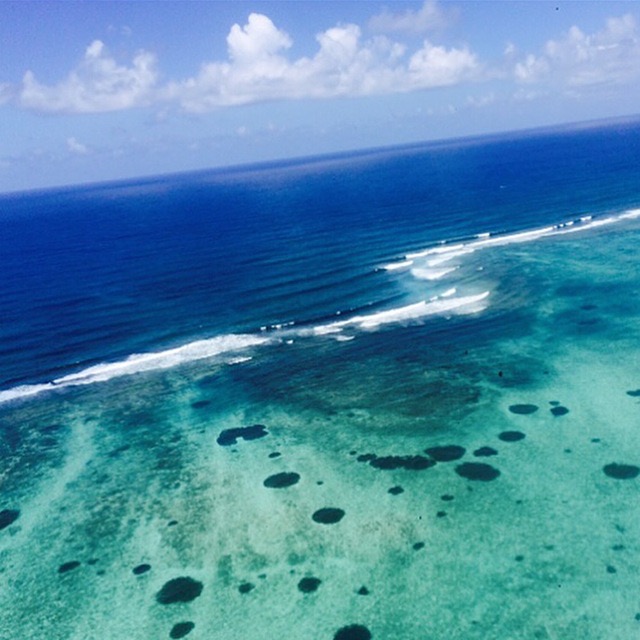 I was very close to missing this wonderful experience as I had not done the booking in advance. So a word of advise here, make sure you book your tickets atleast a couple of days prior. There are only a few companies that offer this ride and spots fill up real fast.
This is a 30-minute flight that made me contemplate quitting my job, getting a flying license and stealing my pilots job.  Although slightly heavy on the pocket, I cannot recommend this highly enough.
Price: Rs 10,000 (for 25 mins) Rs 20,000 (for 1 hour)
Try It At: Lux Resort, Grand Gaube
Book: Here
2. Parasailing 
Lets get a little more close to the Mauritian waters and try parasailing. Mauritius offers the best playing field. There is something magical about flying over those blues and greens. The view you'll get here is unmatched.
However, my favourite thing about parasailing over the ocean is the fact that you can choose to dunk yourself right into the water for a refreshing and exciting dip. Remember to leave your camera and phone behind if you've opted for this version of the ride. It is a thrilling experience and one you cannot leave Mauritius without trying this, even if you have parasailed before.
Price:  Rs. 3,000
Try It At: Ile Aux Cerfs Island
Book: Here
3. Water skiing
Lets get down to business now. At every beach, you will see people water skiing all through the day and I promise you'll be tempted to try it too. I decided on day 1 of my trip that I would have to try my hand at this sport. It looks like so much fun and really, how hard can it be? Turns out, very. 
Inspite of the brief and the super friendly and helpful coaches, I'll admit I had trouble getting myself to even stand up. But apparently, this is common and takes a couple of rounds of practice for most people. All in all it promises to be a great experience even if you don't get it right and all you're doing is being dragged around in the water by a speed boat. So put on your skiis and jump in the water. I dare you to stand up for just two seconds.
Price: Rs. 1,000 (If you book the seaplane ride, they'll probably throw in a few free rounds of water skiing)
Try It At: Lux Resort, Grand Gaube
Book: Here
4. Scuba Diving
Im sure you've already been told multiple times to go diving in Mauritius and you probably don't need any more convincing. At the cost of repeating the advise, I'll say it once again, whether you're an experienced diver or a first-timer, you would not want to leave the island without jumping into the depths at least once. There is a reason that diving enthusiasts from the world over come to Mauritius and it is for its fascinating underwater beauty. 
So while scuba diving is amazing and Mauritius is a great place to do it there was one thing that made me slightly uncomfortable and that is that most coaches don't really speak much English at all. This made it quite difficult to converse and I'll admit that ruined my diving experience. Your first dive can be intimidating and you need someone to really take you through the training well and put you at ease. So make sure you talk to the trainer well in advance and are one hundred per cent comfortable. It is not worth ruining your first dive for anything. 
Price:  Rs. 3,000
Try It At: Grand Baie
Book: Here
5. Snorkelling
The thing I like best about snorkelling is that you can choose to do it in the depths of the ocean as well as right by the shore just a few metres away from the beach. You could rent the equipment or even buy a set and carry it around to every beach you visit. What I found most fascinating here is the variety of fish you get to see without even venturing too far into the ocean.
So yes, while I know you can snorkel at many locations, including some back home, do not miss an opportunity to explore the rich waters around Mauritius.
Price: Rs 1,200
Try It At: Trou Aux Biches
Book: Here

6. Submersible Scooter

Now, here's something new and different. For scuba diving and snorkelling, you need to know the technique to be able to breath well underwater. It can be a bit intimidating but if you wish to skip all of that and play safe, just take a submersible scooter underwater. Even though you may be 3 meters under the water your face and hair will be covered in a helmet and filled with oxygen. You can comfortably enjoy the beauty around you without being bothered about the salty water around you.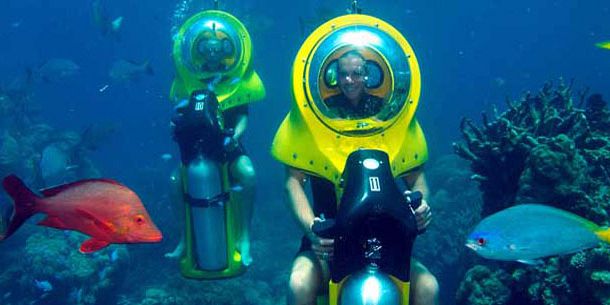 Price: Rs 8800 (single) & Rs 12,600 (couple)
Try It At: Mon Choisy
Book: Here