Do you fascinate staying inside a cosy dome tucked in the middle of pristine surroundings? To find them, you won't have to fly to Dubai or Switzerland. In some of the most scenic locations of India, lie some hidden properties that offer experiential dome stays for nature-loving wanderers. Guests can snuggle up inside these luxury domes and merge their souls with the mesmerising nature around. So, which are the best properties offering dome stays in India? Here are 5 options:
1. GlampEco, Prini
Stay inside a glass dome at GlampEco, set in the lush forests in Himachal's Prini. The entire estate here gets wrapped in snow during the winter months. A river meanders near this glamping site, flanked by towering pines. At GlampEco, you can discover a paradise in the lap of serenity.
View this post on Instagram
2. Whoopers, Jibhi
Whoopers is a 3-star hotel in Jibhi, ideal for backpackers and couples. The yellow domes at Whoppers with the mountains in the backdrop look straight out of a fairytale. Whoopers is just 46 kilometres away from Kasol.
View this post on Instagram
Also Read: Stay In These Hobbit Holes Of Ooty And Get New Zealand Feels Amid Misty Hills
3. Bird's Eye Estate, Coorg
Want to enjoy a glamping experience in the coffee estates of Coorg? The geodesic domes at Bird's Eye Estate will come to your rescue. From here, you can enjoy breathtaking mountain and valley views. The best part is, if you book through Airbnb, you can have the entire property to yourself.
View this post on Instagram
4. Itsy Bitsy, Parvati Valley
The transparent cabins at Itsy Bitsy will give you a feeling of living right under the stars. Stay in these domes ringed by the mountain valley and capture sunrises and sunsets up and close. The cabins are equipped with a kitchen too and the beds directly overlook the mountains. A halt here will be like a beautiful dream turning into reality.
View this post on Instagram
5. Trinity By IHD, Coorg
Trinity By IHD is nestled in Coorg and has a dome-shaped room with gorgeous interiors. Stay inside this room and get the feeling of staying inside an upscale capsule with all modern amenities.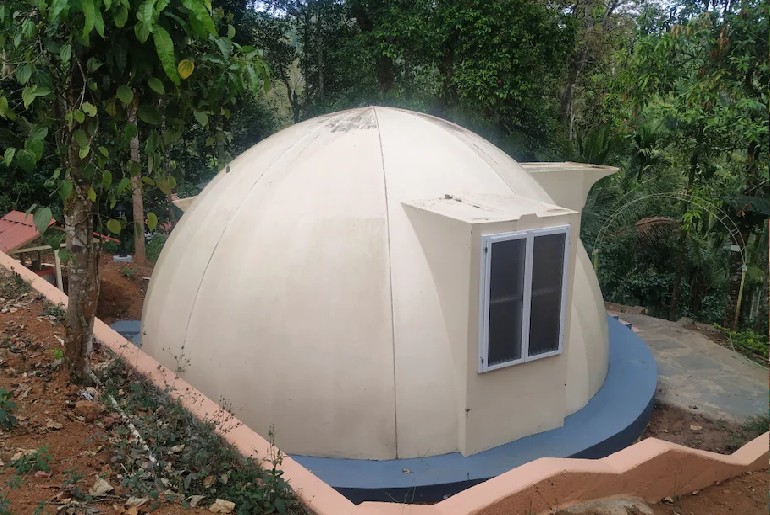 Also Read: Stay Inside A Wine Barrel In Nashik Within A Vineyard & Wake Up To Unparalleled Views
Imagining yourself in one of these domes already?