Planning your New Year's eve near Mumbai? If you're sick of noisy parties and crowds, you can simply rent out a lovely villa close to your city and head out with your gang. Here are our top choices –
1. Kapadia Bungalow, Alibaug
Kapadia Bungalow is a private pool villa which evokes the feeling of an abode in paradise as you wake up to the sight and sound of nature. The bungalow is 20 minutes away from the Mandwa jetty and makes for a perfect spot to spend your weekends at. The bungalow features 4 bedrooms that can accommodate up to 10 people with an attached bath. It has a library with 2 single sofa cum beds, a large living room, dining areas, lavish patio, swimming pool and a sprawling tropical garden.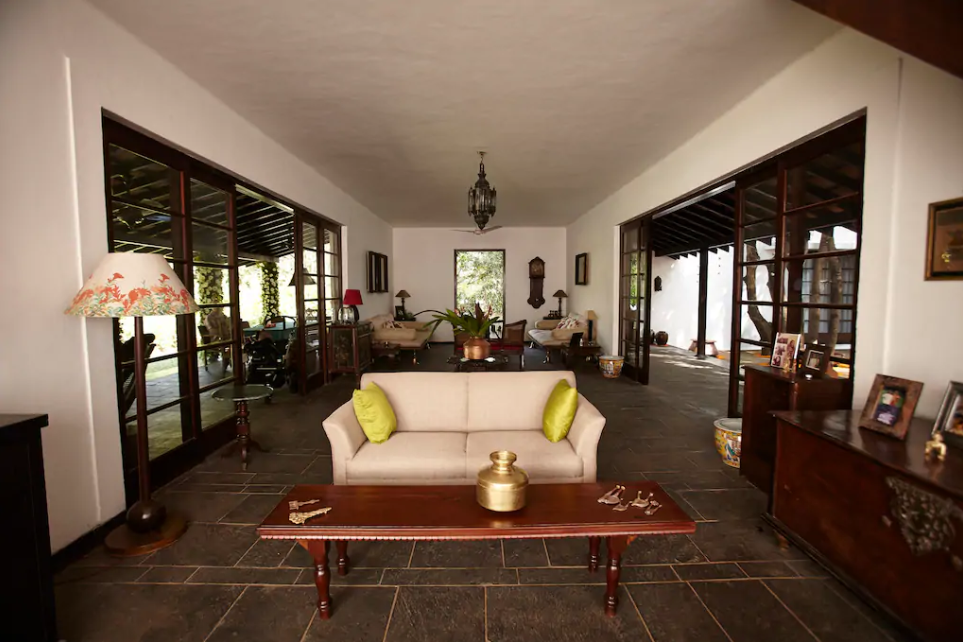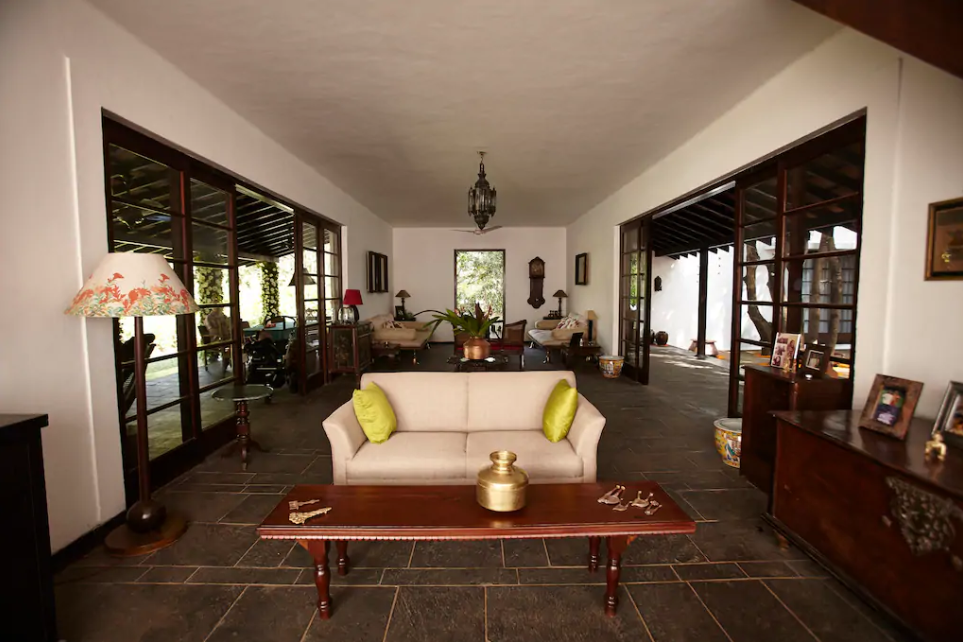 To book your stay click here.
Address: Kapadia Bungalow, Alibaug, Maharashtra
Tariff: ₹30,000 per night
2. Mountains Springs Villa, Lonavala
The Mountain Springs offer you an opportunity to get a second home in Lonavala that is a steal for its price. The villas come with a modern home design and they can also serve as a holiday home in Lonavala. Surrender yourself to the lavish life surrounded by the whimsical nature to give you an unforgettable experience. The Mountain Spring Villas is an innovative art home that blends luxury with antique Greek world living crafted from natural stones and exotic woods, is a gorgeous 3BHK villa designed to exude charm and grandeur. The villa can accommodate up to 15 guests.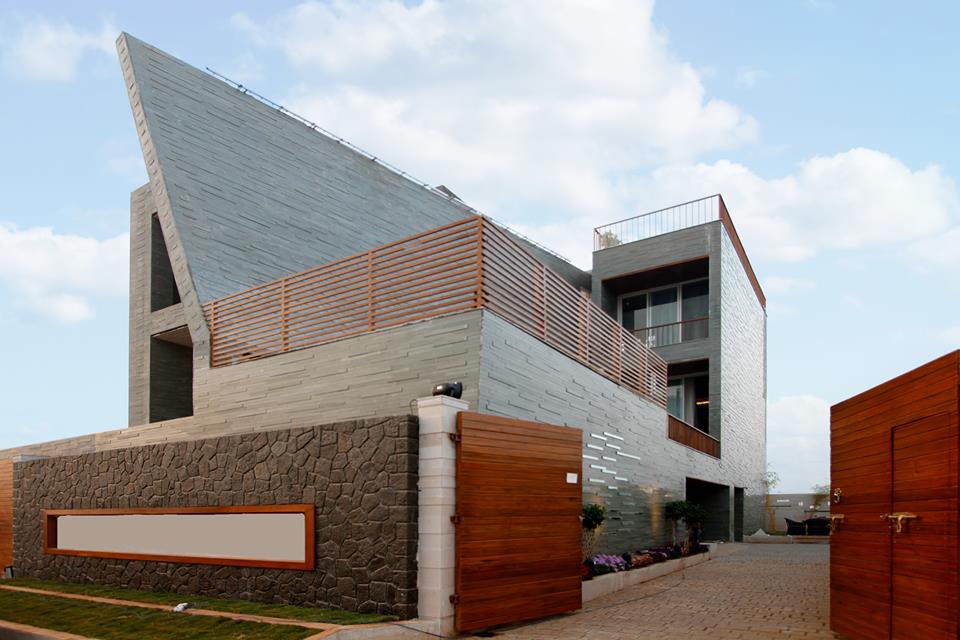 The property features a 60 ft. high sliding waterfall with sounds of water calming you as you step into the infinity pool. There's even an open-air Jacuzzi to sip on wine and soak in the good vibes. Unwind at the Spa with a personal jacuzzi and a massage for a relaxing session. The lower lounge connects the main door to the Spa room. Wander in the upper lounge room decked with hues of orange and pink, designed for long hours of relaxation from where you can view the infinity pool and the waterfall.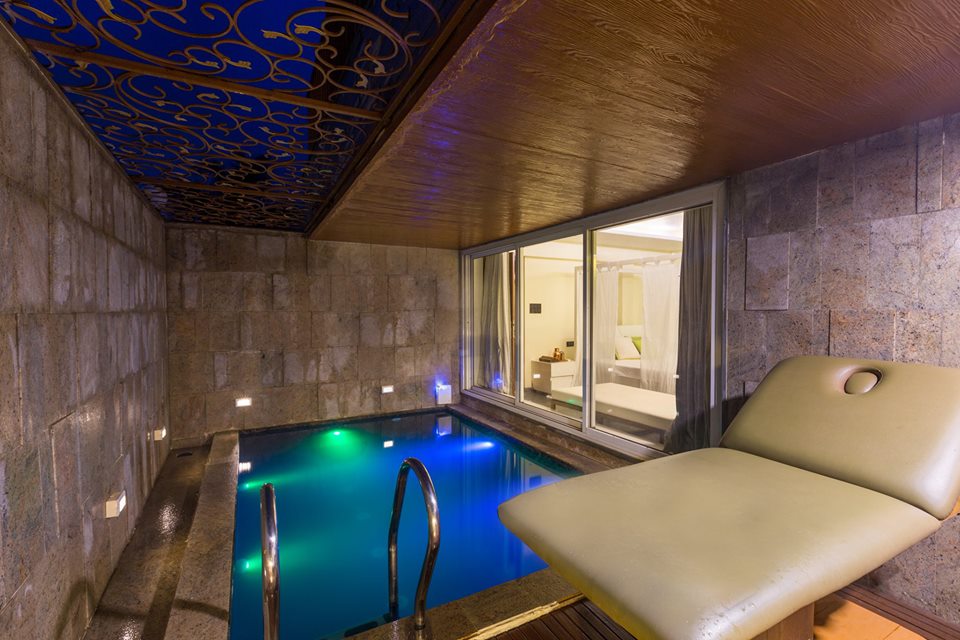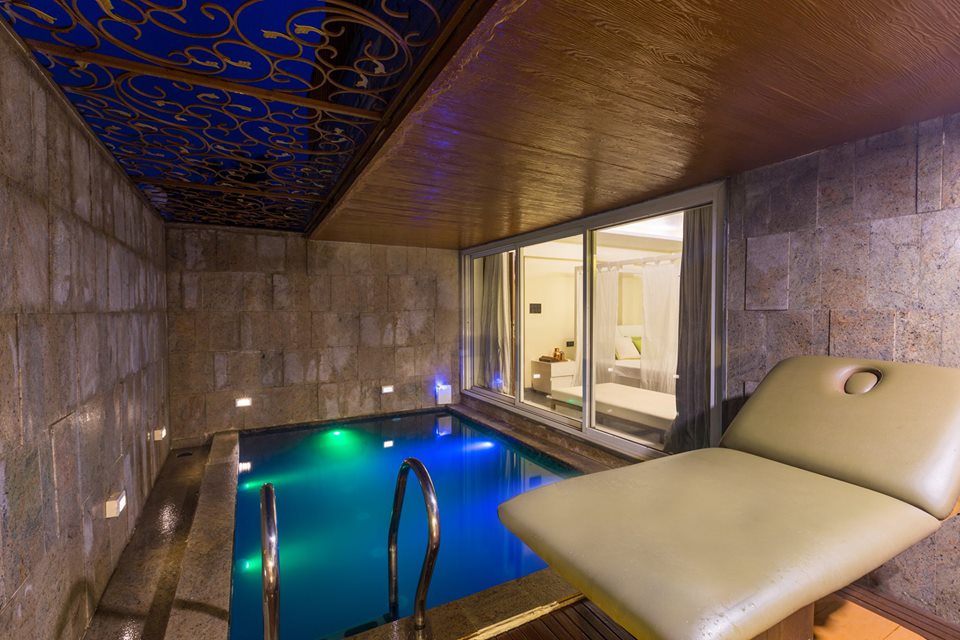 To make bookings click here.
Address: Sippy Housing, Mountain Springs, Opp. Varsoli Mountains, Varsoli, Near Wax Museum, Old Mumbai Pune Highway, Lonavala, Maharashtra 410405
Phone: 7676879879
Cost: Starting from ₹2,250 per head per night (The prices are subjective to change according to the booking date and availability)
3. U Tropicana, Alibaug
The luxury villas offer 4 bedrooms, a living room with a deck opening onto your private plunge pool and party lawn, not forgetting a deck with Sun loungers! You'll find a private Gazebo bar, where you could enjoy your own mixology, an open to sky bath in all bedrooms for those more exploring, a fully serviced modular Kitchen, separate maid's quarters with attached bathrooms and private parking. Yes!
Each villa comes with a huge living room, a private plunge pool, an outdoor bar and four lavish bedrooms. Spread across two floors, each villa can accommodate a group of 8 to 12. Enjoy a scrumptious breakfast lay or simply gorge on breakfast in bed. Make a splash in the pool for some fun! Head to the spa to relax & rejuvenate yourself! Grab a bite at the in-house restaurant EAT & enjoy multi-cuisine delicacies. Sip on a cocktail in the open bar as the chef prepares delicious barbequed meat. Priced at Rs 40,000 per night,U Tropicana makes a perfect weekend getaway!
Location: U-Tropicana, Chondi Naka, Mapgaon, Alibaug, Maharashtra 402201
Contact: 02141 232 143
Approx cost: ₹40,000 for a villa per night
Book here
4. Riverrock, Panvel
Relax in seclusion or host an exclusive party, at this lush private villa just outside of Mumbai. RiverRock in Panvel is luxurious farm-stay overlooking a lazy river. A quintessential retreat less than a 2 hour drive from both Mumbai and Pune, and set in tranquil nature. It's perfect for a quiet romantic getaway, rejuvenating family vacation or a lively Celebration. RiverRock is the perfect place to leave the life and the ways of the city behind and have a dialogue with nature.
Price: Daily tariff for the villa is about ₹7000-8000 [incl. of breakfast]
caretaker available on property.
Contact: 084240 40040
Where: RiverRock, Kalle rd, Karnala, Maharashtra.
Click here to book
5. Rumourss Sky Villa & Resort, Lonavala
Leave the worldly chaos, get on a Japanese chalet & set your soul free at Rumourss Sky Villa & Resort in Lonavala. This is India's first resort made on the lines of Japanese Tree House Chalets and it is clearly an architectural feature of Lonavala. Rumourss Sky Villas & Resort is an eco-friendly retreat towards the Bushi Dam on INS Shivaji Road Tiger Point in Lonavala. These chalets are erected on a single iron mast at a height of about 30 to 40 feet. We have heard that they even tremble gently and pleasantly at periodical intervals to give you the real feel.
Rumourss Villas and Resort have 8 villas: 4 sky villas and 4 pool villas. The villas are equipped with air conditioners, 50 inch LED, cable channels, telephone, WiFi, minibar and other necessities and luxuries to ensure that the guests enjoy themselves and feel comfortable while blended with hospitality of a top notch. Built out of eco-friendly materials, feel closer to Mother Earth as you stay here.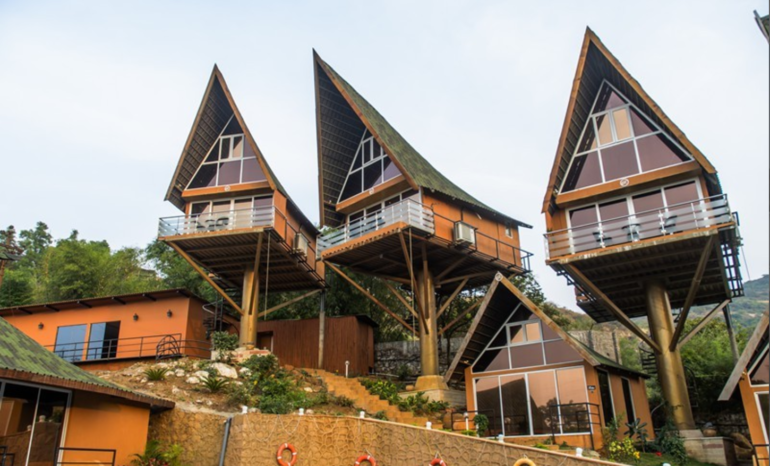 Where: Rumourss Sky Villa and Resort, INS Shivaji Road, Near Bushi Village Before Bushi Dam, Lonavala, Maharashtra
Contact: 098210 54823
How Much: Starts at ₹6300
Book here