Pune is the land of all things good. The food that is prepared here is not only confined to the Maharashtrian cuisine, but displays some unique talent by the expert chefs. Same goes for the delicious desserts prepared here. Excellent cakes, decadent freakshakes, and chocolate filled ice creams, Pune has it all. Here are some desserts that you have to try in Pune –
1. Freakshakes at The Greedy Man Pizzeria 
It might be a pizzeria, but the chef's signature dish is surely the Nutella 'Greedy' Shake. You can even try out their selection of Greedy Shakes that will make your mouth water in no time. Freshly prepared baked goods are used as toppings like cookies, brownies, chocolate pop-sickles, whipped cream, rainbow sprinkles, chocolate tarts, fudge bars, ice cream scoops, and kitkats.
Also read: Satiate Your Sweet-Tooth With 5 Best Places For Freak Shakes In Pune
Address: Baner & Kalyani Nagar
Approx cost: ₹600
2. Soft Serve On A Cloud at Sweet Mess
Open your heart to a sweetness like no other with 'Soft Serve On A Cloud'. The main attraction surely has to be the 'Soft Serve On A Cloud'. It is a soft-serve ice cream which is available in multiple flavors resting on a grand cloud of cotton candy. Moreover, you can top it up with unlimited toppings that you desire. The best part about Sweet Mess is that one can choose as many drizzles and toppings (probably even all). You can find regular toppings like Gems, Chocolate Droplets, Oreos, Butterscotch Balls, Kit-Kat, and Rainbow Sprinkles. Apart from that, there are seasonal toppings which include fruit pieces like Kiwi, Banana, Mango and Strawberry.
Also read: Pune's Sweet Mess Offers 'Soft Serve On A Cloud' & It Is Delicious
Where : 11719b, Fergusson College Rd, Deccan Gymkhana, Pune, Maharashtra 411004
Phone : + 91 9765698026
Approx cost : ₹300 for two
3. Black Wasabi Ice Cream at Sante' Spa Cuisine
The eccentric Black wasabi ice cream served at Sante' Spa Cuisine in Koregaon park in Pune has caught our attention. Sante' Spa Cuisine is a healthy living lifestyle cafe serving vegetarian, vegan and gluten-free cuisine. Great vibes and quirky dishes define this place and what we believe to be the king of quirk is the Black Wasabi Ice cream. If Japanese items are your thing, this place is perfect for you! The Black Wasabi Ice Cream is made out of a sugar that's prepared from raw jaggery, that is without any refinement. The appearance might be slightly like brown sugar, but it has no added chemicals. This sugar is then crushed with buckwheat granules. At the end, edible charcoal is added to the ice cream to give it the black color. You can get the Black Wasabi Ice Cream at ₹280. 
Also read: If Bizarre Gets You Off, This Black Wasabi Ice Cream Sure Will Suffice
Address: Santé Spa Cuisine, Next to Osho International, Lane 1, Koregaon Park, Pune, Maharashtra 411001
Phone: 020 6520 2050
Approx cost: ₹1,000 for two people
4. Cheesecakes In A Jar at Frozen Bottle
Now you can be proud of 'bottling up' with desserts at this cool new dessert joint at FC road, Pune. After being a big hit in Bengaluru, Frozen Bottle has decided to launch a branch in Pune's very own college hub area, FC Road. Standing right opposite the main gate of the college is the grand dessert joint – Frozen Bottle. They specialize in serving your favorite desserts, but in bottled form. You can now enjoy a Nutty Choco Fudge – but in a bottle! 
Also read: Make Way For Cheesecakes In A Jar With Frozen Bottle At FC Road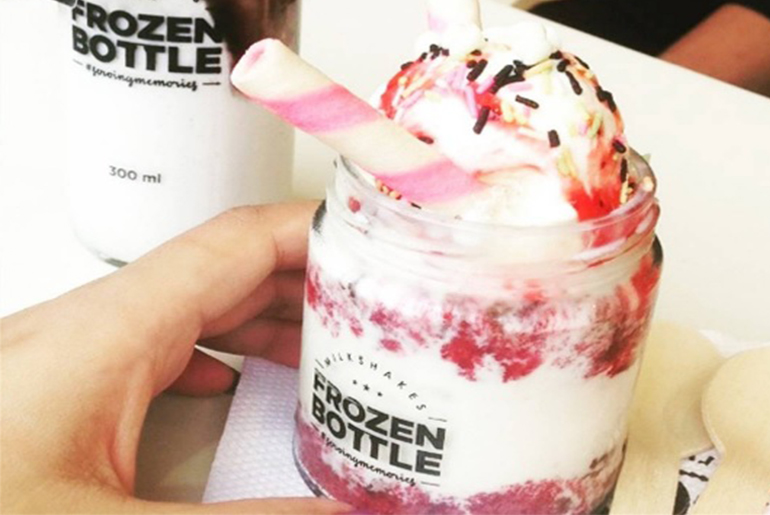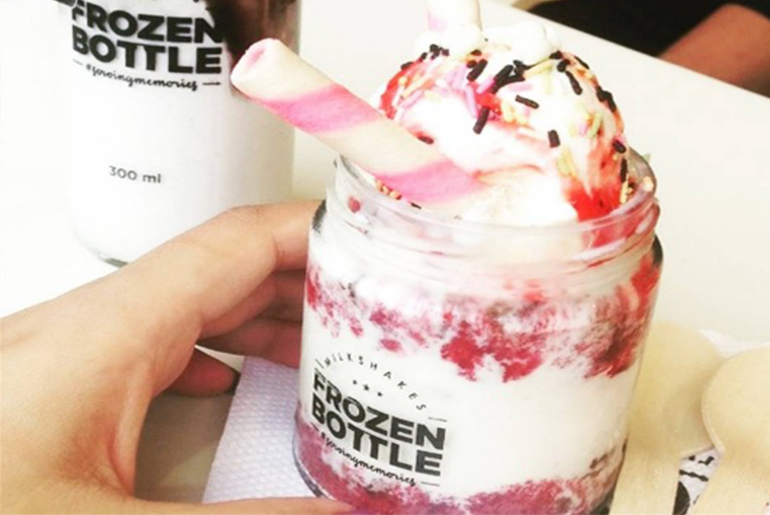 Address: CTS 1216/2+3 Millenium Plaza Beside Pizza Hut Store Opp. Fergusson College, Naamdaar Gopal Krushna Gokhale Rd, Shivajinagar, Pune, Maharashtra 411004
Approx cost: ₹ 400 for two people
5. Oreo Double Trouble at Rock Stone Ice Cream Factory
Calling out to all the chocoholics in Pune, Rock Stone Ice Cream Factory is serving the sinful Oreo Double Trouble from their 'classics' menu to give you the foodgasm of your life! A dessert and ice cream joint in Koregaon Park serves the most sinful ice creams in their 'classics' collection and the Oreo Double Trouble (₹140) is a definite delicacy. It could end up being your favorite dessert because of its Sweet Cream ice cream along with double Oreo cookies, choco fudge and choco chips. Doesn't that sound like #goals?
Also read: Dessert Lovers! You Can't Miss Out The Oreo Double Trouble At Rock Stone Ice Cream Factory In Pune
Address: 31/1A-31/1B/5, Plot 332, Opposite Konark Residency, Lane 6
Phone: 020 30496161, +91 7276046161
Approx cost: ₹400 for two people
LIKE Curly Tales on Facebook | Instagram| Twitter
You can subscribe to our newsletters