Plan to kick start your New Year
A city is at its best when it is celebrating a festival. This is when locals come together to give you a glimpse into the local culture. So, if you are plan to kickstart the first month of 2017 by travelling, we bring you a list of Indian & global festivals that are not worth missing in January 2017.
The Rann of Kutch is an oasis in an otherwise deserted village of Dhordo, which is 85 km away from Bhuj. This barely traceable village is host to the Rann Utsav, a festival that celebrates arts, culture, and beauty of Gujarat under one roof.
Perched on an arid, barren and cracked land, the Rann Utsav's tent city is speckled with colourful stalls and beautiful tents. (Here's why Rann Utsav is one of the best festivals in India)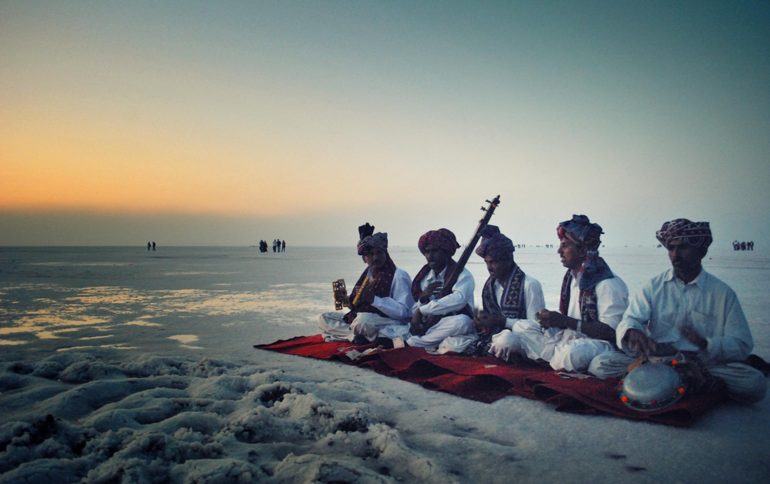 When: Tuesday, Nov 1 to Monday, Feb 20
Where: Kutch, Gujarat
2. International Kite Festival, Gujarat
Go fly a kite, quite literally! The blue sky of Gujarat comes alive with thousands of colourful kites. Taking place in January on the day of Makar Sankranti, the festival is all about kites, food stalls and cultural performances. The participants travel from around the world to show off the kite flying skills. Munch on the scrumptious food at the market.
When: Jan (dates yet to be confirmed)
Where: Ahmedabad, Gujarat
3. Island Tourism Festival, Andaman & Nicobar
Port Blair is the place to be when you wish to see a unique culture extravaganza of Andaman and Nicobar Island. Loose yourself in the island city during this ten-day fest. Experience the dance, drama, music, exhibitions, arts and crafts and much more.
For kids, there is magic show as well as the puppet show. For Adventure junkies, there are aqua sports and parasailing activities too.
When: Friday, Jan 6 to Sunday, Jan 15
Where: Port Blair, Andaman & Nicobar Islands
4. Bikaner Festival, Rajasthan
Ever seen a Camel walking the ramp? Here's your chance as this festival is dedicated just to them! Experience the rich culture and the love for camels by attending Bikaner Festival from January 10 to 12. There are camel races, camel milking, camel beauty pageants and camel acrobatics. The locals too get competitive with the beard-moustache and fur cutting clash. Don't forget to sip on the camel milk tea with the toothsome snacks.
When: Tuesday, Jan 10 to Thursday, Jan 12
Where: Bikaner, Rajasthan
5. Magh Bihu, Assam
Marking the end of rice harvesting season, Magh Bihu is an important festival for agrarian communities in Assam. You will see Assamese dance, bullfights and bird fights during the festival. A meji ghar (hut-like structure) made from thatch and firewood is set aflame at the time of festivities.
When: Sunday, January 15
Where: Assam
6. Jaipur Literature Festival, Jaipur
Indulge in the Shakespearean literary magic in Jaipur. Considered as one of the leading literature events in Asia-Pacific region, it hosts a celebration of the national and international writers. The festival is all about debates, poetry, discussions and workshops.
It's a great opportunity to meet the eminent writers. Live music performances and books exhibition is something you definitely going to enjoy.
When: Thursday, Jan 19 to Monday, Jan 23
Where: Diggi Palace, Jaipur
 7. Dubai Shopping Festival, Dubai
The Dubai Shopping Festival is a shopper's paradise and a haven for food connoisseurs. Families and children have a delightful time shopping and getting thrilled in the roller coaster.
Grab the best offers on high-end brands  such as Gucci, Prada and many more. The highlight is that you get everything at 'duty-free' prices. Do you need more reason to book your tickets to the beautiful Arab country?
When: Monday, Dec 26 to Saturday, Jan 28
Where: Dubai
8. Ice Lantern Festival, China
Experience the temperature going as low as zero or even below at this City of Ice. From January to February, Harbin transforms itself into a city made of pretty translucent sculptures carved from ice.
Pagodas, palaces, dragons, dinosaurs, spacecraft, famous figures and landmarks all are frozen in figurines. The residents hollow out the blocked ice and use it as lanterns.
When: Thursday, Jan 5 to Saturday, Feb 25
Where: Harbin, China
9. Sydney Festival, Australia
Also known as Australia Summer Festival, this is one of the largest festivals here. From Parody Circus to New York rap theater, you will get a glimpse of every cultural instinct residing there.
388 performances and 98 events are performed by 1000 artists at 30 different venues in the city to entertain over 2,00,000 people.
When: Saturday, Jan 7 to Sunday, Jan 29
Where: Sydney, Australia
10. Big Day Out Music Festival, Australia
Contemporary rock, electronic music, mainstream international and local acts, the Big Day Out is a musical extravaganza. Fly down any day from January 13 to 29 but don't miss this, is what we suggest!
Go to Brisbane, Sydney, Melbourne, Perth, Auckland, New Zealand, Adelaide or Gold Coast, as the event travels from city to city.

When: Friday, Jan 13 to Sunday, Jan 29
Where: Multiple locations in Australia
Also read, 7 Best Global Hotspots To Ring In 2017
LIKE Curly Tales on Facebook | Instagram | Twitter
You can subscribe to our newsletters.