When it comes to street food, Mumbai has so much to offer. But Lokhandwala is literally the hub for the most delicious street food options in Mumbai. One of the rising stars of India, Alaya F has recently moved to the bustling neighbourhood. Alaya and our CTO Kamiya Jani ventured out to explore the hidden gems of Lokhandwala in one of the episodes of Tere Gully Mein. Kamiya had met Alaya in Saif Ali Khan's house before and they had enjoyed home-cooked bhindi with roti. But this time they decided to binge on some buttery, greasy food in Lokhandwala. Before heading into what the duo explored, here's a sneak peek into what Alaya revealed about her life and journey.
Kamiya and Alaya had an interesting conversation where Alaya revealed that she had gone to New York for studies and had taken up babysitting as a side job to manage her expenses. She said that her parents would give her only $400 which wasn't adequate enough to survive in an expensive place like New York. Alaya used to charge on an hourly basis for her service. The actress said that children and dogs are fond of her which her father Farhan F cited as a sign of good character.
Alaya Ate Out At Restaurants Alone To Overcome Social Anxiety
Alaya said that her go-to midnight snack corner was Amar Juice Center where she loved cheese pav bhaji. When asked about the weirdest food combo she had tried, Alaya revealed that she once had a proper pizza topped with ice cream.  She also revealed that she used to suffer from social anxiety and started eating out at restaurants alone in New York to get over it. She had started dining out at small eateries and gradually shifted to big and crowded ones.
She Went On A 45-Day Trip To All Of India With Her Friend From New York
While speaking about her travel stories, Alaya said that she had gone on a 45-day tour to the whole of India with her friend from New York, Elena. She said that they had stayed in the craziest places to experience the maximum of the destinations. They had stayed in hostels too and had many insane adventures. She also revealed that when she found out that some locals were trying to dupe them, she deliberately acted like an English girl along with Elena to understand what the people were speaking in Hindi. Alaya said that her favourite place in India is Varanasi.
Now, coming back to Lokhandwala, here's what Kamiya and Alaya explored:
1. High Point Sweets
High Point Sweets in Lokhandwala offers scrumptious chaats, Schezwan dosa and of course, pav bhaji. Ask any local of Lokhandwala, they go absolutely bonkers over the pav bhaji at High Point Sweets. Another snack dish to be relished from here is the katori chaat loaded with dahi, aloo masala, pomegranate seeds and sev. Alaya revealed that she has ordered food from High Point Sweets a lot of times.
Also Read: These Street Vendors In Mumbai Turned Crorepatis By Selling Vada Pav
2. Monsoon The Chaat Corner
If you get a pani puri craving in Lokhandwala, look nowhere and head straight to Monsoon The Chaat Corner. Other desi treats to try our from here include dahi aloo chaat, dahi papri chaat, bhel puri, sev puri and chole tikki, among others.
3. BreadKraft
BreadKraft is known for its flavourful Chicken Frankie. The frankie rolls here are brimmed with grated cheese and they are too good to resist. At BreadKraft, Kamiya ordered a Chicken Frankie and Alaya enjoyed a Panner Cheese Frankie since she is a vegetarian. The place also serves momos, bread rolls, pakodas and even biryanis.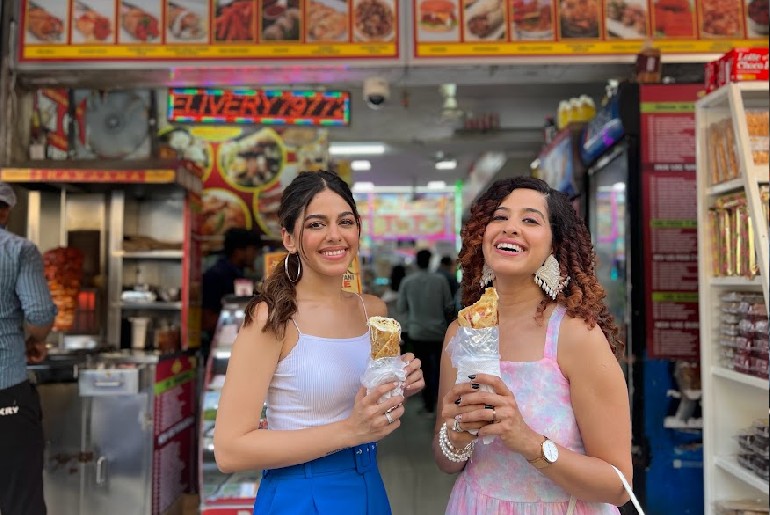 Also Read: 13-Year-Old Boy Sells Sandwiches & Frankies Near Mumbai's Versova Metro Station; Internet Extends Support
4. Yamu's Panchayat
Yamu's Panchayat serves a slew of paan varieties that come in different flavours and colours. Some popular paan varieties to try out at Yamu's Panchayat include Kwaab, Mehfil-e-Khas, Ice Paan and Ishq-e-Khas. The meetha paan here is prepared with gulkand, coconut powder, mulethi, sweet chutneys and more and is profoundly flavourful.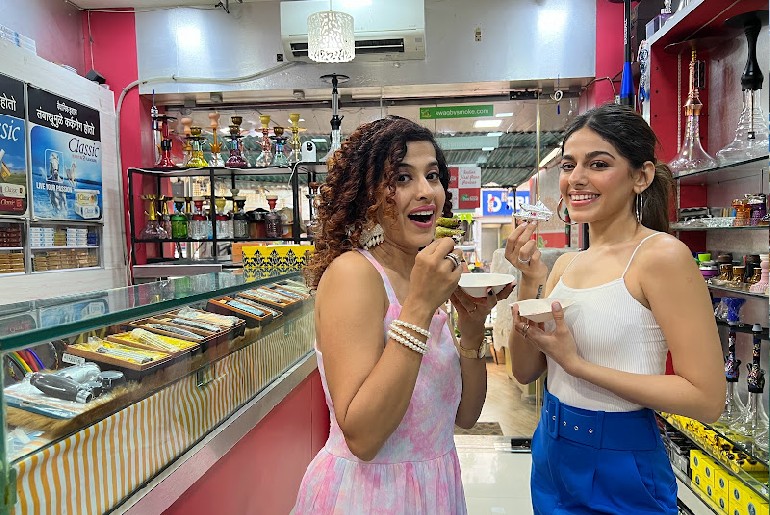 Also Read: This Street Stall In Borivali Offers Fire Chaat & It Is Setting The Internet Ablaze
Which among these have you already visited? And what was the dish you loved the most? Let us know in the comments section below.