The 43-day-long Amarnath Yatra 2022 finally begins after the two-year Covid pandemic break. Amarnath pilgrimage is one of the most important and pious yatras for Hindu pilgrims. Millions of devotees visit the cave shrine from India and abroad. This year the Government is paying extra attention to pilgrim safety. They are introducing a Radio Frequency Identification to track their movements throughout. Along with this, there are strict orders for only nutritious food. Amarnath Shrine Board is totally against fast food availability for the devotees throughout Amarnath Yatra 2022. Read on to know more about the healthy food menu released by the Board.
Amarnath Yatra 2022 Food Menu Bans Cold Drinks And Focuses On Nutritious Food Items
Shri Amarnath Shrine Board is working a lot on the safety of the pilgrims for the ongoing Amarnath Yatra 2022. When on any pilgrimage or journey, healthy eating is a must. And the worst possible thing that you can have during your travels are fast food items. So it isn't a surprise that a healthy food menu is issued by the Board for the Yatris. The menu focuses on light food and only those are going to be available for the devotees. The list is devoid of any fast food and is applicable to langar stalls, food stalls, and various other shops. Non-veg items, cold drinks, alcohol, and other intoxicants are put on ban throughout the pilgrimage. Yatris will have healthy options like plain rice, cumin rice, khichdi, and Nutrella rice.
Also read: Amarnath Yatra To Begin And Here's Everything To Know!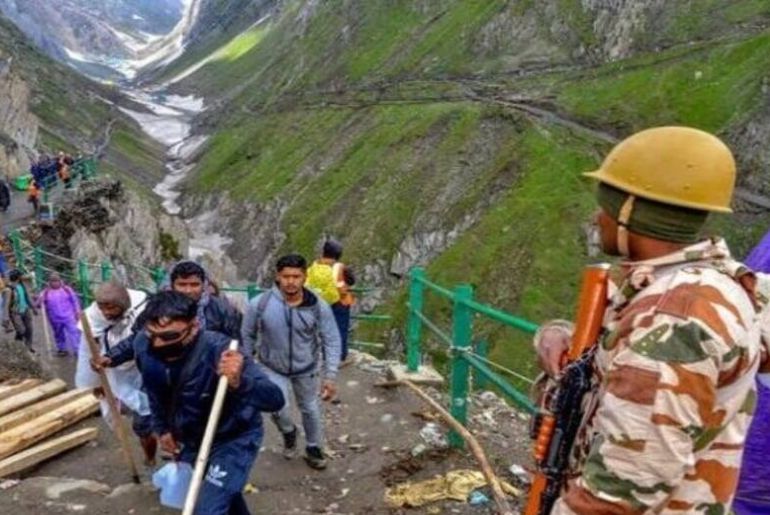 Authorities To Take Strict Action Against Shopkeepers
The food menu by the Board for Amarnath Yatra 2022 is all about with attention to detail. Items that have high-fat content are a complete no. Only herbal tea, low fad curd, sherbet, lemon squash, water, and glucose are available. Devotees can carry low-fat items like kheer or porridge along with them. Certain items are put on ban as well. And to ensure everyone follows the food menu, District Magistrate Ganderbal Anantnag, is seen ensuring fine charges and other violation action under RPC. Strict action against anyone not catering to the food menu is promised by the authorities. Must say, the effort to ensure the safety of the devotees throughout the Amarnath Yatra 2022 looks commendable!
Also read: Pilgrims Can Soon Fly Directly From Srinagar To Amarnath In Helicopters
Download Official Mobile Application by @ShriSasb for important information and timely updates about the #ShriAmarnathjiYatra2022

Link: https://t.co/gSrFO3gPWl pic.twitter.com/sHD2AYcUPH

— PIB in Jammu Kashmir & Ladakh (@PIBSrinagar) June 27, 2022