Are you planning to take on the Amarnath Yatra? Then, the Centre has introduced a new route for the devotees considering there might be a huge rush. A helicopter service will be initiated which will drop pilgrims from Srinagar to Panchtarni – the last drop-off point. The shrine is another 6 km away from Panchtarni. This will be a good addition for the pilgrims of the Amarnath yatra.
The current route in which helicopter services are available is from Baltal and Pahalgam to Panchtarni – after reaching Panchtarni, pilgrims take a walk, ride a mule or take a palanquin to the shrine. To reach Baltal and Pahalgam, one needs to travel 90 km from Srinagar. So, this new route is going to bridge the gap and carry pilgrims from Budgam (near Srinagar) and directly to Panchtarni.
Also Read – Amarnath's Iconic Shivalinga Melts Down By 80 Percent Due To High Temperatures
Helicopter Services Will Ease Rush On Amarnath Yatra
Higher Officials informed us that a heavy rush is expected during this year's Amarnath Yatra which is supposed to initiate on June 30. Hence, the Centre has taken this decision in advance to ease the risk and introduced the helicopter services.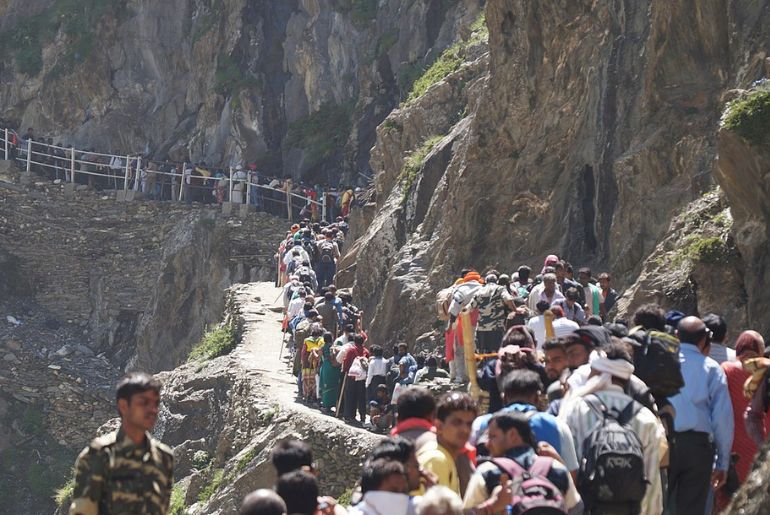 The Amarnath Shrine Board has also been requested to check if the helicopter can be landed near the caves. As of now, the helicopter services are only available near the caves for VVIPs only.
The fares for the helicopter services are yet to be decided.
This year's Amarnath Yatra will continue for 43 days.
Also Read – Now Travel From Srinagar To Dehradun In A Helicopter: Know The Prices & Timings
Threat During The Amarnath Yatra
Few intelligence reports suggest, that a terror group named Jaish-e-Mohammed has threatened to target the yatra. Reportedly, many letters and posters were spotted in and around Kashmir warning of severe consequences.
Also Read – Amarnath Yatra To Commence On June 30; Here's Everything You Need To Know