It's not often that you come across a restaurant that serves you dishes in a unique yet sustainable manner. When you step into Arogya Ahaara in Bangalore, the long queue of people waiting at the counter with dabbas might take you aback. And even though there is a separate area of the restaurant serving you food at your table, just a mental comparison at the takeaway counter and the sit-down area, and you can pretty much guess the takeaway is definitely popular. So why do people prefer to take away their food here? The answer to that lies in the weighing machines at the counter. Arogya Ahaara serves takeaway food by the kilo. Like the restaurant itself states, you can enjoy varieties of dishes here, in the quantities you need.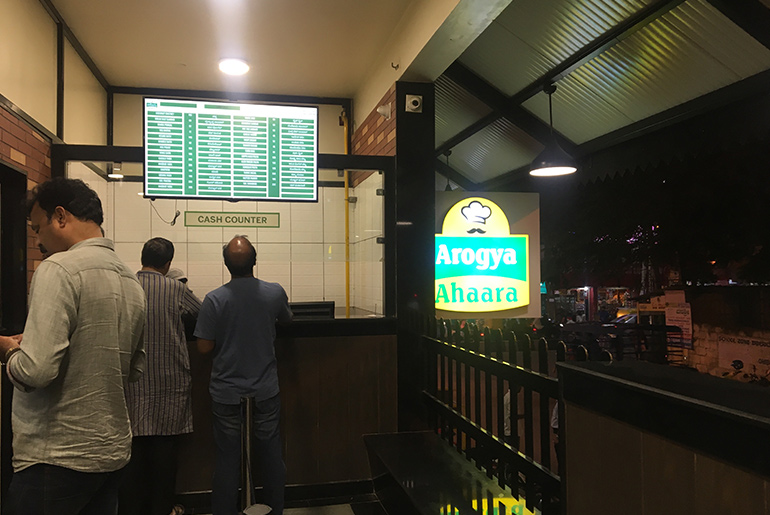 Worth The Weight!
Food wastage and plastic pollution are 2 major problems faced by the restaurant industry. So how can you take a little step to tackle it both? Well, Bangalore's Arogya Ahaara has shown the way. Customers are encouraged to bring their own containers, bowls, bottles, Tupperware and dabbas from home for every type of takeaway order. At the takeaway counter, the customer states what food he would like and in what quantity like 750 gm of Bisi Bele Baath, 500l of Rasam etc.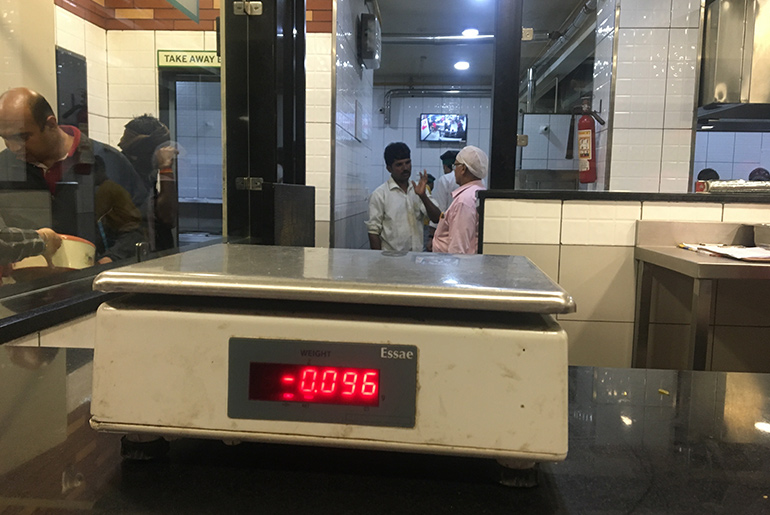 They pay for it and then give their token as well as their dabbas at the open counter to pick up their food.  The open counter has small weighing machines placed at the tabletop. The customer's dabba is placed on the weighing machine and filled with food according to the kilo or litre, paid for.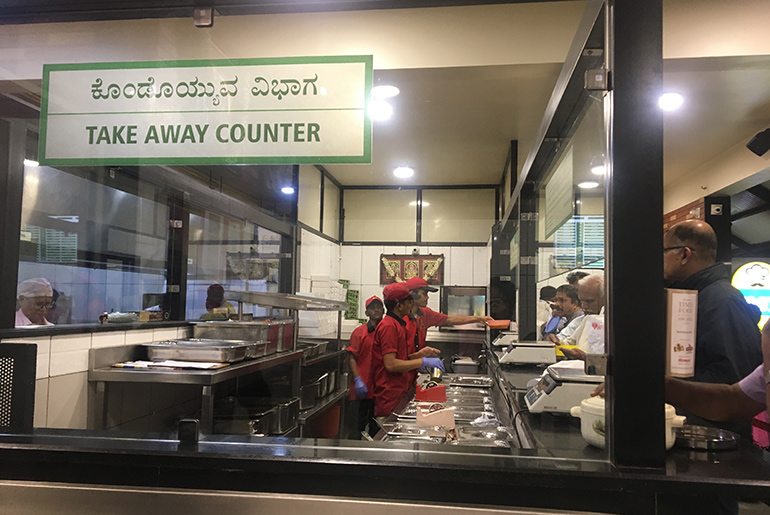 Also Read: Visit The 57 Year Old Ranganna Military Hotel In Bangalore Owned By A Wrestler
Solid food is weighed in kilograms and liquid food and beverages in litres. The food is prepared fresh in the see-through kitchen, which is kept impeccably clean. Customers can take away anything from crispy dosas, spicy Gobi Manchurian, sweet barfis, hot Sambhar, flavoursome Bisi Bele Baath to even their soft Gulab Jamuns. And if you don't have your own container, you can purchase biodegradable dabbas at the counter. But the restaurant usually prefers you get your own utensils. This way you can reduce consumption of disposables and pack food that would be adequate for you and your family, reducing food wastage. When it comes to Zero Wastage Visit Bangalore's First Zero Waste Juice Bar At Eat Raja In Malleshwaram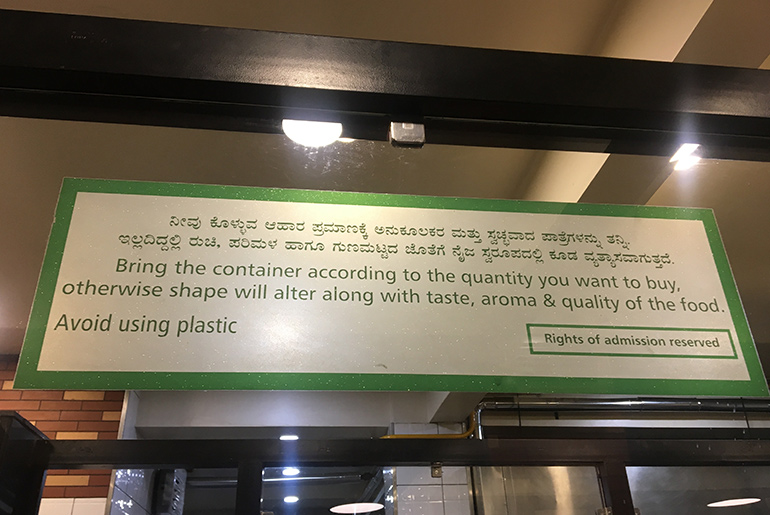 Food Served At Arogya Ahaara
Located in JP Nagar and HSR Layout, Arogya Ahaara is popular for its breakfast meals. The Dosas are small, golden-brown fluffy and filled spicy bhaji, the Idlis are soft and the coffee is the perfect energizer you can ask for. Apart from the tiffin meals, they have a takeaway menu that keeps changing.
You can either decide to enjoy a family sit-down meal together to pack some for them by getting your own dabbas. The rice-sambhar dish of  Bisi Bele Baath, is flavoursome and is a wholesome lunch meal, which you can opt for. If you like something fancier then Argya Ahaara does serve you Noodles, Babycorn Manchurian which is tangy and spicy. North Indian Fare of Paneer Butter Masala and Rotis is another option on the menu.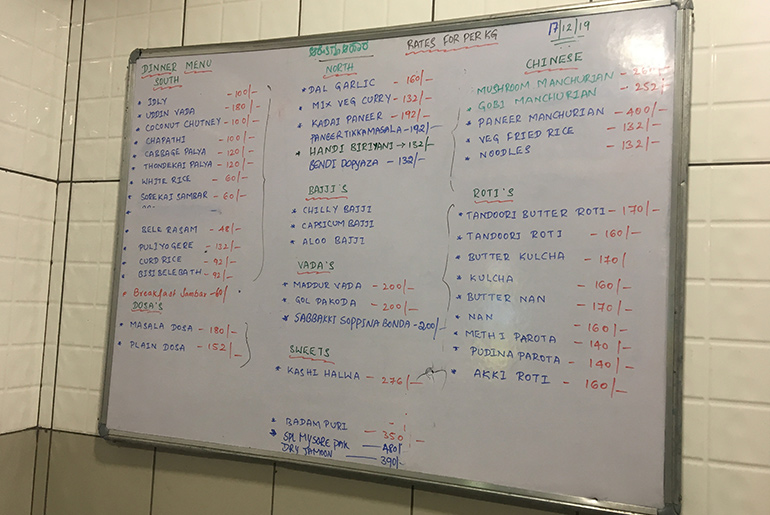 End your meal on a sweet note with their delicious Gulab Jamun, barfi of the day or the Badam Sweet. You can enjoy a variety of delicious dishes here at the quantities you need with the dabbas from your home, which you reuse. This meal will be a memorable one thanks to minimal leftovers, food wastage or plastic pollution. So we say it's definitely worth the weight!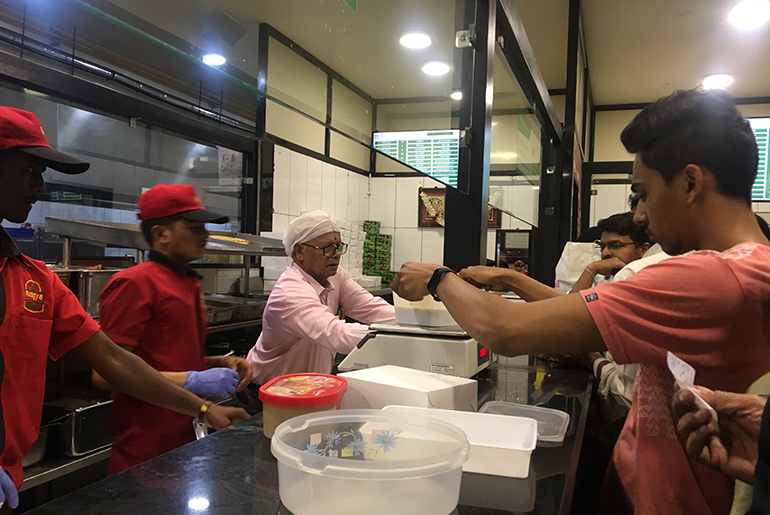 Deets
Address: 195, 30th Main Road, Jeewan Sathi Colony, 1st Phase, JP Nagar, Bangalore ( JP Nagar Branch)
Timings: 6:30 am to 3 pm and 5:30 pm to 9:30 pm
Cost: ₹100 for two
Contact: +91 9448090152