Every Place in Rajasthan extrudes nothing but Royalty, and Udaipur is no different. Be it the majestic City Palace or the quaint Fateh Sagar Lake- there's enough grandeur in Udaipur to cast a spell on you. And if you think that Udaipur is all about forts, palaces, and history, then we are sure you haven't heard about the famous Bahubali Hills. 
Also read: Ditch Gulmarg And Add These Offbeat Places In Kashmir On Your List
Bahubali Hills Is Located 8-10Km From Main Udaipur City 
Located 8KM away from the city centre, Bahubali Hills which were found by the locals, has now become a popular tourist attraction. You have to hike 1KM to reach atop, but the hike is very basic and can be done in 15-20 minutes. The best time to visit this place is sunrise time, where you can capture the most beautiful sunrise of Udaipur. You should remember that there are no washrooms nearby, so take care of that before starting the hike.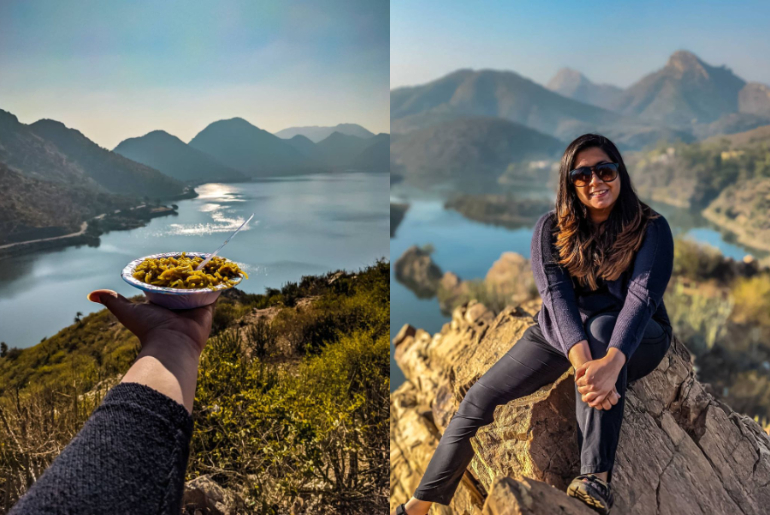 Now, when it comes to the mountains, it is also known as Badi Hill since it is located right opposite the famous Badi Lake. The name Bahubali was given to the hills by a google user since he found the hills similar to the Bahubaali movie. Now, when it comes to reaching the spot, if you are going by car, you have to pay Rs.10 as an entry charge- the same applies to rickshaws. For food, you can carry some snacks or enjoy some Maggi at the stalls built atop the mountain.  
Also read: 5 Gorgeous Waterfalls In Rajasthan That You Cannot Miss
Best Time To Visit Bahubali Hills
You can go for a sunrise or sunset hike. But, remember that the hill is located in the forest area and there are no proper street lights, so ensure that you don't visit the place after the sunsets. And when it comes to the weather, you can visit the place all year round. Just make sure that you wear good shoes for hiking. So dear photographers and travellers, this place should be on your list.