Bengaluru peeps! We know that this pleasant climate, cloudy skies, and romantic weather would surely make you crave for your cup of freshly grounded coffee. So we have here the 12 best cafes in Bangalore where you can chill with your loved ones and bond over your favorite beverage.
1. Banoffee Pie At Dyu Art Cafe, Koramangala 
A cafe that truly makes you feel at home, Dyu Art Cafe's open house atmosphere is a perfect cure for your hectic life. When you walk in here, you will be greeted by some of the best artwork of the country as well as a great collection of books displayed on the shelf. ( Coffee does meet creativity!) As you unwind from your busy schedule, do order their cinnamon-infused Cafe Miel and pair it with their signature Banoffee Pie. (You can thank us later!) 

Deets
Address: 23, Near Mangala Kalyana Mantapa, MIG, KHB Colony, Koramangala 7th Block, Bangalore
Timings: 10 am to 10:30 pm
Cost: Rs. 800 for two
Contact: 080 49653400
2. Mango Vietnamese Coffee At Karma Kappi, Jayanagar
Located in Jayanagar, Karma Kappi is a quaint cafe offering a crazy variety of International brews. We found the grass-covered seating to be quite interesting. If you're having trouble deciding what to order, the staff will surely recommend you some great beverages thanks to their in-depth coffee-knowledge. But we suggest you give their seasonal Mango Vietnamese coffee a try, it's laden with freshly cut mangoes, strong coffee-concentrate, and sweet condensed milk, perfectly balancing this beverage. While you're at it, order their Pan Asian starters and you're good to go!
Deets 
Address: 81, 36th Cross Road, 5th Block, Jayanagar, Bangalore
Timings: 10 am to 10 pm
Cost: Rs. 250 for two
Contact: +91 9380908955, +91 7483024632
3. Cold Fashioned Brew At Third Wave Coffee Roasters, Multiple Outlets
Coffee Lovers, if you haven't visited this amazing cafe, then make your plans right away! From an orange-infused cold brew, Cold Fashioned to the exotic rose-petals sprinkled, Le Vie En Rose, Third Wave Coffee Roasters is here to make a lasting impression. This is one of the best cafes in Bangalore, that you must definitely visit with your gang.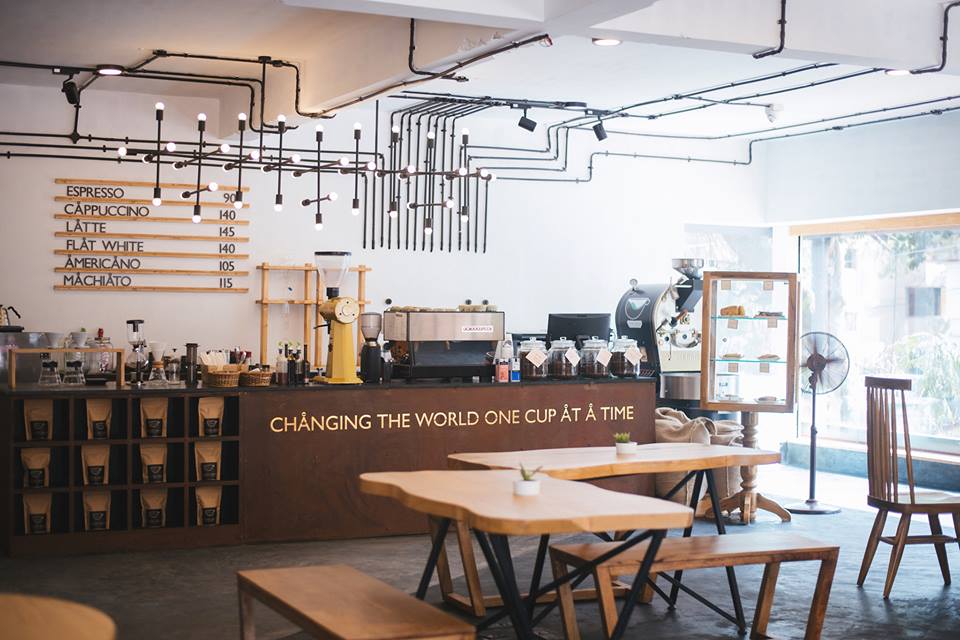 Deets
Address: Multiple Outlets
Timings: 8:30 am to 11 pm
Cost: Rs. 800 for two
Also Read: Sip Over 15 Varieties Of Chai At This Café In Bengaluru
4. Blackforest Pancakes At A Hole Lotta Love Cafe, Koramangala
Ditch your Sunday breakfast, aside and give yourself some love by indulging in the delicious Continental Sunday Brunch here. We urge you to try their Two Birds With One Stone, which consists of fried eggs, baked beans, and buttered toast. And don't you dare leave this place without trying their lip-smacking Blackforest Pancakes and their creamy Cold Coffee.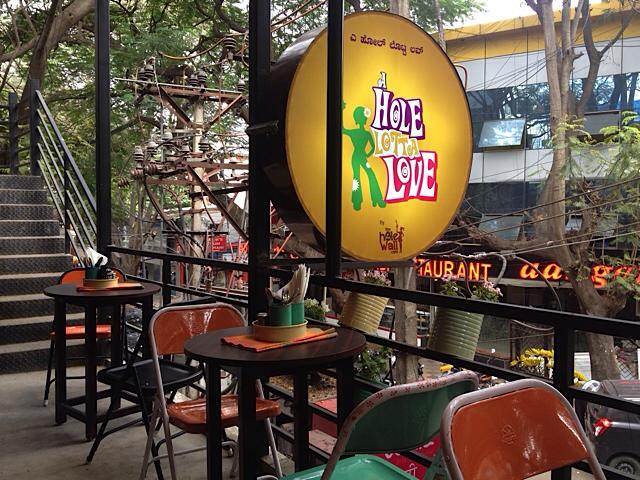 Deets
Address: 59, 1st Floor, Diagonally Opposite JNC, Industrial Layout, Koramangala 5th Block, Bangalore
Timings: 10 am to 10 pm
Cost: Rs. 600 for two
Contact: 080 37971886
5. Devil's Own Cold Coffee At Cafe Down The Alley, Banashankari
Marvel and DC fanatics, this superhero-themed cafe, is your next adda! From quirky interiors and artwork depicting your favorite superheroes, this European styled cafe screams nostalgia. As you chuckle at the cute superhero illustrations on the menu, do order their chocolatey Devil's Own cold-coffee and the creamy Alfredo Spaghetti at this place which features in our best cafes in Bangalore list. If you're looking for great pizzas then here are 20 Best Pizza Places In Bangalore For 2020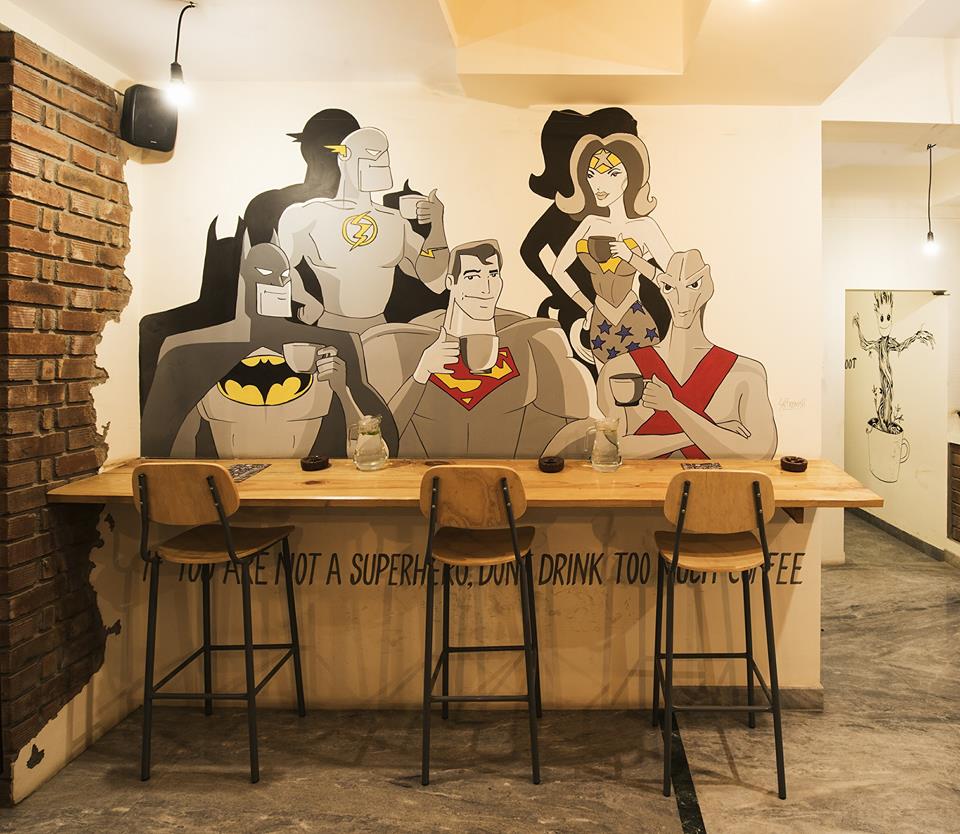 Deets
Address: 12, 29 Near PES University Back Gate, D'Souza Nagar, Hosakerehalli, 3rd Stage, Banashankari, Bangalore
Timings: 10 am to 10 pm
Cost: Rs. 500 for two
Contact: +91 7406048982, +91 7338400574
6. Butterbeer At Two Friends Cauldron, JP Nagar
For all those of you who've been lost in the magical world of Hogwarts, visit this Harry Potter-themed cafe in JP Nagar. Savor their variety of slimes (don't worry they're just quirky references for the dishes), delicious pizzas and their signature Butterbeer. ( Can't believe it right, go try it!)  Did you know Bangalore Has A Harry Potter Themed Cafe & They Even Serve Butterbeer?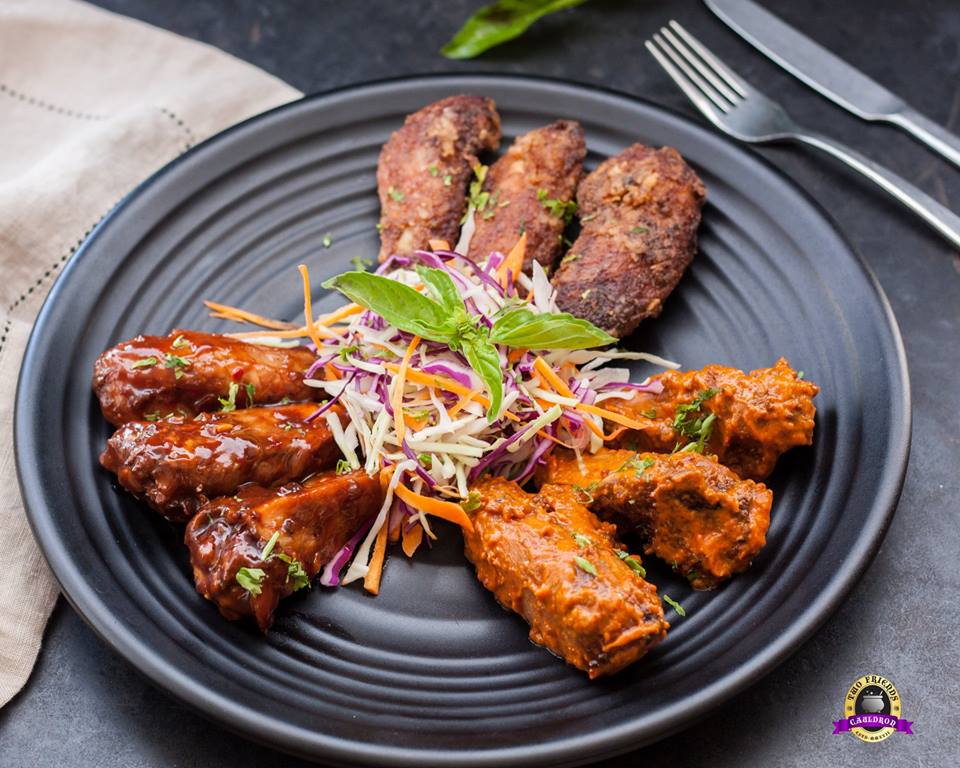 Deets
Address: 39, 15th Cross, Beside HDFC Bank, 4th Phase, JP Nagar, Bangalore
Timings: 11 am to 11 pm
Cost: Rs. 700 for two
Contact: +91 8041134649
7. Signature  Hot Coffee At Glen's Bakehouse, Koramangala
From buttery-golden croissants to flavorsome pies, this is one of the best cafes in Bangalore which is truly a bakery delight. Spend an intimate date here sipping their strong signature coffee and munching the crunchy Almond Crusted Chicken Strips. If you're a fan of cheesecakes like us, then you must have the Great Baked Cheesecake Sundae here at Glen's Bakehouse! And end your meal on a bitter-sweet note with their creamy, frothy, strong Signature Coffee.

Deets
Address: 616, 80 Feet Road, 17th Main, Koramangala 6th Block, Bangalore
Timings: 9 am to 12 pm
Cost: Rs. 600 for two
Contact: +91 9663364487, +91 8043779641
8. Honey Cinnamon Cappuccino At Marzipan Cafe & Bakery, Ulsoor 
As fancy as the name sounds, the tastefully decorated ambiance and a green scenery outside the window, this cafe gives us much-needed peaceful vibes. We loved their Honey Cinnamon Cappuccino coupled with their signature Marzipan Cake (German cake laced with intoxicating almond filling) Head here for a lazy Sunday brunch.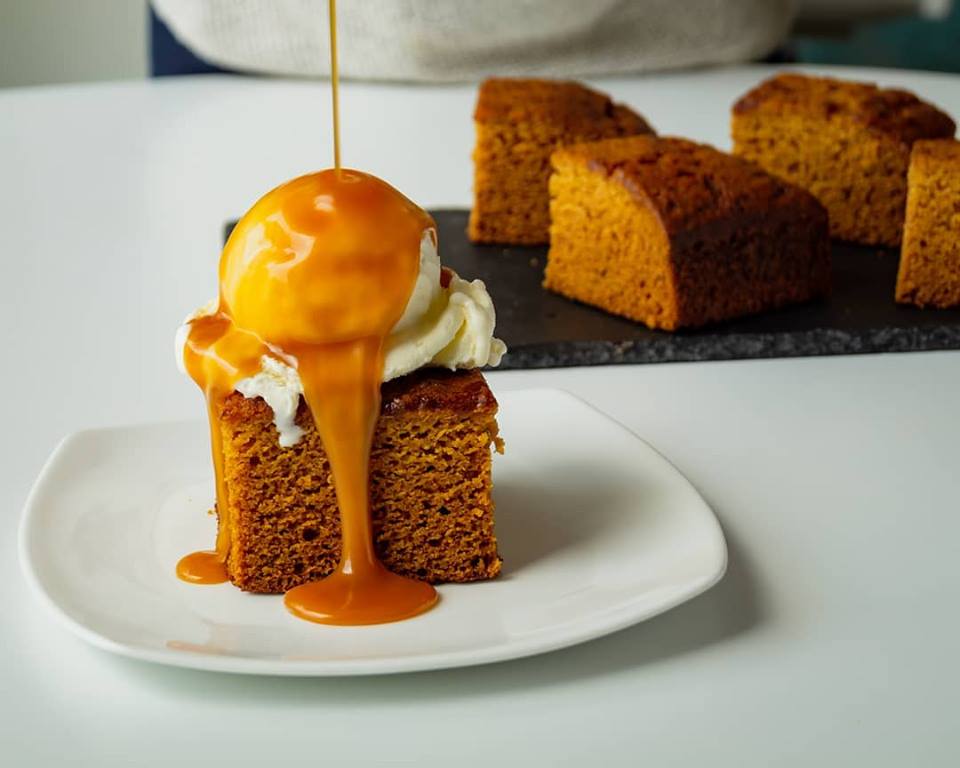 Deets
Address: 22, Ulsoor Road, (ground floor of Sunrise Chambers), Bangalore
Timings: 11 am to 8 pm
Cost: Rs. 900 for two
Contact: +91 9844422724, +91 9902069665
9. Hot Chocolate At The Teal Door Cafe, Indiranagar
Built-in a 25-year-old building, The Teal Door Cafe reflects all things beauty. From hiring underprivileged women to having recycled decor, this cafe sure lives up to its description- 'Cafe For The Soul'. We loved the easy-going vibe here and instantly wanted to capture Insta-worthy moments of this place.  The piping Hot Chocolate, mini pancakes, Thai Pav (Pav Bhaji with a Thai spin) were some of our favorite picks. So if you're soul needs some good food, calm vibes, and delicious nourishment, this is one of the best cafes in Bangalore which you should surely visit.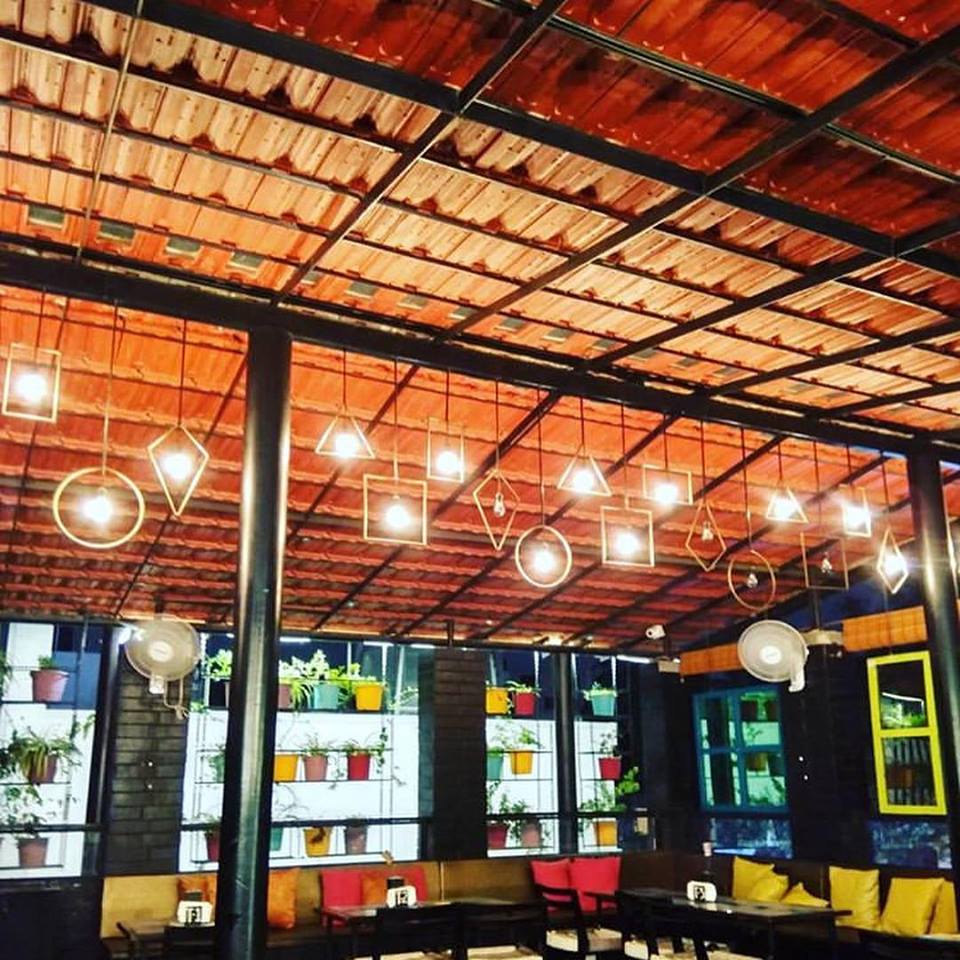 Deets
Address: 618, 2nd Main Road, Binnamangala, Hoysala Nagar, Indiranagar, Bangalore
Timings: 8 am to 11 pm
Cost: Rs. 800 for two
Contact: 080 49653146
10. Pocket-Friendly Food And Drinks At Atta Galatta, Koramangala
Atta Galatta is not just a cafe but a culture-hot spot, thanks to the various workshops, book reading sessions, plays, standup comedy, and whatnot. The cleverly designed brick pillars, a vast collection of books and the delicious menu made us instantly connect to this place. Head here for an enjoyable evening of events and munch on the budget-worthy sandwiches, Maggi and wash it down with their filter kaapi.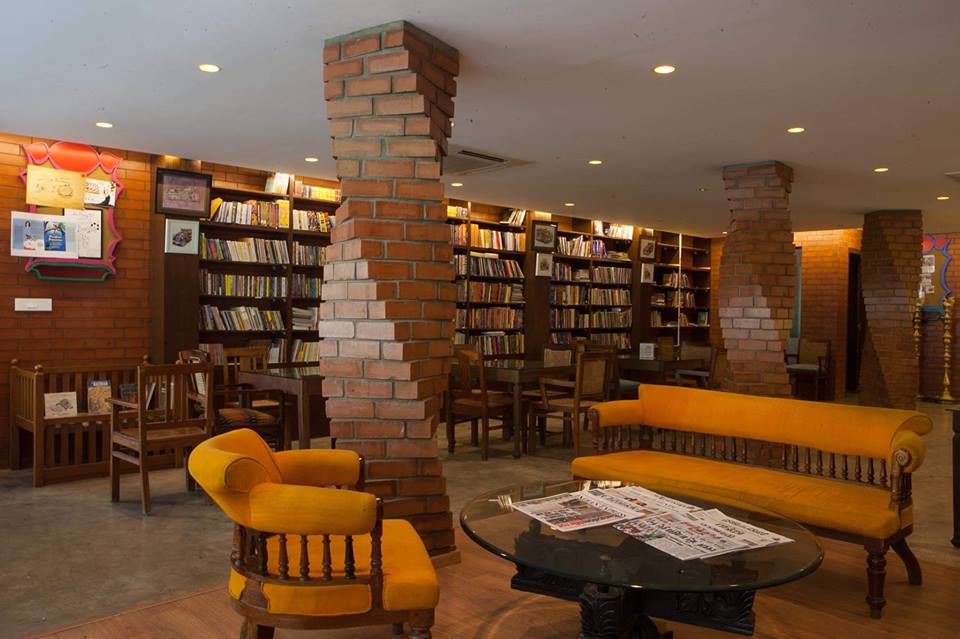 Deets
Address: 134, KHB Colony, Koramangala 5th Block, Bangalore
Timings: 11 am to 8 pm
Cost: Rs. 200 for two
Contact: 080 41600677, +91 9632510126
11. Thin Crust Pizzas At Cafe Pink Pajamas, Kalyan Nagar
If you've watched Alice In Wonderland or read this classic as a kid, then watch the Mad Hatter's Tea Party come alive at the Cafe Pink Pajamas, one of the best cafes in Bangalore. The eccentric vibrant decor coupled with rich throne-like chairs makes this cafe an Insta-worthy affair. Skip the monotony and head here for the best of signature homemade pasts, thin-crust pizzas, and hearty all-day breakfasts.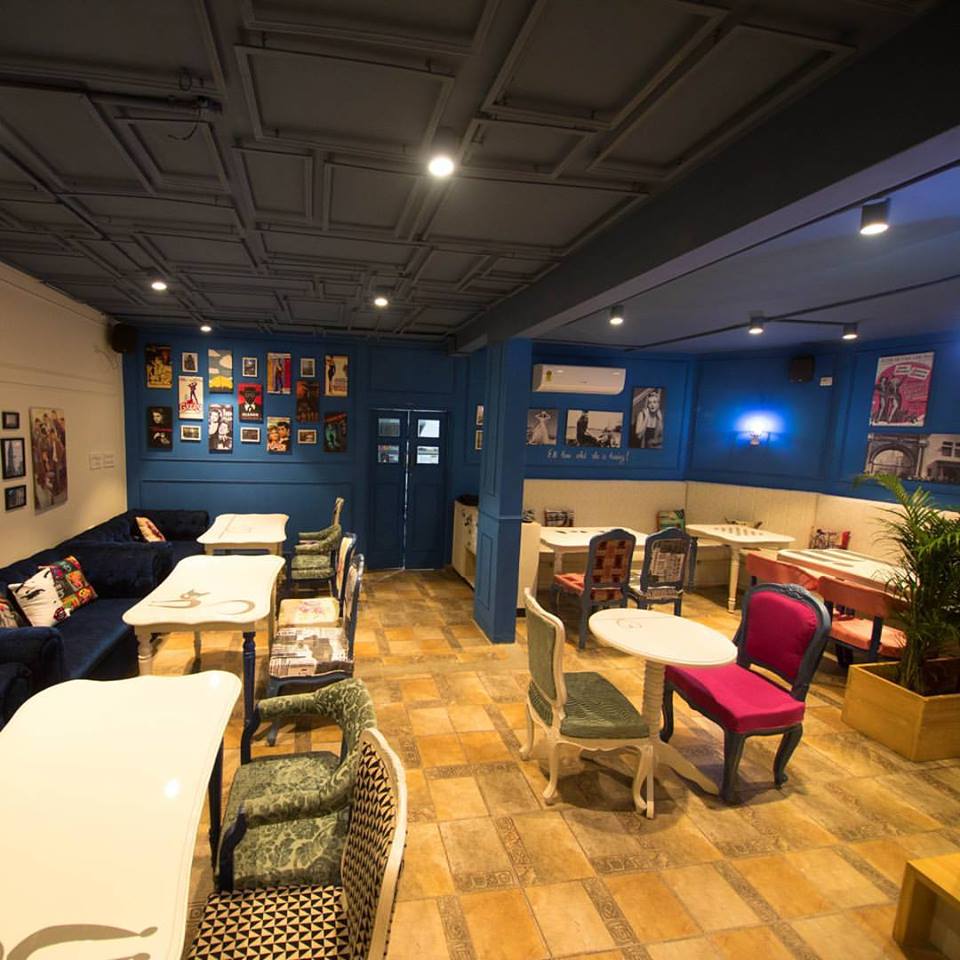 Deets
Address: 5M-403, 1st Floor, 5th Main, 2nd Block, HRBR Layout, Kalyan Nagar, Bangalore
Timings: 11: 30 am to 10:30 pm
Cost: Rs. 350 for two
Contact: +91 9481611827
12. Churros At Sanchurro Cafe, Banashankari
Churros- the heavenly dessert of crispy pastry paired with chocolate sauce, is a gift to us by the Mexicans. If you haven't tried this delicacy yet, then you must visit the Sanchurro Cafe in Banashankari. Order a hot crispy plate of Churros, dip it in melted chocolate and lay back to savor every mouthful. While you're at it, do have their Mexican Hot Chocolate, which has a beautiful bitter-sweet creaminess to it, transporting you to the world of chocolatey delight. If you like desserts check out these 5 Unique Desserts To Try In Bangalore
Deets
Address: 1112, Next to KIMS Medical College, 17th Cross, 2nd Stage, Banashankari, Bangalore
Timings: 11 am to 11 pm
Cost: Rs. 800 for two
Contact: +91 9663487993
We have given you our list of best cafes in Bangalore, so now you can plan your next date with your bae, sip a cup of hot coffee, munch delicious snacks and keep the conversations going. Are you going to meet for a cup of coffee?