College canteens are the one place we spent most of our time and create some of the best memories. If you want to bunk – come to the canteen, if you want to chill with your friends – come to the canteen, if you are hungry, sad, depressed or even want to celebrate – come to the canteen! Here are some college canteens in Mumbai that serve mouth-watering food and it won't burn your pockets.
1. Mithibai College, Vile Parle
How can you not start with Mithibai College? They have a huge canteen and it is almost impossible to find a place to sit during lunch hours. The canteen serves almost everything. Oh, but I must mention everything in veg! That is the only disappointment here. Right from dosa, pav bhaji, frankie, chaat, rice to a huge thali, the canteen has got you covered. Also, you won't believe the rates, they are super pocket-friendly.
Some of the best dishes here are their dosa varieties, fried rice, cheese pav bhaji, pasta and watermelon juice!
Also Read:  Head To Anand Stall Near Mithibai College For An Ultimate Foodgasm!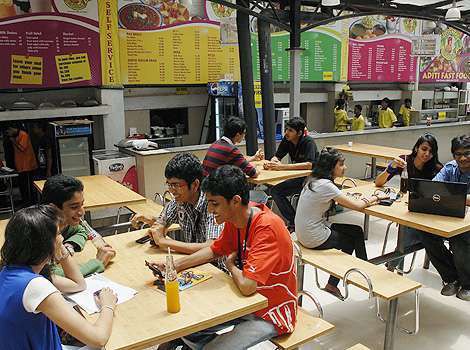 Address: Mithibai, Bhaktivedanta Swami Marg, Gulmohar Road, Suvarna Nagar, Vile Parle (W), Mumbai, Maharashtra 400056
Also Read: Students Guide: Best Canteens Of Delhi's Colleges
2. Ruia College, Matunga
I was a student at Ruia college and I get it if you think i'm a little biased with my opinion here – it is the best canteen and they serve non- veg too! I have spent most of my college time here and met some of my best friends. If you are not friends with the canteen guys, are you even a part of that college? Some of the best dishes to try here are butter chicken with paav, chicken fried rice, Chinese bhel, frankie, egg biryani and chai!
Address: Ruia, L. Nappo Road, Dadar East, Matunga, Mumbai, Maharashtra 400019
3. Jaihind College, Churchgate
Well, Jaihind is close to my heart, I was a student here too! I would have said Jaihind was the best but they shut down the outside canteen which was so good! Currently, they have only the inside one running. The best dishes to try here are chicken frankie, fried rice, schezwan rice, chicken schezwan rice, Mysore masala dosa, pasta, thali and chaat. You cannot miss out on the unjunk bhel which is a collab of sprouts and spices. If you are a fan of egg dishes, you must not miss out on bhurji and omelette.
Address: Jaihind College, A road, Churchgate, Mumbai, Maharashtra 400020
Also Read: This Eatery Near MIT College Serves Brota, A New Twist On Regular Sandwiches
4. HR College, Churchgate
If you are from HR then you know that the canteen is one of the reasons you actually come to college. My friends from HR kept telling me how good the food was and I had to come here to know for myself. The best dish I remember eating was the Chinese noodles, cheese sandwich, and dosa. Apart from the canteen food, one can also find the best panini sandwich at Raju Sandwich which is right outside the college. Whenever I am in Churchgate, I make sure that I come to Raju sandwich he sells some amazing, cheesy, crunchy and loaded with butter sandwiches, pizzas and paninis. HR always makes it to the top list of best canteens in Mumbai.
Address: Vidyasagar Principal K.M. Kundnani Chowk, 123, Dinshaw Vacha Rd, Churchgate, Mumbai, Maharashtra 400020
5. St. Xavier's College, CSMT
Xavier's is one of the most prestigious colleges in Mumbai and it has its own vibe and charm. Even if the college has many places where students can hang out, but you will most likely find them in the canteen. Some of the best dishes to try at this canteen are Schezwan Sada Dosa, Chicken Frankie and in milkshakes, you have to try the Oreo shake, it is hands-down delicious.
Address: 5, Mahapalika Marg, Dhobi Talao, Chhatrapati Shivaji Terminus Area, Fort, Mumbai, Maharashtra 400001
6. NMIMS, Vile Parle
Well, NMIMS is probably the only college that has AC in their canteen as well! Unlike other canteens, this one is pretty spacious which automatically makes it less chaotic. Some of the most popular dishes here are Chole Bhature, Anda Bhurji, pasta, paneer dishes, bhel and not to forget their fresh juices! This is definitely one of the best college canteens in Mumbai, in terms of food, variety and seating!
Address: V. L, Pherozeshah Mehta Road, JVPD Scheme, Vile Parle West, Mumbai, Maharashtra 400056
If you think we missed out on some canteens, do let us know in the comment section below!
Also, check out this super fun video by Mostly Sane on types of people in a college canteen!