The holy month of Ramadan 2019 started on the evening of May 5th. It is one of the most auspicious times of the year for the Muslim community and is celebrated with great fervor across the nation.
During the holy month of Ramadaan, most members of the Muslim community observe a fast from dawn to dusk. When the fast is broken at dusk (iftaari) people feast on mouth-watering dishes and delicacies. Many restaurants all over the country prepare special Iftaari menus and serve till late proving to be great for all the foodies out there.
Delhi is known for its rich culinary culture, especially when it comes to Mughlai cuisine. In fact, during the holy month of Ramadaan, the Old Delhi area is the best place to head to for Iftaari. The restaurants and eateries here serve till late and open early in the morning in time for Sehri.
While all the eateries in the area are lit up and prepped to serve the best Iftaari meal, we would like to list down a few names that just cannot be missed out!
Also read: Top 5 Iftars To Try In Dubai This Ramadan
1. Kallu Nihari
What is Iftaari without a plateful of delicious, spicy, melt in the mouth Nihari. And the best place to have some is Kallu Nihari in Daryaganj. Kallu Nihari is known all across the city for serving the best Nihari with the most fluffy Khamiri Rotis. The place doesn't have any proper seating arrangements, but that doesn't stop hundreds of Delhiites to swarm the place every day.
Address: Kallu Nihari, 180, Chhatta Lal Mian, Behind Delite Cinema, Daryaganj, New Delhi
Timings: 6:00am to 10:00 am, 5:00 pm to 10:00 pm
Price for two: Rs 150 (Approx)
2. Al Jawahar
Al Jawahar is one of the most popular and crowded places in Jama Masjid for eating on Ramadan. Here, you can trye some incredibly tasty mutton and chicken dishes. Chicken Jahangiri is one of the most recommended dishes in this place. Egg curry is another specialty of this food joint. Apart from these, you can also lay your hands on their Nihari, and Paya which also are a must have here.
Address: Al Jawahar, 8, Jama Masjid – Matia Mahal Road, Matia Mahal, Opposite Gate 1, Jama Masjid, New Delhi
Timings: 7:00 am to 12:00 pm
Price for two: Rs 500 (Approx)
3. Aslam Chicken
Aslam Chicken is best known for it's 'Butter Chicken' which is literally roasted chicken mixed with yogurt gravy and lots of butter. The one of a kind 'Butter Chicken' is famous across the Delhi NCR region, attracting a huge crowd every day. Tastes best when served with Roomali Roti, this chicken dish is also value for money, as they serve an amazing quantity of chicken for a really pocket-friendly price. They also have an outlet in Saket's Anupam Complex.
Also read: 10 Best Dishes To Try In Delhi
Address: Aslam Chicken, Jama Masjid, New Delhi
Timings: 4:00 pm to 12:30 am
Price for two: Rs 500 (Approx)
4. Purani Dilli Restaurant
Okhla's Zakir Nagar is known as the kebab paradise of Delhi. This lane is dotted with restaurants and eateries selling different varieties of mouth-watering kebabs, especially during the month of Ramadan. But the one place that stands out of them all is the Purani Dilli Restaurant. They promise the best Haleem without having to travel all the way to Jama Masjid. Their Mutton Haleem, Nihari and Chicken Achari are delicious to the core and will provide you with the best food experience during Ramadan.
Address: Purani Dilli Restaurant, 371, Main Road, Zakir Nagar, Okhla
Timings: 11:00 am to 11:00 pm
Price for two: Rs 600 (Approx)
5. Karim's
The oldest and most trusted, when it comes to quality and flavors, Karim's is known for serving the best Mughlai since over decades. Karim's has other outlets in the city too but none match the taste you can experience at the one in Hazrat Nizamuddin. Do not forget to get your hands on their delicious chicken stew, mutton korma, and the mouth-melting Phirni.
Address: Multiple outlets across Delhi NCR
Timings: 9:00 am to 12:30 am
Price for two: Rs 650 (Approx)
6. Cool Point Shahi Tukda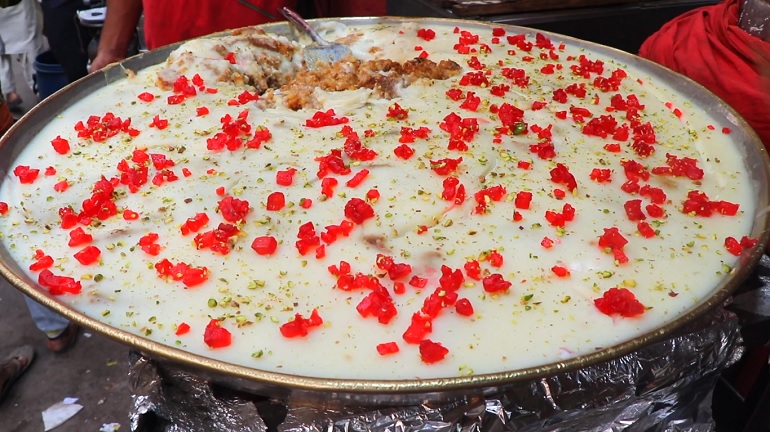 What is iftaari without a good dessert? And when in Jama Masjid, what better dessert than Shahi Tukda? Head over to Cool Point Shahi Tukda to get your hands on the best, freshly made shahi tukda. This sweet delicacy is nothing like anything you would have tasted before, and trust us when we say, you'll keep coming back for more. This place is over two decades old. Other than their Shahi Tukda, also try their phirni, kesar milk, badam milk, lassi, and mango and vanilla ice cream.
Address: Cool Point Shahi Tukda, 972, Bazaar Matia Mahal, Opposite Jama Masjid Gate 1, Jama Masjid, New Delhi
Timings: 12:00 pm to 11:00 pm
Price for two: Rs 100
7. Kallan Sweets
Talking of desserts, another must visit sweet shop in the area is Kallan Sweets. The best things about Kallan Sweets is that everything they offer is fresh and flavorsome. Their paneer jalebi is the most popular delicacy during Ramadan, along with their yummy keema samosa which is in the shape of a Gujjiya and stuffed with minced meat.
Address: Kallan Sweets, Shop 4-5, Bazaar Matia Mahal, Jama Masjid, New Delhi
Timings: 7:00 am to 12:00 am
Price for two: Rs 100 (Approx)