Majority of the Bollywood Celebs, despite their well-toned bodies and tailored diets are big-time foodies. And most of them are lovers of Indian food made by their 'Masterchef' mothers.
In the numerous Sunday brunches with Kamiya Jani, these celebrities confessed their love for Indian food, especially their mother's food, which they crave for when they're away from home or family due to busy shooting schedules. And because, 'Ma ke haath ka khana' is so special, we collated it into a video so you can know what food makes your  favorite Bollywood celebrity go weak in the knees!
Celebrities Reveal Their Favorite 'Maa Ke Haath Ka Khana'
Here is list of all the desi food that our celebs love. Have a look!
For Virat Kolhi, who comes from a well-fed Punjabi family, without a doubt, it is Rajma Chawal. When faced with multiple options, Rajma Curry always makes the cut for him. Whenever Virat comes back to his home in Delhi, he always ask his mom to make him this vegetarian dish because there's nothing like plate more comforting than a steaming hot plate of Rajma Chawal.
Sonakshi Sinha, who considers her mother as one of the best cooks in the world (don't we all feel that?), says that she loves devouring not just one, but many Sindhi dishes made by her mom, which include aloo tuk, Sindhi kadhi, and fried bhindi, etc.
For Urvashi Rautela, going back to her home in Uttarkhand means getting to feast on her favourite dessert Arsa, a traditional Pahadi dish, which is made during special occasions like weddings and traditional celebrations. Rautela loves eating her 'maa ke haath ka khana' too and says her love for Indian food is unparalleled.
Every time Taapsee Pannu goes home, she asks her mother to cook her famed 'matar paneer', which she thinks is one her mother's best dishes. Apart from that she also misses the 'bread pizzas' that her mom made for her for breakfast while she was in school.
Randeep Hooda loves his desi food. Paranthe with dollops of butter, tadke wali dal, aloo gobi and choorma. The Bollywood hunk also loves gazar methi, without which he thinks there is no life.
Also Read: Here's How To Make Chocolate Cake With 3 Ingredients ( No Oven or Egg)
Kajol too is a major foodie. While she loves her makai ki roti, aloo parathe with safed makhan and desi ghee, the Bengali in her cannot do without her fish curry and crabs.
Karishma Kapoor too has a own secret affair with Indian food. Biryani, kaali dal and palak paneer are her absolute must-haves.
For Sonnalli Seygall, paranthas have been her staple breakfast from childhood till date. Although now, the actress has shifted to a healthier version, she now consumes rajgire ke parathe.
Aaftab Shivdasani who loves Sindhi food, says that his grandmother, who was an avid cook fed him lip-smacking Sidhi food all his childhood, including the famous Sindhi fried bhindi, which he absolutely loves!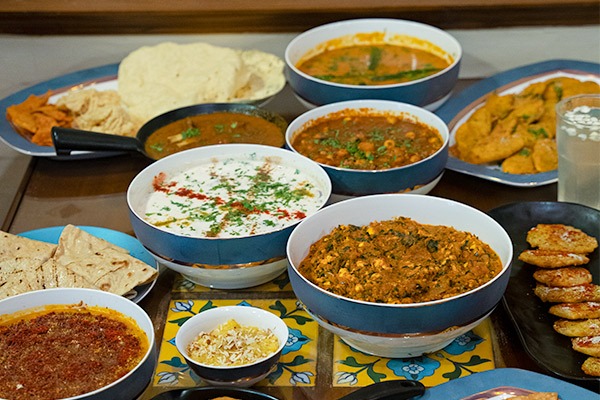 For Saif Ali Khan, food memories from home include eating bhindi, dal, gazar mattar and roti, while also consuming fish and rice at times.
Radhika Apte ate a lot of South Indian fish curry as well as konkani fish curry while growing up.
For Ranvijay, rajma chawal was a staple diet at home, not something made for special occasions. Just like Randeep Hooda, he says life has no meaning without rajma chawal and we can't agree more.
This is what our Bollywood celebs love. Tell us what you your favorite 'maa ke haath ka khana' is!
Also Read: Here's How To Make The Delicious 3-Ingredient Dalgona Coffee