As they say, there are 3 essentials in our lives – Roti, Kapda Aur Makaan. And when it comes to Roti, we Delhiites are very picky. We usually opt for a certain type of food or venue to dine. We live in common misconception that Bollywood celebrities only visit high-end places to hangout by looking at their splendid lifestyle and yearly turnover. But in reality, stars are just like us, common human beings. Sometimes they prefer the same places to eat as we do.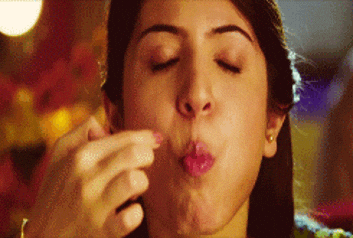 They say that you can take a guy out of Delhi but you can't take Delhi out of a guy. So today, we are going to tell you about Bollywood Stars and their favourite eating spots in Delhi. Take a look.
1. Shahrukh Khan
Bollywood Badshah, Shah Rukh Khan grew up in Delhi and belonged to a middle-class family. He has several fond memories of Delhi. He never shies away from showing his undying love for the capital. In many of his interviews, he's seen talking about Delhi and its delicious food. Shahrukh Khan has always been fond of street food. Among all varieties of foods, it's Chhole Bhature that has our King's heart. Evergreen Sweets in Greenpark is Shahrukh's favourite place in Delhi to have some desi breakfast. He often used to come here in his graduation days just to grab their mouth-watering Chhole Bhature.
Address: Evergreen Sweets, S-29 & 30, Main Market, Green Park, New Delhi
Also read: Head To These 5 Food Joints For The Best Chole Bhature In Delhi
2. Deepika Padukone
Deepika Padukone is a true-blue foodie and a lover of South Indian food. She is a sucker for all kinds of South Indian dishes like upma and rasam. Besides that, she also loves Maharashtrian food and Mediterranean food. Deepika has an eternal love for Olive Bar and Kitchen in Mumbai. And this love continues even in Delhi. It's her favourite restaurant for having Mediterranean cuisine. This place is known for its cosy ambience and delectable food.
Address: Olive Bar & Kitchen, One Style Mile, 6-8, Kalka Das Marg, Mehrauli, New Delhi, Delhi 110030
3. Varun Dhawan
The playful yet charming Bollywood star, Varun Dhawan who is usually seen working out in his Instagram stories loves the famous peri-peri chicken of the South African restaurant chain Nando's in Mumbai. And whenever he is on Delhi tour, he prefers to eat his favourite dish at their Delhi outlet. The flame-grilled peri-peri chicken is a signature dish of the restaurant and it has branches in all the top cities including Delhi, Pune and Bengaluru.
Address: Nando's, 29/30 A, Malhotra Building, Block F Inner Circle, New Delhi, Delhi 110001
4. Virat Kohli
Indian cricket team's captain Virat Kohli owns a classy restaurant, Nueva in his hometown, Delhi. Since its launch, it is enticing each and every food lover in the city with its plethora of offerings and elegant ambience. It specializes in serving authentic South American cuisine. Some of the signature delicacies of this restaurant are Ceviche de Camarones, Spicy mole, La Caja de Pinturas, Peruvian piscos among others. If you are a fan of cricket then a visit to the restaurant is a perfect opportunity to meet with your favourite cricketer. As the place is owned by Virat Kohli, he often keeps visiting here with his team.
Address: Nueva, G-6- G-7, F1- F-4, Sangam Courtyard, Major Somnath Marg, Sector 9, Rama Krishna Puram, New Delhi, Delhi 110022
Also read:  Get Ready To Dance To Bollywood Tunes In Delhi
5. Saif Ali Khan
The Nawab of Pataudi, Saif Ali Khan depicts class and royalty more than any celebrity in Bollywood. He is fond of Japanese cuisine. Wasabi by Morimoto is a restaurant that is famous for its Japanese food. The Delhi Wasabi menu includes its famous Sushi Rolls, Black Cod in Miso and Whitefish Carpaccio. There are two franchises of this restaurant chain, one is in Delhi and another is in Mumbai. Saif Ali Khan has been a regular visitor of Wasabi. So if you go there, you might catch him someday!
Address: Wasabi by Morimoto, The Taj Mahal Hotel, No.1, Mansingh Road,, Near Khan Market, India Gate, New Delhi, Delhi 110011
6. Ranveer Singh
Though his better–half loves Olive, Ranveer Singh is passionate about the food served at Le Cirque. Manhattan's legendary fine dining restaurant, Le Cirque has an exclusive partnership with The Leela chain of hotels, that houses the Delhi and Mumbai restaurants. The couple love their food to the extent that they chose to have their wedding reception at the Leela, Bangalore. The which renowned Italian restaurant of New York, Le Cirque which goes by the name Le Cirque Signature is Ranveer Singh's favourite go-to place for exquisite Italian food. The must-try dishes here are the unusual Cauliflower Flan with Porcini, Avocado Panzanella and Buffalo Mozzarella Fondue.
Address: Le Cirque, The Leela Palace, 10th Floor, Diplomatic Enclave, New Delhi, Delhi 110023
7. Sonam Kapoor
Sonam loves Delhi not only because she married a Delhi boy Anand Ahuja, but also for its food. She's been very vocal about her love for Nathu's golgappas in Bengali market near Mandi house. Not only this but, Nathu's have a plethora of other options ranging from Chaats to full course meals. The vegetarian food menu here will surely blow your mind. And if you are lucky, you might find the love birds together here, relishing their favourite golgappas.
Address: Nathu's sweets, Shop No: 23, 24, Bengali Market, Tansen Marg, New Delhi, Delhi 110001
8. Shahid Kapoor
Ishq Vishq chocolate boy, Shahid Kapoor is known for his high-class taste and this shows in his choice of places where he dines with his loved ones. His love for The Oberoi Delhi is so passionate that his wedding reception was planned at this luxurious property. This is a pretty famous celebrity hangout spot. There had been many occasions when Shahid was spotted here with his wife Mira, his kids and close friends.
Address: The Oberoi, Dr Zakir Hussain Marg, Delhi Golf Club, Golf Links, New Delhi, Delhi 110003
Also read: Relive Your Favourite Moments From The Indian Cinema At 70mm Bollywood Theme Restaurant
9. Sushmita Sen
Sushmita Sen is one of the most doting and happy actresses of Bollywood who usually puts up many Instagram posts about family and love. She's also seen flaunting her love for food. And it's Delhi's food that has her heart. Nirula's in Delhi is her all-time favourite hangout place. She would bunk her School and go there with her friends to grab a glass of Hot Chocolate Fudge.
Address: Nirula's, HP Petrol Pump, Bhikaji Cama Place, Rama Krishna Puram, New Delhi, Delhi 110066
10. Sushant Singh Rajput
Sushant Singh Rajput is a true foodie! Though by looking at his perfect physique, it's hard to believe that. But when it comes to food he can't control his cravings. His favourite restaurant in Delhi is House of Ming, at Taj. This restaurant is dedicated to serving traditional Chinese cuisine with a lot of finesse. The presentation is artistic and innovative. Do try their exquisite 'Dim sums' and 'Crispy Spinach with Red Chilli'.
Address: House of Ming, The Taj Mahal Hotel, No.1, Mansingh Road, Near Khan Market, India Gate, New Delhi, Delhi 110011