Under 140 Characters
Casa En El Agua is an eco-friendly hostel ideal for backpackers in Colombia which is popular for its unique location – it is located right in the middle of an ocean on an island.
What Is It?
Settled on the San Bernardo islands which is just two hours of journey done by the boat from Cartagena is this backpacker hostel, The Casa en el Agua. A former Colombian Holiday home, it's a 25-year old wooden house built on a concrete foundation under the sea water. The archipelago has ten tiny islands dotted with white sand beaches and surrounded by crystal clear water. The hostel is itself an island from where you can literally jump into the ocean and live the island adventure you've always dreamt of!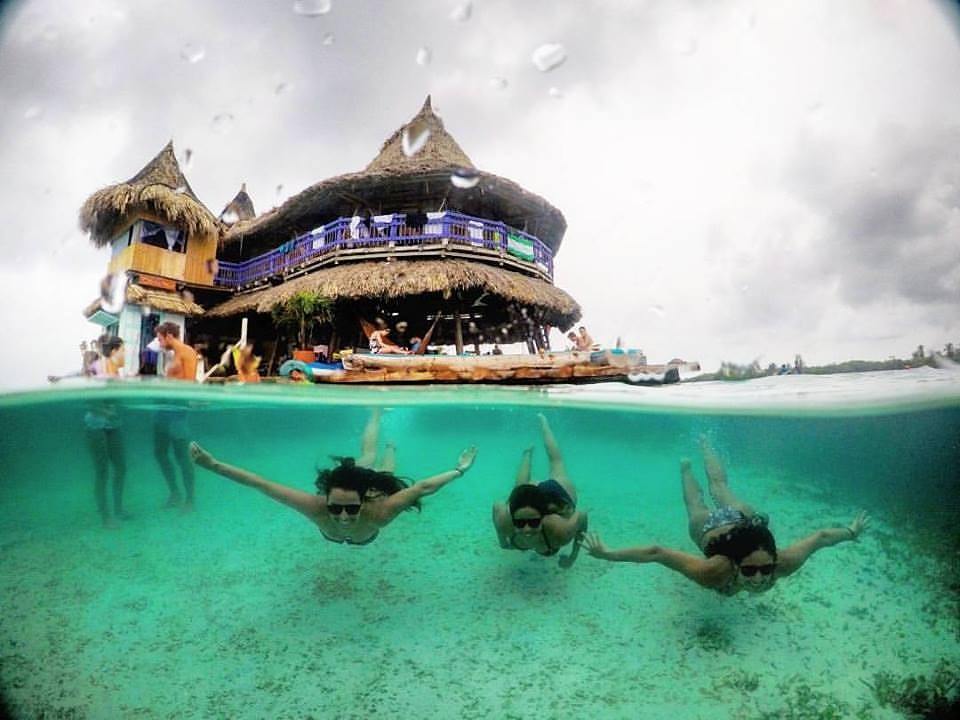 What's In It?
Are you the one who loves beaches, tropical islands, socializing, is the life of every party, loves to mingle around and drink it up? If you are, then this hostel is exactly where you need to be! Situated right in the middle of the water, Casa en el Agua is a tiny hostel made out of two stories – the bottom is an open common space with the bar, sun loungers, open deck with hammocks strung around and the kitchen. The second floor is where the private rooms and dorms are at.
Take a dip into the crystal clear Caribbean waters from the first-floor deck and enjoy the serene environment. Detox your mind and body and soak up the sun, crank up the volume and get the drinks flowing.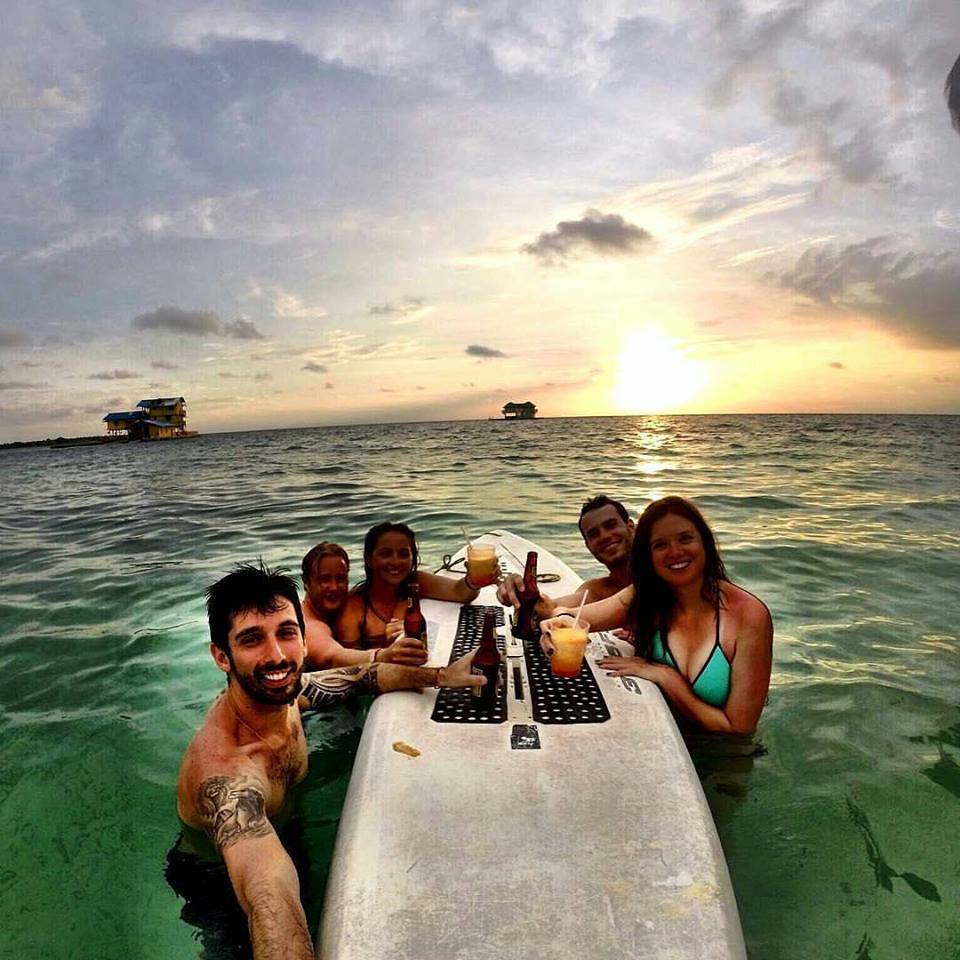 Accommodation
The lodging options include hammocks to dorm rooms and a single suite. You can choose from an 8-bed dorm, a private room with double beds, a private room with a king-size bed and hammocks. Yes, that's right, this is one of the first where you can rent out a hammock as well! However, if you have back issues, we recommend you to opt for the bed.
There's no running water in the hostel so you'll have to take a bath using the fresh water and each person is allowed only one bucket of water which might be a bit challenging, but you could just take a dip into the ocean and save the water!
They have composting toilets made for separate purpose according to number 1 and number 2. That's funny isn't it?
Food
Indulge in fresh seafood daily at the restaurant and get a fresh breakfast in the morning from the fishermen from Islote who will catch the best fishes, crabs, lobsters, and octopus for you. The breakfast is included in the package, although you have to pay extra for lunch and dinner. If you're having lunch or dinner, you'll have to sign up for it one hour in advance, it includes seafood, rice, or whatever that is been cooked that particular day.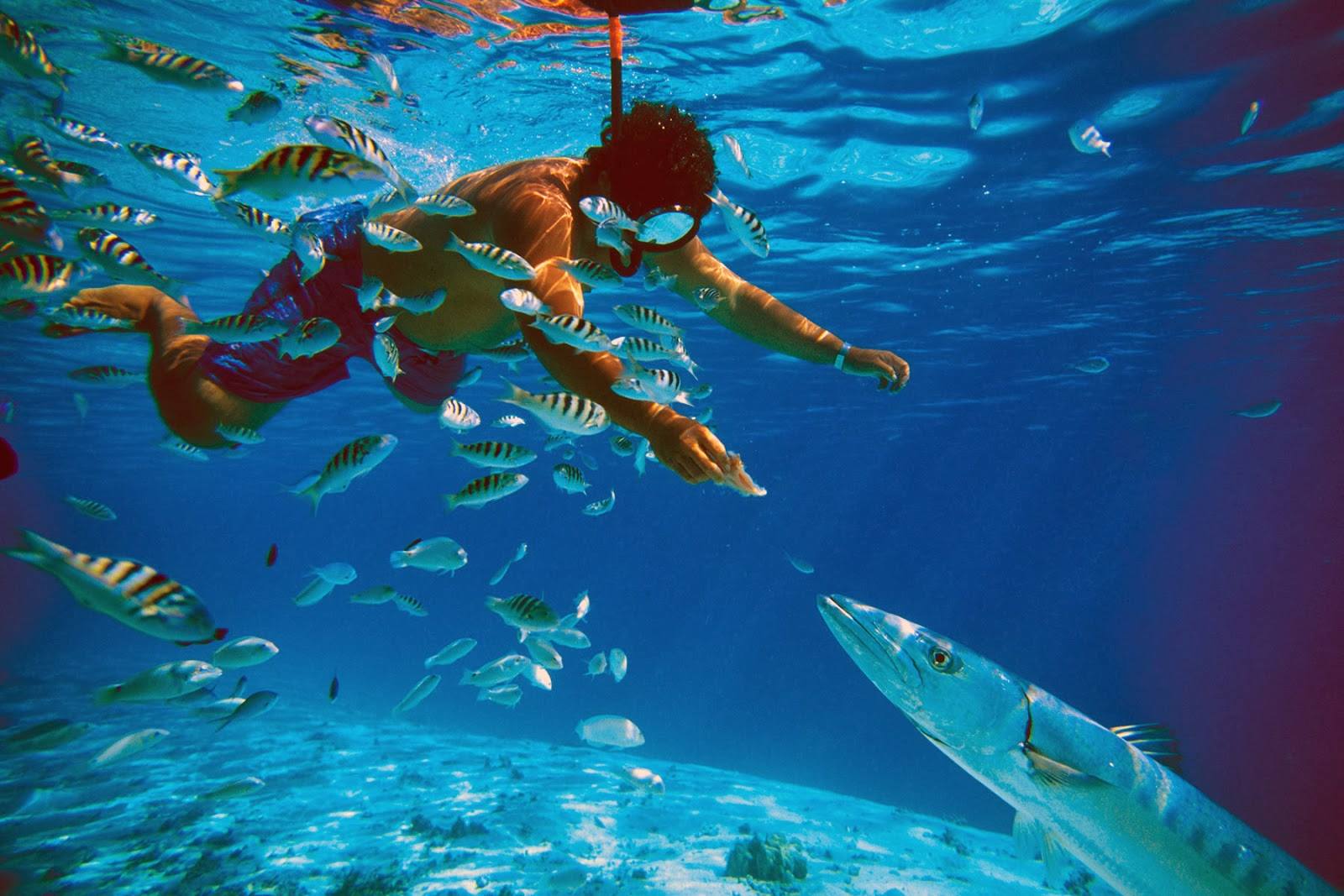 Activities
If you're worried you might be stranded on an island with nothing to do, fret not. They organize boat rides or can arrange one for anywhere you'd like to go – you can go for a day trip to Tintipan beach, an island tour of the three biggest islands, a tour of the Islote which is the most crowded island in the world, a nighttime snorkeling trip to witness the glowing plankton or even snorkeling during the day in the surrounding mangroves.  You can even indulge in kayaking, priced at $20 COP 1hour (₹1,407)
You could enjoy watersports like Stand-up Paddleboard – glide peacefully across the sea while working your abs, legs, butt, and arms, you can rent it at $20 COP 1hour (₹1,407). Other activities include Wakeboard, Disc-Go, and Subwing – you can literally fly underwater like an agile dolphin, grab on to the wings which are towed by a speedboat which will take you ahead and make you swim past the fish in the sea.
The hostel also has no Wifi so get ready for a complete digital detox. Pack yourself a book or make new friends at the hostel by interacting with them.
How To Get There?
The most convenient, and easiest way to get there is by boat from Cartagena, it's a 2-hour boat ride which is owned and operated by the Casa and it is very well organized and runs on time.
Tips
It's best to book in advance as it gets booked out pretty fast, their booking window on the website opens only 60 days in advance. The hostel also has very limited space in the hostel as it's small, so they recommend you to carry light and leave the extra weight on the mainland only.
Deets
Address: Casa en el Agua, San Bernando Islas, Costa Caribe, Colombia
Phone: +57 0000000
Cost: starting from $100 for 8-bed dorm (₹70,505)
Book here.