Train stations bustling with people, streets filled with aromas of freshly prepared foods, beaches scattered with happy families, Mumbai is indeed the city that never sleeps. While right now amid the lockdown, we do miss the sounds and bustle of the city. So if you too miss the Mumbai we all knew before the coronavirus lockdown, then let's take you on a walk down memory lane. No no! Don't get your masks out step out of your homes, because we are taking you on a 2-day virtual tour of Mumbai from the comfort of your home.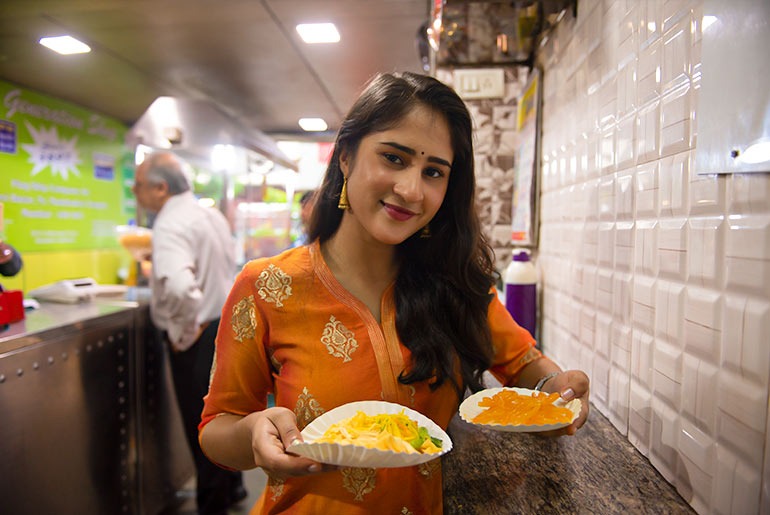 Day 1: Gateway of India, Marine Drive, Shopping & Food
So let's start our journey at one of the oldest and most iconic Irani cafes of Mumbai, Brittania & Co. Restaurant. Situated at Ballad Estate, this Irani cafe started operations way back in 1923. The cosy ambience of tables topped with checkered table cloths, chandeliers, and the decor gives you total old-world charm feels. The Parsi and Irani delicacies like Berry Pulao and Dhansak have loyal fans at Brittania & Co. even today. The menu stayed the same and so did the taste of their delicious dishes and the charm of this cafe. So let's gorge on some Akuri Pav and sip the refreshing raspberry soda here!
Now that we had a satisfying breakfast, let's go sightseeing. Our first stop is the Gateway of India. This monument is an ultimate favourite of tourists and even locals in Mumbai. It's a perfect chance to get touristy in your city! The photographers hound you to pose in front of the Gateway of India to take pictures. The boatmen chase you purchase tickets for a breathtaking ferry ride. It's fun, adventurous, and a 'free' experience, just like the hundreds of birds that fly above the Gateway of India.
Also Read: I Took A Flight From Mumbai To Delhi During Pandemic And Here's My Experience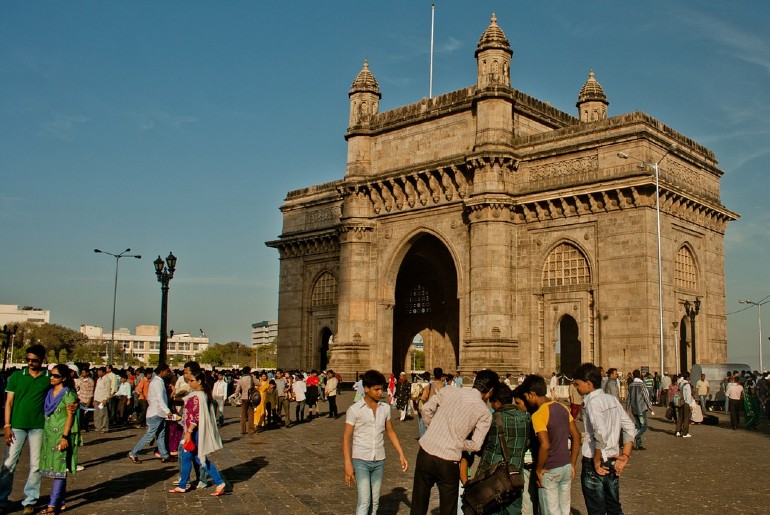 After a touristy experience at the Gateway of India, its time to go shopping at Colaba Causeway. Strolling down the narrow street, bargaining with the vendors for colourful trinkets and gorgeous apparel is any street shopper's utter delight. Right now you might not be able to shop due to the lockdown, but fulfil your shopping ambitions at Colaba Causeway with our Mumbai virtual tour! Once you're done with the hullabaloo of street shopping let's head to a quieter place for some solace.
What can be a better place for some quiet time than Marine Drive right? Sitting on the promenade with hundreds of other strangers, pondering over your stories, sometimes days, as you watch the entire Mumbai skyline unfold in front of you is just mesmerising. You never really realise how fast time flies here. The crashing waves, cool breeze, expansive skies give you company as you sit here and in solace.
Well all that peace and quiet time definitely got left us energised to tackle the rest of the day in the very paced city of Mumbai. So, now let's head to Crawford Market a place where you can buy anything and everything you wish for. From fresh vegetables, poultry, household items to imported food products, you will get it all. So come here with a long list and be sure you have dedicated a lot of time to spend here.
We covered the south side of Mumbai, so let's head to Dadar Flower Market now. Popularly known as the flower market of Mumbai, this is one of the oldest and biggest flower markets of the city. The fragrances of thousands of fresh flowers will surely brighten your day. Dadar is the life of Mumbai. The bustling streets, crowded train stations, and the every-busy folks are the charms behind this place.
Since we're touring Dadar, we cannot leave this place without visiting Ashok Vada Pav. This is the first vada pav shop in Mumbai. The flavoursome vada topped with spicy dry chutney, served inside a soft pav just leaves us drooling. It's a perfect monsoon snack. Apart from Ashok Vada Pav, Mumbaikers absolutely love and miss Candies. A cosy little place frequented by college students, sometimes with friends and other times on dates is what great memories are all about. The hot pizzas, chocolatey desserts, refreshing beverages keeps attracting people here like a magnet.
Mount Mary Church is another iconic spot for Mumbaikars. Sitting peacefully inside the church, lighting candles and finding solace here is something that Mumbaikars really regard as special. During Christmas, the entire church lights up with prayers and celebrations. This church is also believed to make your wishes come true. And we definitely miss visiting Mount Mary Church in Mumbai during the lockdown. So the first day of our virtual tour was all about getting lost in the crowds of markets, local trains and the bustling city of Mumbai, as we explored ourselves deeper and connected with ourselves in the solace of Marine Drive and Mount Mary Church.
Day 2 – Marve Beach, Khau Galli, Vasai
Rise and shine happy travellers! After a hectic but amazing day of travelling across Mumbai, let's start our virtual tour with the calming Marve Beach in Malad. Morning strolls at the beach will surely leave you refreshed. Hearing the calming sounds of the waves crashing at the shore, sipping nariyal pani, and feeling the soft sand on your beach is truly the perfect way to start your day.
But hey! We won't leave you hungry. So after we're done with a beach walk, let's head to Khau Galli at Kandivali. This place is known to be a vegetarian's delight, especially for Gujjus! The Gujarati breakfast here like piping hot Dhokla, Jalebi, Fafda is to die for!  There is a string of restaurants and a lot of options to choose from.
To help ourselves digest the food better, let's go for morning trek at the Sanjay Gandhi National Park at Borivali. People venture here early morning for cycling, walking or jogging. This is also a great spot for meditation. During the monsoon season, the gushing waterfall, bubbling brooks makes is an ideal spot for a nature walk.
Mumbai has another spot housing underrated gems, and that's Vasai. The scenic drive to Vasai's beaches is lined with palm trees, standalone cottages and lush greenery, giving you total Goa feels. The unique salt pans, breathtaking beaches, authentic local restaurants and historic sites definitely need a special mention. If you've never seen salt pans up-close, then you must visit Vasai. Bathed in white the vast salt pans is a sight to behold. Apart from the salt pans a trip to Vasai Fort is also a must. This ancient fort has an impressive architecture and seems to hold hundreds of years of secrets.
This virtual trip has definitely left us feeling nostalgic. Even though many of us are from Mumbai, this lockdown has left us not stepping out of our homes for months together. But when its safe to travel again, we can't wait to explore our city better as proud Mumbaikers. Till we all do that again, let's vouch to travel responsibly and safely.