Don your PJ's, get out your snuggest socks & head straight to Lower Parel's Tamasha for the biggest and the wildest Pajama Party happening in Mumbai on 24th August 2018!
What Is It?
On Friday, the 24th of August, throw out your heels, your dresses, your jackets & your jeans and bring in those comfy PJs, night-gowns, flats and head-bands because Curly Tales & Sweet Dreams are organising the city's biggest and the wildest Pajama Party at Lower Parel's Tamasha.
At this year's LITest Pajama Party the only thing we guarantee is that you're NOT going to sleep all night! Imagine the Insta stories, the memories, the gossip & the crazy fun – now multiply that by 500 – and you've got yourself a Curly Tales styled Pajama Party.
We're not ones to brag, but when we throw a party – we really know how to throw a party! So prepare yourselves for a night of Pillow Fights, Beer Chugging Contests and more. We'll tell you what all we have in store.
Also read: Spend A Day In Kamala Mills With These 6 Unique Restaurants
At Tamasha
Firstly it's happening in Tamasha and the name says it all! Expect mad fun in this gigantic chatpatta and glittery space. If you're a party animal, Tamasha with its suspended bulbs and multi-reflecting ceiling need no introduction. It's a bold fusion of entertainment, fun and a hint of grandeur, Tamasha is one of Mumbai's most sought-after nightlife hubs and it's not just about the dance. There's a special Pajama Party menu to kill your midnight hunger pangs! Wash it down with eccentric cocktails. There's fusion dishes like Honey Chilly Tossed Samosa and delicious concoctions like Bullfrog, Bubbling Cosmo, Tamasha Punch, and a lot more to sip on.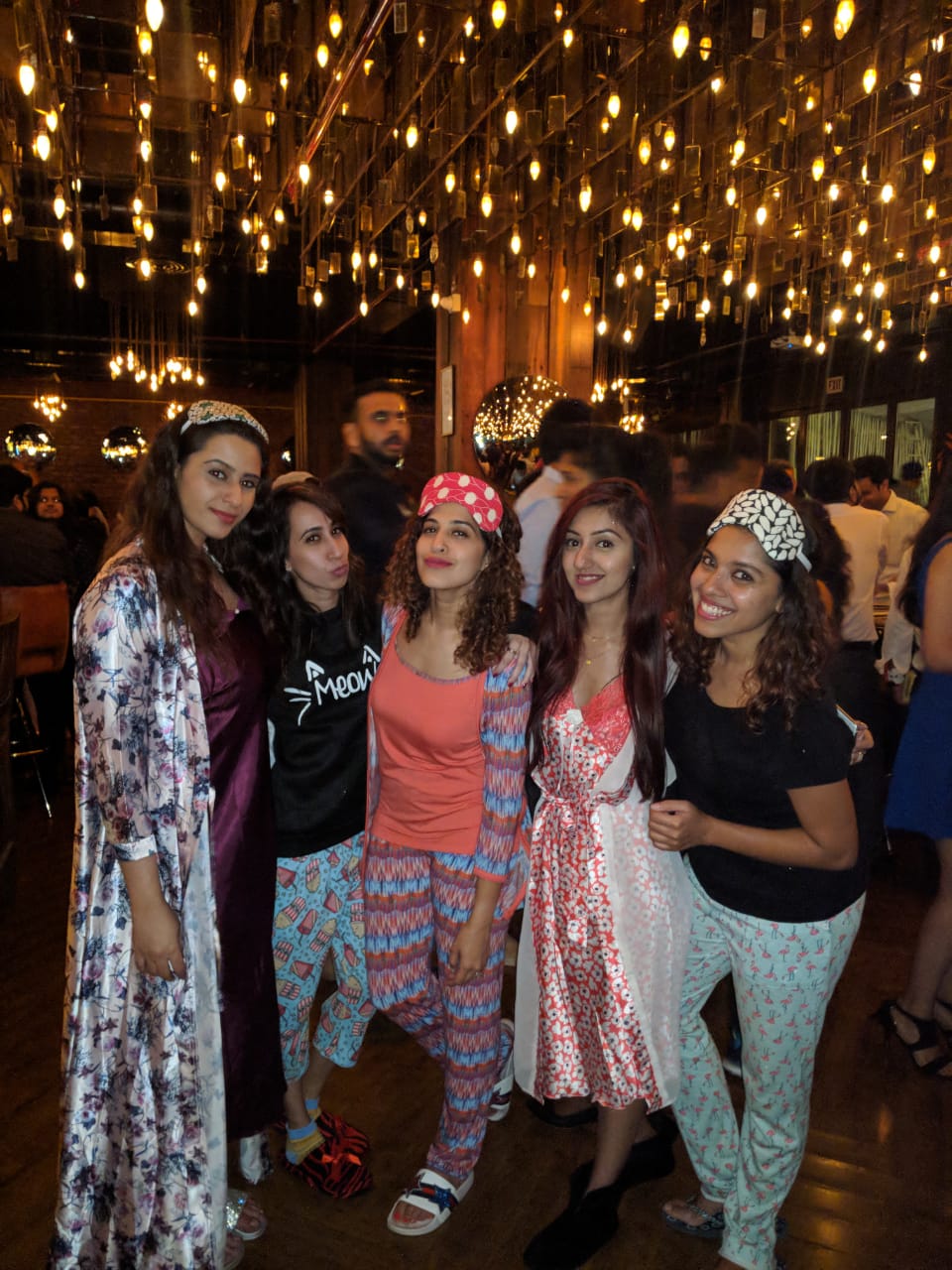 The Early Bird Sale
If you're amongst the first 50 to book your tickets – your pajamas are on us! Just come to the venue and collect your PJs sponsored by Sweet Dreams – the rest will be history. The Sweet Dreams collection of night-wear is comfy, quirky and made for every body type. Whether you like a shirt dress, pajamas, boxers or night-gowns – there's something for everyone. Boys, we haven't forgotten you! Choose from an amazing variety of cotton pants, shorts and colourful tees!
Sweet Date by Sweet Dreams
Single and lookin' to mingle? Sweet Dreams is having a Sweet Date event happening where you could hook up with a fellow pajama lover and hit it off. As soon as you enter, you'll be given coloured bands depending on whether you're single, committed or complicated. Find yourself other singles and who knows, you may be going home with some sweet dreams 😉
Also read: Indulge In The Dreamiest & Yummiest Churro Fondue In Mumbai
Pillow Fight
Is it even a true Pajama Party if you don't have a pillow fight? This epic battle will have 2 contestants battle it out with pillows & the last man/woman standing will be crowned the ultimate Pillow Fight Champ!
Beer Chug Contest!
Drink till you drop or you win! If you consider yourself a chugging professional, the stage is set. The drinker will chug from a mug and the one who finishes fastest wins!
Pajama Queen & King
If you're dressing up (or dressing down) and you've really outdone yourself – who are we to not bow to your greatness! We'll crown you our Pajama King & Pajama Queen and you'll win more than just a crown.
Best Pajama'ed Couple
Matching Pajamas, Quirky Pajamas – whatever it is that makes you and your plus 1 stand out wins the Best Pajama'ed Couple Award.
Selfie Booth
Ab Pajama hoga, party hogi toh selfie toh banta hai na boss? Go crazy with our props, get your gang & go photo happy
Ticket Pricing
Early Bird (Dates) Rs 499
Phase 1 Tickets (Dates) Rs 599
Phase 2 Tickets (Dates) Rs 699
Deets
Date: Friday, 24th August 2018
Venue: Tamasha, Pandurang Budhkar Marg, Lower Parel, Mumbai, Maharashtra 400013
To join the Pajama Party, Book Tickets Here
To get yourself ready for the Pajama Party, you can shop from the Sweet Dreams Collection by clicking here

Majama In Your Pajama!