Does it ever happen that you order food online and wait patiently only to realize that the item you received is a complete mishap? Today's generation is lazy and always looking for discounts and offers. Ordering from online food apps often allows that. It also saves time and is quite popular among youngsters. But when you scroll through so much, find a food item you like, and order it, a wrong delivery ruins your whole day. Recently a similar incident took place in Delhi. And an Instagram reel based on the customer's experience with Onion Rings is leaving the internet in splits. Here's a little more insight into the tidbits of the incident.
Keep Caution Before Ordering Your Onion Rings
Onion Rings and a cup of hot Chai are always a great combo. But what do you do when it's raw onion instead of the cooked ones in your order? Ubaid, a Delhi guy took to Instagram recently to share his terrible yet hilarious online food delivery experience. A six-piece crispy plate of Onion Rings caught the guy's attention on a food delivery app. The man was patiently waiting for his hot and light snack only to receive six pieces of neatly packed raw onion.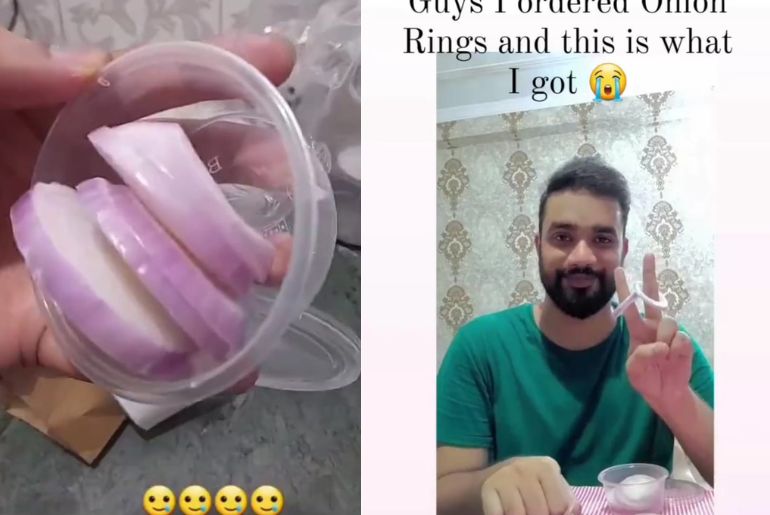 Also read: 5 Best Sushi Places In Gurgaon Every Foodie MUST Try!
Pictures Are Often Misleading
While ordering from any food delivery app, the picture is the one thing that attracts us. And almost leaves us feeling hungry. But nowadays, pictures can often mislead and scam you. Although there are restaurants that take client satisfaction seriously, some do us dirty. In the case of Ubaid, it is the picture that made him order those Onion Rings. The customer shares how the whole incident was shocking yet very funny to him. And to keep the fun element alive, Ubaid made a hilarious insta reel sharing his experience with Onion Rings. In no time the reel started trending and is now a source of comic relief for a lot of Indians on Instagram. But if we keep aside the fun for a second, it is an important lesson for everyone. Let's try not to go by the display pictures of food items in the food delivery apps and be more cautious!
View this post on Instagram
Also read: 5 Meals In Delhi You Can Buy For ₹20 Or Less!