Every nook and corner of Delhi is filled with big and small joints that serve the best food. Among all kinds of food, the most prominent one is momos. In the recent episode of Tere Gully Mein, Dolly Singh took Kamiya Jani to her favourite food places in Green Park, Janpath and the places she loved shopping at. Dolly and Kamiya ate at one of Delhi's famous momo joints. These momos, as Dolly says, taste best with coffee. And, if you're around Janpath in Delhi, this place is a must-visit.
Dolly Singh's Favourite Momo & Coffee Place In Delhi
Dolly Singh and Kamiya Jani took a stroll across the famous Janpath market. As they headed towards Dolly's favourite momo and coffee place, Dolly told Kamiya how all Delhiites have once in their lives at momos at this food joint. So, this was definitely on Dolly and Kamiya's list. They reached Chinky's Momos and ate their Chicken momos. Dolly loves to devour these momos with Depaul's coffee. Well, Kamiya loved all the amazing momos she ate at Janpath. The momo and coffee eating was also a ritual whenever Dolly was in Janpath.
Also Read: From Travelling By Bus To Getting Catcalled, Dolly Singh Faced Many Challenges When She First Moved To Delhi | Curly Tales
Laal Chutney Wala Hot Muradabadi Biryani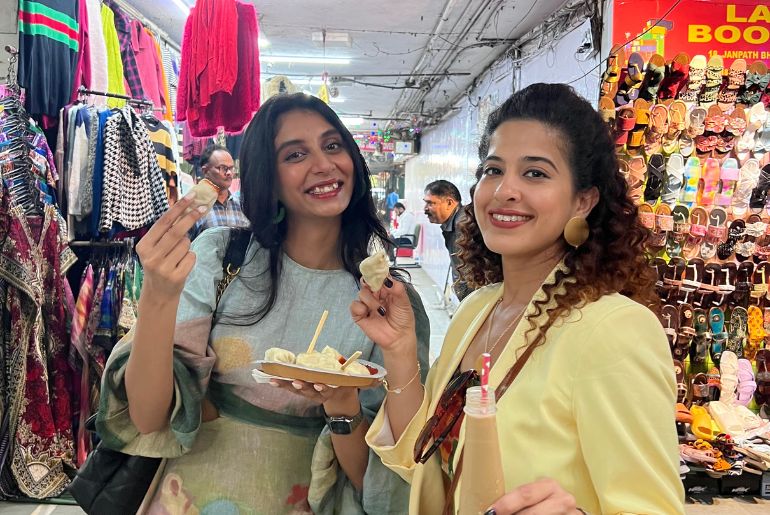 After Rajma Chawal, the duo head to Aarif's Corner to try their biryani. Dolly orders a plate of Muradabadi Biryani for both with some extra hot red chutney. From Dolly's choices of food, we found out that she loves her food to be spicy and flavourful. She ordered from the same place a couple of days before the shoot. And, not only from her college days, she is still a fan of this biryani joint and regularly orders from Gurgaon. Since Kamiya Jani loved all the places that Dolly Singh took her to, we're sure you, too, must try them.
Watch the episode of Tere Gully Mein on Curly Tales to learn more about the places that Dolly loves.
Cover Image Courtesy: Curly Tales India