Ever since her appearance on the Netflix series, Dubai Bling, Safa Siddiqui has become a household name. A fashionista through and through, you will never find her dressed in mediocrity. And on the recent episode of Curly Tales Sunday Brunch Middle East, she admitted that the wardrobe is the most valuable place in her house. Here's a snippet from her interview with Kamiya Jani, our Editor-in-Chief.
Safa Siddiqui & Her Love For Fashion
During her interview, Safa jokingly admitted that when guests come to her house, she would generally hosts them on the patio that literally opens up to a beach. Or it would be in her wardrobe. However, this doesn't come as surprise as it's no secret that she shares a fondness for fashion and collecting pieces that would turn heads in appreciation. She also talks about her fashion line, which she launched during season one and that it's already sold out! Talking about working on her line while being pregnant, she said, "I forced myself and Zeina was really supportive. She was like, you have to do it, you have to do it. So then I did it and I launched…. And it was a success! I am actually working on my restock."
She decided to restock before starting her new collection because a lot of people messaged her saying that they were gutted as they wanted to get a piece as well.
Also Read: Here's How Zeina Khoury Made Smart Financial Investments With Her Dirhams | Curly Tales
She Talks About Making Friends In Dubai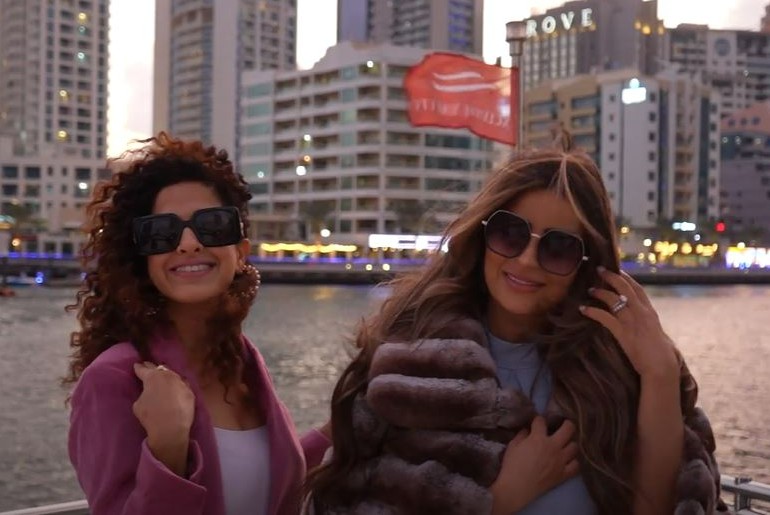 Besides talking about her wardrobe and love for fashion, Safa Siddiqui also talked about how difficult it is to make friends in Dubai while enjoying delicious Asian fare. While on the yacht, she also said that although she does not have any interest in cooking, she is planning to learn. Additionally, she also ended up playing a fun-filled game with Kamiya Jani wherein she disclosed where she loves to hang out and with whom!
So, if you too loved her bubbly nature on the show and would love to see more of her, then you definitely shouldn't miss out on this interview. Catch Safa Siddique get candid about her life on the latest episode on our YouTube channel.
Cover Image Courtesy: Internal