A trip to Manali is always on the bucket list of every traveller. Originally a popular honeymoon destination, it has quickly become a hot favourite among youngsters and families alike. With its lush green landscape which gets blanketed with snow-white snow in the winter months, Manali is a must-visit for every self-confessed traveller. It also helps that it is in close vicinity to some of the prettiest places in Himachal Pradesh. Right from the hot springs of Manikaran, the beautiful Solang Valley and the thrill of Parvati Valley. However, when you do get down to planning a trip to Manali, the question arises about where to shack up. Well, we decided to take a look at some of the properties and here's the one that caught our eye.
Step Into Luxury At Foghills Manali Cottages
Away from the hustle-bustle of the city, Foghills is its very own entity and is located in Prini Village, just a few kilometres away from the main city of Manali. Since the luxury cottages are situated at a height, you can see the entire town of Manali and snow-capped mountains from your bedroom window. Who wouldn't want to wake up to that view in the morning? One can only dream about catching the sunrise right after having a full night's rest in the valley. Everybody who has been to Manali during the peak season will tell you that the town is always crowded and Manali's Mall Road is always thronged with people. That is an experience in its own way but if you are one of those who like to be in one with nature and savour the peace and solitude then Foghills is where you need to be.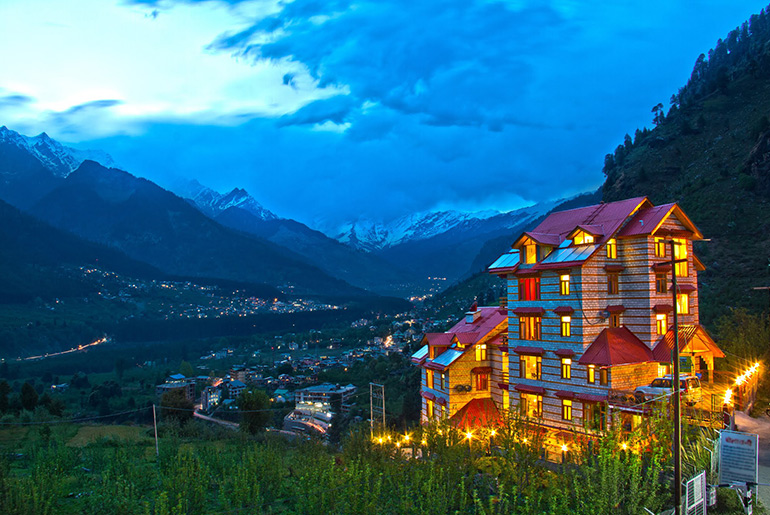 Also Read: Taara House In Manali Offers A Breathtaking View Of The Himalayas
Since Manali boasts of great timber, the cottages are made of nothing but the best wood out there and that is Deodar. Coming to the interiors of the cottages, they are decorated with opulent woodwork and luxurious carpets fit for a king or a queen. After a long day out sightseeing, you will just feel like sinking into the pillowy soft bed and sleeping your tiredness away. What's more, is that when you book yourself a cottage here, you even get an attached kitchen. You can literally cook whatever you feel like eating and that works perfectly for fussy eaters (we all know one).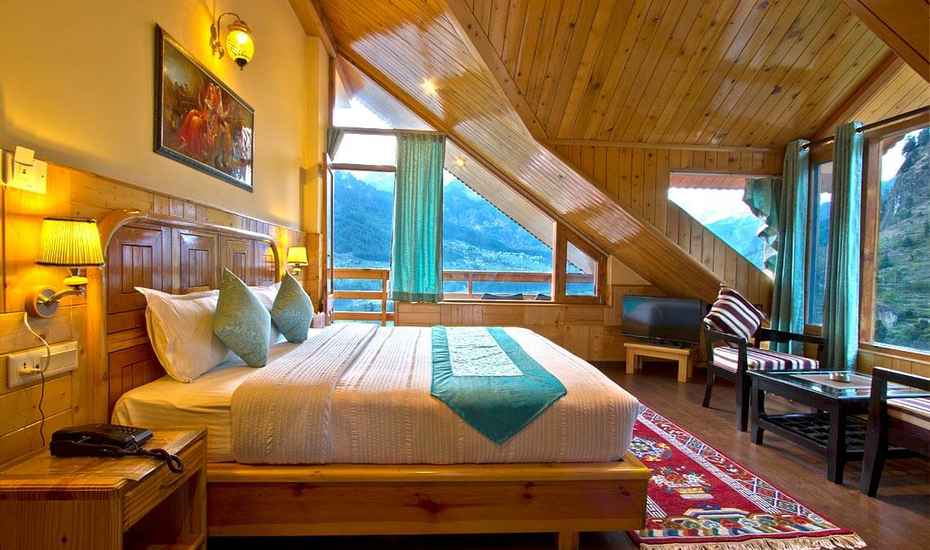 And if a cottage is a tad bit big for you, you can always settle for one of their premium rooms and make it your warm and cosy home for the duration of your stay in Manali.
If Manali is on your travel programme, then we highly suggest that you make your way to this gorgeous property to have a comfortable stay.
Details:
Address: FogHills Manali Cottages, Prini, Manali, Himachal Pradesh 175103
Contact: 094182 34297
Cost:
Cottage: ₹3,873 (depends on the season) for 2
Room: ₹6,884 (depends on the season)