Under 140 Characters
This lip-smacking Tibetan snack which is extremely rare to find in Delhi, is now in Rohini also apart from Majnu Ka Tila .
What Is This?
Laphing is a spicy cold mung bean noodle dish in Tibetan cuisine. It is a street food. It can be eaten with red pepper chili, cilantro and green onion sauce. The noodles have a slippery texture and are served with a soy sauce gravy. It is traditionally a summer food. Now this Tibetan snack was only found in one of the tiny shops tucked in Majnu Ka Tila. But thank lord for bestowing some mercy upon us, now Laphing wala in Prashant Vihar, Rohini also serves all kinds of laphings. Infact they go a step further by introducing pink laphing !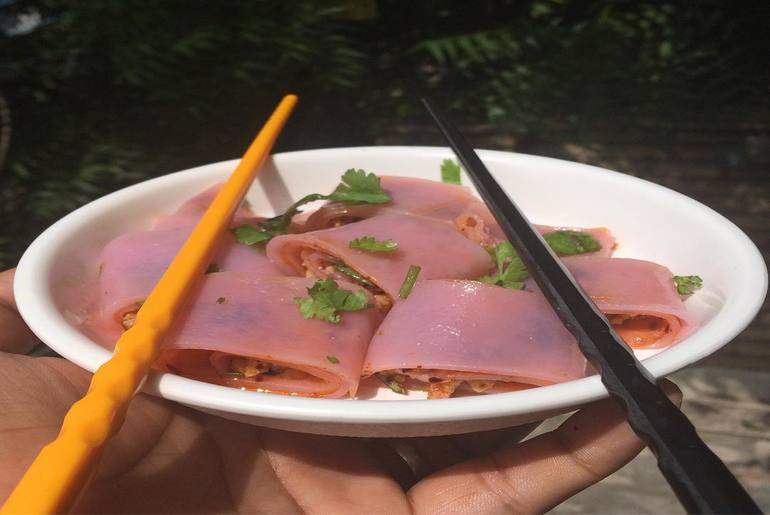 What Is In It?
So here are the types of laphing you can experiment with . This one's for wai wai diggers! Try Laphing with Wai Wai  rolled inside laphing! Now this one comes in pink laphing too. This one's their signature laphing , so we definitely recommend this one to try. Mixed with tangy, spicy sauce and the crunchiness of wai wai, we bet you wont just stop at one.  They have also come up with another flavor of Laphing. This laphing is stuffed with pickled  cucumber. And for those whole like a handful of chicken in whatever they eat, try chicken laphing! So we are saying go grab this now because Laphing is the best medicine;)
Deets 
Address: Prashant Vihar Rd, Prashant Vihar, Sector 14, Rohini, Delhi, 110085
Cost: ₹ 100-₹200
Contact: 096674 42646