Frazer Town in Bengaluru is every nonveg food lovers dream, hiding authentic and out of this world nonveg gems. So let's take you through a food walk that you'll never forget! There's our favourite haleem, Chicken, mutton, kebabs, seared and spiced just right with amazing sauces to go with, flavoursome paya, baida roti, bheja, shawarmas, biryanis and so much more to eat and make merry because if good food is not a reason for celebration, what is?
Also Read: Get The Arabic Mandi At Barkaas Arabic Restaurant In Bengaluru
1. Gorge On Perfectly Cooked Kababs At Charminar Kabab Paradise
First stop, Kababs. And cooked to perfection Kababs at that. This place has been around since 1983, bringing kabab paradise to us nonveg fanatics. We recommend the Chicken Garlic Kabab for you spice lovers and absolutely love the Peri Peri flavour for just the right kind of kick.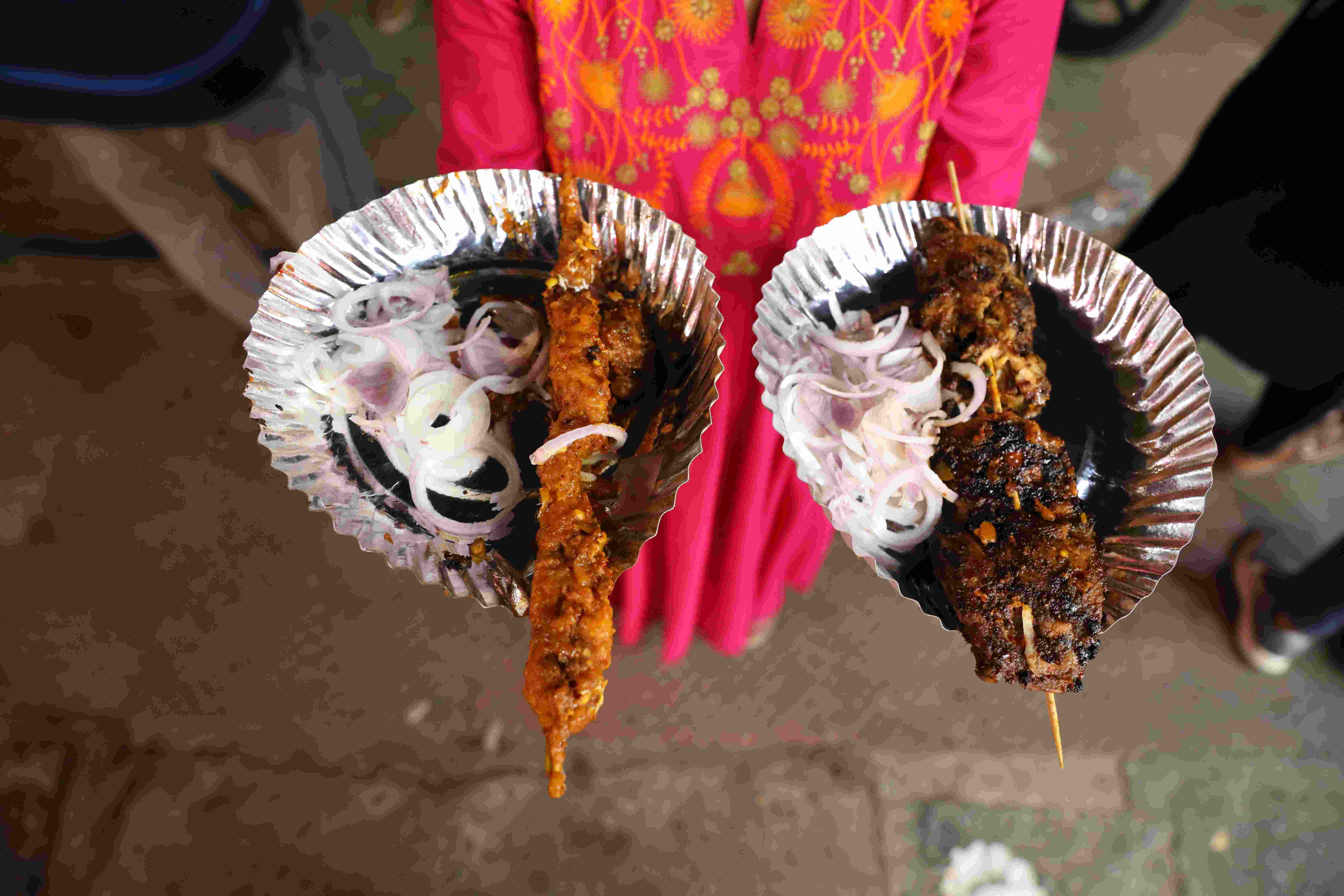 Let ye be warned, the crowd here is INSANE and it might take a long while to get to the counter itself. Also, you have to eat by the roadside due to lack of space. Is it all worth it? We think so, yes.
Note: The restaurant is temporarily closed but promises to be back up soon. Keep an eye on Zomato for more details.
Address: Charminar Kabab Paradise, 40, Mosque Complex, MM Road, Pulikeshi Nagar, Bengaluru, Karnataka 560005
Contact: 097406 00860
Avg cost for 2: ₹500 approx
Also Read: Kababs At Ghalib In Nizamuddin
2. Karama Restaurant
Next stop is the famous Karama Restaurant famous for its Arabic, Karachi and Punjabi goodies. The best selling item here is the Tawa Shawarma full of veggies and tangy sauces wrapped up in a nice crispy bread along with beautifully shredded meat. It's just like an original Indian Subway!
The crispiness of the Shawarma was definitely the highlight as other shawarmas are usually soft and mushy. We loved the crisp factor of this filling Shawarma. Again, the wait to acquire a Shawarma here is hella long. It took us almost half an hour! But again, worth it people.
Address: Karama Restaurant, 55, Mosque Rd, Opposite to Empire Restaurant, Pulikeshi Nagar, Bengaluru, Karnataka 560005
Contact: 080 4094 7898
Avg cost for 2: ₹750 approx
Also Read: 10 Must Try Chicken Dishes In Mumbai
3. Savoury Restaurant
An Arabian speciality restaurant, this place is known best for its lip-smacking bheja masala. And what's more, we ran into an enthusiastic local and a regular at Savoury who shared her bheja masala with us. It was as delicious as we heard it to be. Go now and indulge and don't forget to share your food and be kind just like Asha Begum.
Address: Savoury Restaurant, 27, Mosque Rd, Pulikeshi Nagar, Bengaluru, Karnataka 560005
Contact: 080 4933 6333
Avg cost for 2: ₹800 approx
4. Hyderabadi Haleem At New Taj House
Popular in the Middle East, Central Asia and India, Haleem is a stew made of lentils, meat and pounded wheat, a favourite during Ramadan. If you are a big fan of Haleem, then this is a place you should definitely try.
Address: New Taj House, #61/64, Opposite To Namdharis Fresh,, M M Road, Fazer Town,, Bengaluru, Karnataka 560005
Contact: 080 6555 5994
Avg cost for 2: ₹450 approx
Also Read: Tere Gully Mein Toli Chowki Ramadan Walk
5. Empire Restaurant
This place is so popular that if you are even a little bit late like we were, no mutton biryani or rann mutton because it all gets sold out! We couldn't taste these 2 star dishes as well because they were sold out but worry not, Pepper mutton to the rescue.
True to its name, the gravy was nice and peppery but we felt the mutton was a little chewy and full of bones for our liking. But you can definitely give it a try and get the biryani before it gets sold out. Let us know if it was worth the hype.
Address: Empire Restaurant, 34, Mosque Rd, Pulikeshi Nagar, Bengaluru, Karnataka 560005
Contact: 080 4041 4141
Avg cost for 2: ₹800
Also, try the absolutely divine Donne biryani at Shivaji Military Hotel and we promise you will not be disappointed.
Also Read: Try Bengaluru's Donne Biryani at Shivaji Military Hotel
6. Shareif Bhai Restaurant For The Paya Soup
And we have come to the end of this amazing food walk and it's only fair we end it with the delightful dish, Paya! All things Paya are just delectable to another level and so was the perfectly cooked Paya soup here.
It's prepared on a Dum for over 7 hours to get those juices flowing and capture as much flavour into the soup as possible. We can see why this is a bestseller here.
Address: Shareif Bhai Restaurant, 96, Mosque Rd, Cleveland Town, Pulikeshi Nagar, Bengaluru, Karnataka 560005
Contact: 080957 52222
Avg cost for 2: ₹700 approx
Also Read: Paya Masala & Mutton Biryani At Cafe Diamond Queen, Pune
Now we know there is so much more to Frazer town in Bengaluru and we are sure to have missed many more hidden gems here. Let us know in the comments below what other places you frequent for the best nonveg food in Bengaluru's Frazer town and also which one is your favourite and what all are you dying to try! And while you are here, hit up the quaint old Malleshwaram too take cues from our guide :