What comes to your mind when you think of chaap? Malai soya chaap, Afghani chaap or Haryali chaap? Chaap is one of the most toothsome dishes to try out on the streets of Delhi NCR, hands down. The tender soya chunks tossed in flavourful spices and daubed with luscious gravies absolutely melt inside the mouth. Every bite of this desi snack is nothing short of pure magic. Having said that, did you ever gorge on chaap dishes like Sunny Leone Chaap or Mia Khalifa Chaap? They're are dished out for real and we're not kidding. Gurgaon's Veer Ji Malai Chaap Wale serves these prep-ups and they are velvety smooth, juicy and delectable. Here are all the deets!
Supple, Juicy Sunny Leone Malai Chaap!
Tucked in Galli Number 16 of Gurgaon's renter colony, U Block, lies the tiny outlet of Veer Ji Malai Chaap Wale that always remains packed with foodies. The stall has chairs and tables in front of it, where regulars wait for their plate of chicken tikka, tandoori momos, chaap rolls and more. But ask about the best-selling dish out here, it's none other than Sunny Leone Chaap. We relished the dish recently, which came to the table with hari chutney and onions. The succulent chunks, when dipped into hari chutney taste all the more comforting. Half a plate of Sunny Leone Chaap comes at ₹150. A full plate costs ₹220. You can have this dish as a snack or you might also pair it up with roomali roti, tandoori roti or paratha.
View this post on Instagram
Also Read: Dimaag Mat Khao! Instead, Eat The Skull Pav Bhaji In Gurgaon's Inferno Brewpub
Veer Ji Malai Chaap Wale Has Outlets All Across North India
Veer Ji Malai Chaap Wale has outlets all across North India and the dish is available almost everywhere. Not only does the shop serve Sunny Leone Chaap, but it also makes Sunny Leone Chaap Roll. The Mia Khalifa Chaap at this place is equally mind-boggling, Apart from these unique chaap variants, other must-tries at Veer Ji Malai Chaap Wale includes Tandoori Mushroom, Makhni Momos, Shawarma Chaap Roll, Veg Korma, Veg Fish Tikka, Veg Fried Platter, Veg Orley Fish and more.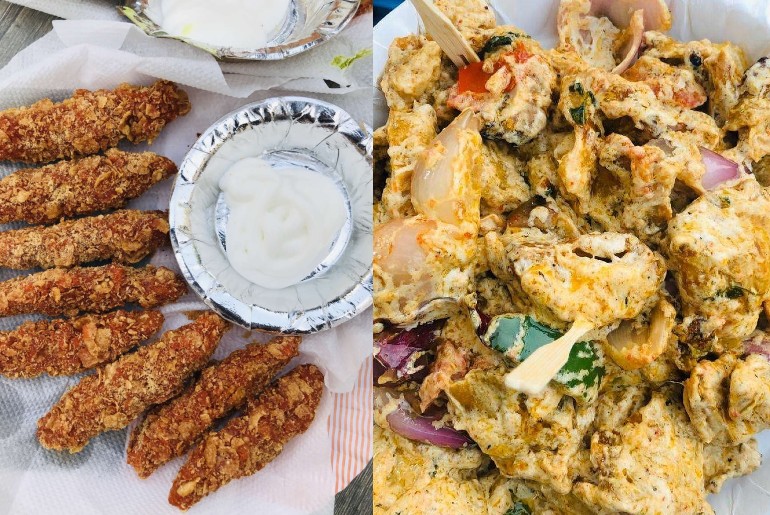 Also Read: MOPP Gurgaon Serves A Cocktail Pakora Platter That Will Have You Drooling!
So, the next time you spot a Veer Ji Malai Chaap Wale, don't forget to take a halt to savour its lip-smacking dishes. Meanwhile, here are some other amazing dishes to try out at Gurgaon's U Block.