As the Captain of the Indian Cricket Team, you might think Virat Kohli is a non-vegetarian to maintain his high protein diet. You would be surprised to know that Virat Kohli has revealed to us that it's been around two years since he has turned vegetarian. Our CTO Kamiya Jani met Virat Kohli for a Sunday Brunch at his restaurant One8 Commune at Aerocity in New Delhi. A true foodie and travel enthusiast at heart, he revealed a lot of interesting things about himself during this candid interview. During this exclusive interview, he revealed: "I Have Turned Vegetarian For Almost Two Years Now, But Not Fully Vegan".
Virat Kohli Turning Vegetarian
Being from a Punjabi household, Virat Kohli savoured his Butter Chicken growing up. He revealed to us in the interview that he was a hardcore meat-eater. Around 2 years back he turned vegetarian, but not fully Vegan. Around 90% of the dishes he eats are animal protein-free and dairy-free. Since all his life he has been a non-vegetarian. So for him to suddenly turn a vegetarian was quite difficult, due to health reasons. As a result, he did a lot of reading and research on food and nutrition. Once he was sure about the nutritional content of the food and its value of what he eats it was easier for him to switch to a vegetarian diet. Virat Kohli frequently eats the Superfood Salad as he finds it to be a light and balanced meal. He even treated our CTO, Kamiya Jani to a bowl of delicious Superfood Salad and Mushroom Googly Dumplings at his restaurant One8 Commune for Sunday Brunch.
Also Read: Here's How Sunday Brunch With Virat Kohli Happened On Curly Tales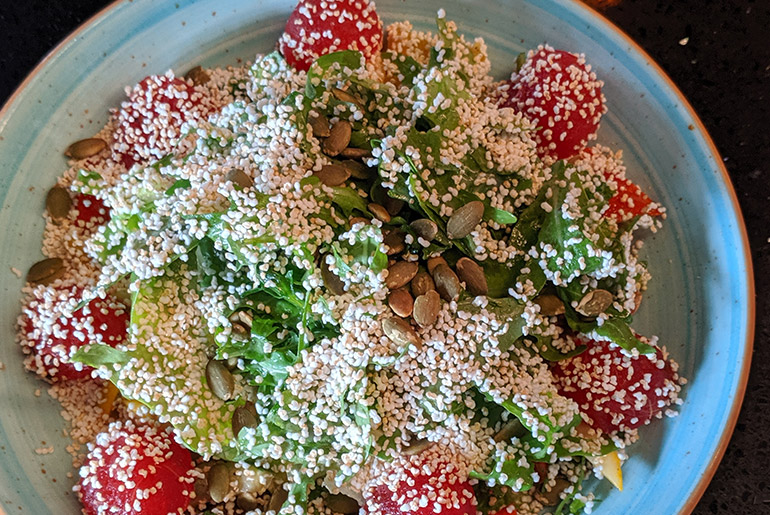 What's More?
It looked delicious. The way Virat Kohli gorged on the Mushroom Dumplings, you will surely feel like ordering that on your visit to his cricket-themed restaurant. There are plenty of options for vegetarians out there. For those of you who like gymming and are worried about a vegetarian diet, your favourite cricketer, Virat Kohli has said it himself, that the Superfood Salad is the way to go. Did you know that Virat Kohli's  Favourite Travel Destination Is Queenstown In New Zealand