What is the first question that you end up asking a fellow traveller: are you a beach person or a mountain person? And if that person turns out to be a mountain person, then Dharamshala will most definitely be among the top most spots in their list. For me, it wasn't. I spent most of my childhood vacations in Himachal, so Dharamshala was never really on my to-do list.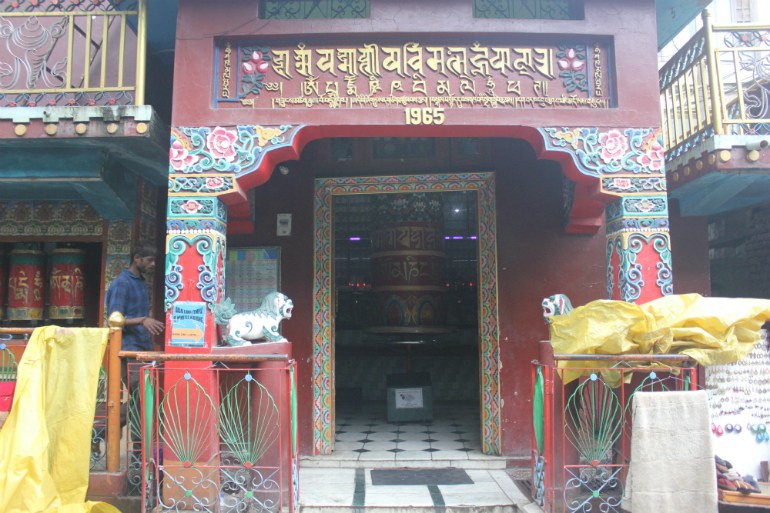 From Delhi, it seemed like the best getaway. To most of my friends at least. But surprisingly, I ended up making a visit only once I moved to Lucknow. I planned a trip to Dharamshala, because I wanted to meet His Holiness The Dalai Lama. Little did I know, nothing would work out the way I planned. And the fact that it didn't, turned out to be a blessing in disguise.
A Great Start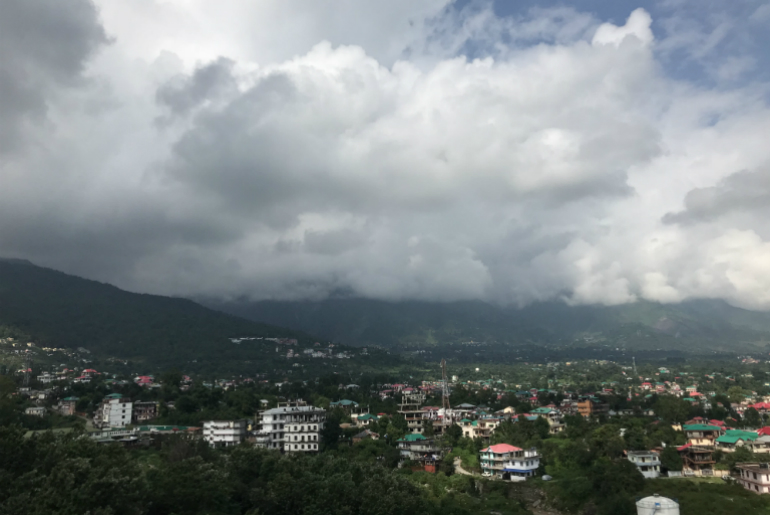 Two days before I was to leave for Dharamshala, I was told that Dalai Lama had decided to stay back in Leh for a few more days. Which meant, the 2 days that I had kept to visit him and his monastery were all going to go to waste. But I decided to go anyway. Not that I was determined to, but because I was not too comfortable about letting go off my cancellation charges. I reached the Kangra airport it was an hour long drive to McLeodganj, where I was staying.
Also read: My Solo Travels Taught Me Being Kind, Crazy And Eating Veg Pulao With Greek Yoghurt
A clear sky with sun beaming through, soon turned cloudy as we moved further up to McLeodganj. It became foggy and chilly. In the month of June, when you are coming from the heart of Uttar Pradesh, the cold was like a breath of fresh air, literally! Once I reached, I started planning my next 48 hours, like any other tourist.
Place Of Peace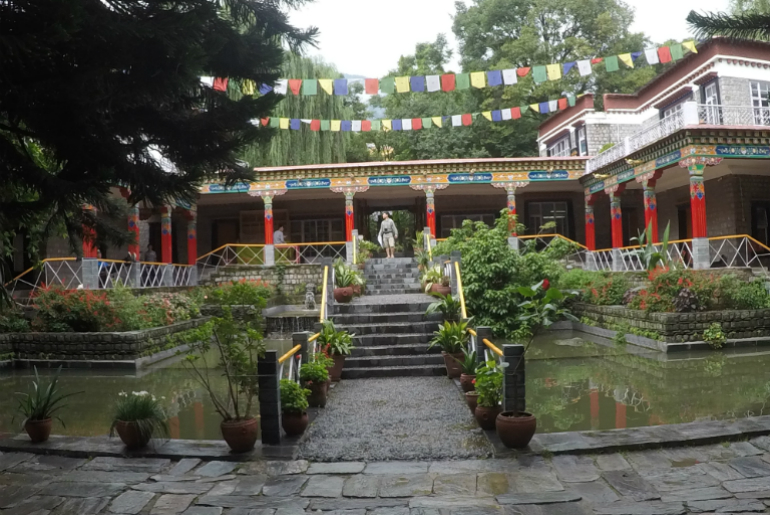 I started my day with a visit to the Norbulinka Institute. It takes about 30 minutes from McLeodganj to reach here. The institute is dedicated to preserving the Tibetan art and culture. Walk-in, and its vibrance lights you up. With prayer flags on either-side, lush green, water streams flowing through, craftsmen working on traditional art, it's a gate to another world. It also houses a Buddhist temple, a souvenir shop and Hummingbird Cafe, where you can enjoy a nice cup of chai.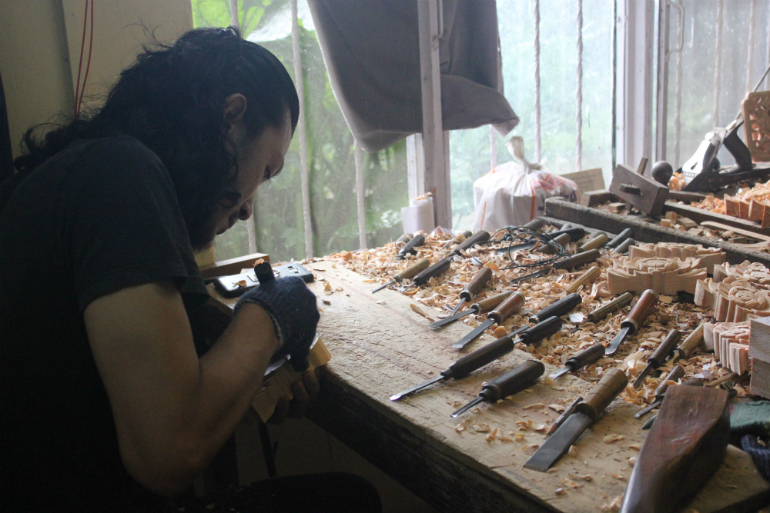 Next, I visited the Namgyal Monastery, which is also the seat of the Dalai Lama. Despite him not being there, the place has an aura, a positivity that takes you over. The prayer wheels, lit lamps and the chanting that one can hear resonates in your head and calms your soul. A moment of silence, a minute to breathe – that's all it took.
Also read: Run To These Budget Hostels In Himachal And Live In The Mountains Under ₹699
For The Thrill Seekers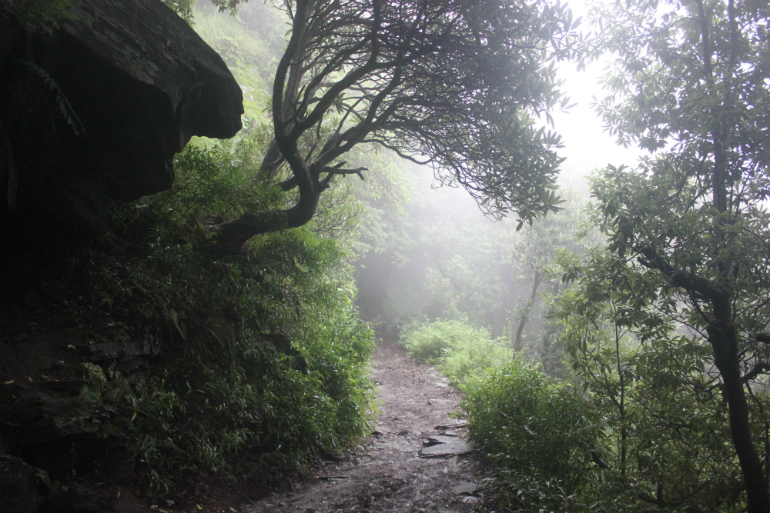 I gathered the courage to take on the Triund Trek. It seemed like a much better idea than sitting in the room, at that time. After completing it, not so much. It is considered to be an 'easy-level' trek. Definitely wasn't by the pizza eating, lazying all day, kind of standard. It's a rocky trek uphill and takes you about 4-5 hours to reach the top. The group that I was with were pacers and despite the train and the clouds, we made it to the top in about 3 hours. On our way up, we found various tea stalls that have been opened by locals. So you can take a breather too.
The view from the top is believed to be breathtaking, as you get to see the Dhauladhar range. Unfortunately, the day that I had reached, it was a cloudy day, so I could barely see beyond 5 metres. The visibility so poor that I could barely see the horse that was standing right next to me, until its tail swung right infant of my face. But sitting on a rock, amid the clouds and sipping on masala chai, that's a tough one to match!
Pizza To The Rescue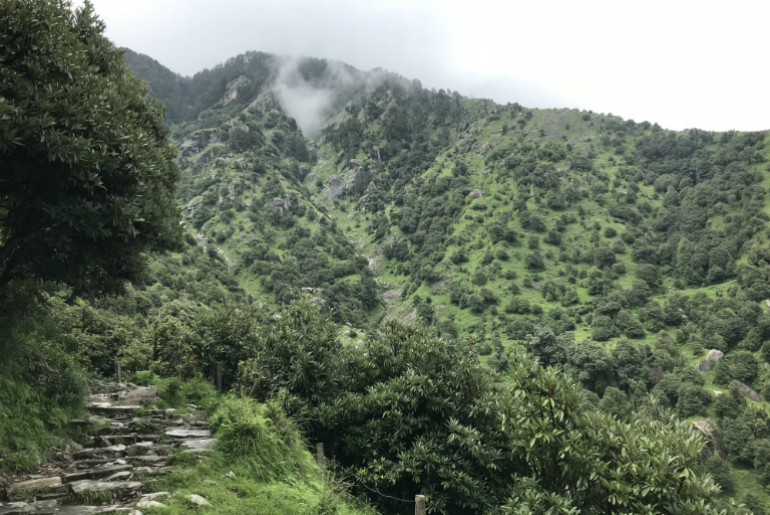 Located in the narrow lanes of Dharamshala is Nick's Italian Kitchen. It isn't a big restaurant but is quite a popular one. The corner seats of the cafe has the best view of the Dhauladhar range. Made me wonder why I had to trek all the way up to see that? But that's not even the best part. Order a cheese pizza with a vanilla cold coffee and you will forget all the sadness in the world! Just like I did!
Also read: Exploring Places or 'Checking-In' On Social Media: How Are You Travelling?
The Haunting Beauty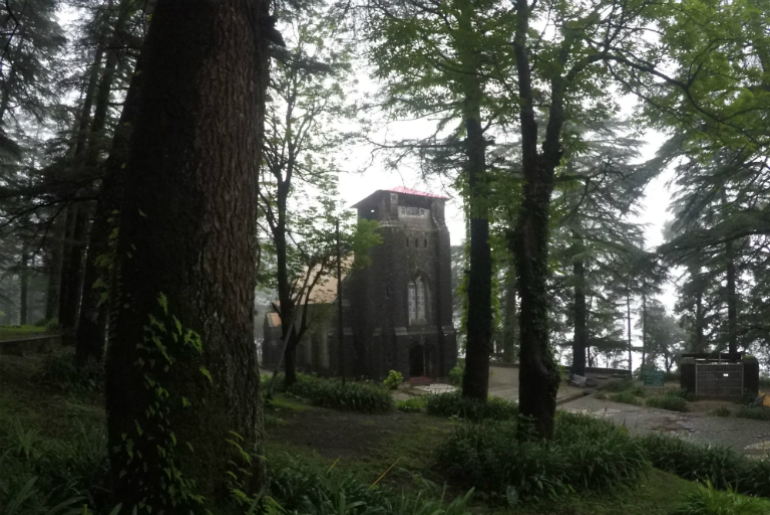 There aren't too many diversions on mountain roads. So there is a high possibility, that everything that you want to visit will be on the same road. However, take a detour to visit the Dal Lake in Dharamshala. No it is not as beautiful as the one in Srinagar, but on a cool and misty morning, it might just transport you there. Just don't pay too much attention to the colour of the water though.
As spooky as churches and cemeteries in the hills might come across as, it doesn't stop me from checking them out. I visited the St John In The Wilderness Church, which was built in 1852. The cemetery of that house graves of British and Indian soldiers and it believed to have withstood an earthquake as well. It is believed that there is a supernatural force that could be protecting it. Scary right?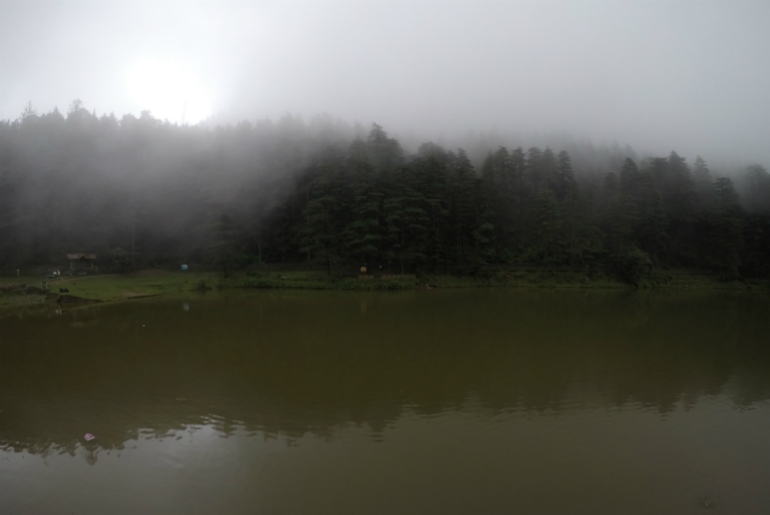 For someone who never wanted to visit the place, ever, her itinerary and inquisitiveness sure didn't match the expectations. Dharamshala left me surprised, and mesmerised. Also the fact that it is just about an hour's drive from my hometown, I think I will be making a trip there again soon and make sure that I don't miss Dalai Lama this time around.