I was an introvert in school until my mom made me travel the world, shake hands with strangers and made me an ambivert. I'm Siddhi Chatterjee from Bengal and let me tell you about my experiences travelling with my mother. It is easy for me to make online friends now, wanderlust buddies because of my travel freak mother.  Today when I scrolled my Instagram feed and saw my best friend posing mushy photos with her boyfriend at Goa, it seemed passé to me. This is because when I did paragliding with Maa at the lap of the Himalayan ranges, it was an experience I will never forget till my last breath. This year ditch your Tinder date, boyfriend, girl gang and go for soul- searching with your mom. It will bridge the generation gap, make your bond stronger like the Rock Of Gibraltar. If you are lucky you may also find your beloved. This is my story about travelling with my amazing mother, learning beautiful things along the way and even finding a wonderful life partner.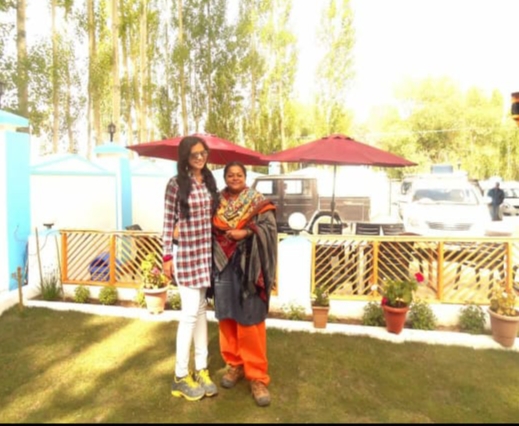 Travelling With Maa
We are all under the assumption that only millennials create travel goals. We think our mothers are not cool, will not understand our mentality.  I will change your perception by narrating my travel story with my girlfriend- Maa.Being adventurous is in my mother's blood as she is Major Dr Deepika Chatterjee, an ex ANO Officer with National Cadet Corps (NCC.) For the unversed, it is the youth wing of the Armed Forces. I can call myself a 'Fauji' (Defence) kid. I remember I was 3 months old when Maa had to go for her annual training first camp to Gwalior for 6 months.
Being a single mother isn't an easy task. She became my mother, father, god and everything in between. She made me strong since my stage of infancy. I was raised independently in the hands of my mashi (aunt), late grandpa and Maa. I realized that the seed of being wanderlust will be transmitted in me. For I come from a family who believes that you do not have to be buried in books, go out and do cycling, play in the sand. This is the key to celebrating my life.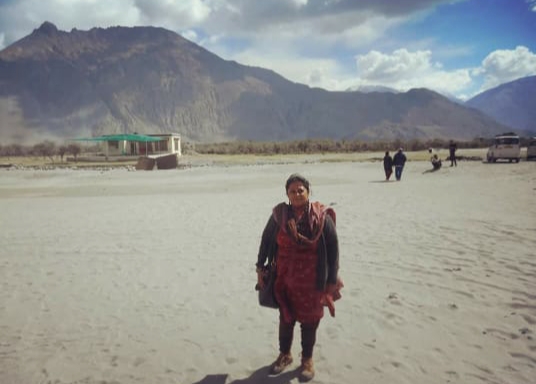 I come from an incredible Bengali family where my grandfathers have been in the Indian Army, Navy and have been football champions. Maa taught me to live life on the edge, get rid off my motion sickness issue with travelling.Apart from the routine visit to Calcutta as a kid and being surrounded with Arts, Culture, Rabindra Sangeet these were the enticing tales with Maa from my travelogue diaries.
Also Read: Mysuru Man Takes His Mother On 48,000 km Pilgrimage On Scooter
 The First Vacation With Maa At Jawaharlal Nehru Port Trust
I was fifteen years old when mom took me with her for her first National Integration NCC camp at Nhava Sheva (JNPT). There were over 300 cadets from the Northern and Southern states.  The camp occurred at the lavish air force training ground. I remember taking a jetty from Gateway of India in June 2002. She managed me unimaginably when I started puking in the jetty due to seasickness. I cried and wanted to go back home, but Maa motivated me that I would have an unforgettable experience.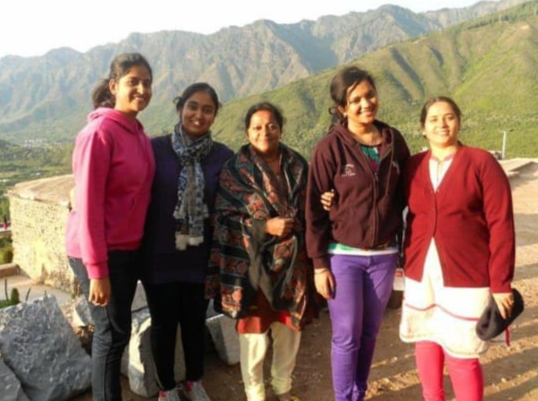 It was a 10-day camp where Maa managed to make me see life from a more disciplined way with confidence. The group commanding officer used to wake us all up at 4.00 Am. At teenagehood, I learnt the art of being an early riser. I learnt to hold a rifle, eat-in jungles, hilly terrains and be a superwoman who did not need a man for validating her existence. I felt patriotic, proud of my nation. For women like Captain Taniya Shergill, who is the first Indian Woman Parade Adjutant develop from such camps.
 First Adrenaline Rush With Maa, Paragliding At Solang Valley 
I have always been scared of heights until I saw 'Zindagi Na Milegi Dobara'. My mother's dramatic love for the Himalayan ranges, snow-capped peaks and the hunger to discover North made us land at Manali in 2013. Himachal is also known as India's outsport spot and is a witness to paragliding, skiing and rafting. Maa had confirmed the bookings with Kesari Tour and Travels in 2013 and that was the first time I was going to make strangers as friends. We flew off to Chandigarh where I was to meet the gang of new faces. You can also Enjoy Power Paragliding In Gurugram.
From trekking on daring roads of Dharamshala, Dalhousie to trekking on the mountain crossings of Kullu. I became a backpacker with Maa. I had the utmost blissful call when at Parvati Valley I did the most adventurous and dangerous rafting with Maa and the Nirvana oriented paragliding at Solang Valley. I was panting, puffing but she ensured that I don't get accustomed to the concept of gymming but doing daredevil adventures. I made friends from different nations, religions, professions and life goals. I had a crush on few also but never really expressed. Flirting in front of Maa with the travel buddies was too enticing.
'Tareef Karu Kya Uski' Moment With Maa At Kashmir and Ladakh
I can never forget my trip to Kashmir as we had missed our Delhi- Srinagar flight. The tension between the neighbouring countries may be the cause. For, politics was never enticing for me or Maa, as much as the seamless beauty of Kashmir and Ladakh was. The government was barking, but Maa never follows rules and is a rule breaker. Srinagar which is home to shikhara (gondola houseboats) has the picturesque Dal Lake where I first got attracted to a stranger with whom I and Maa were travelling.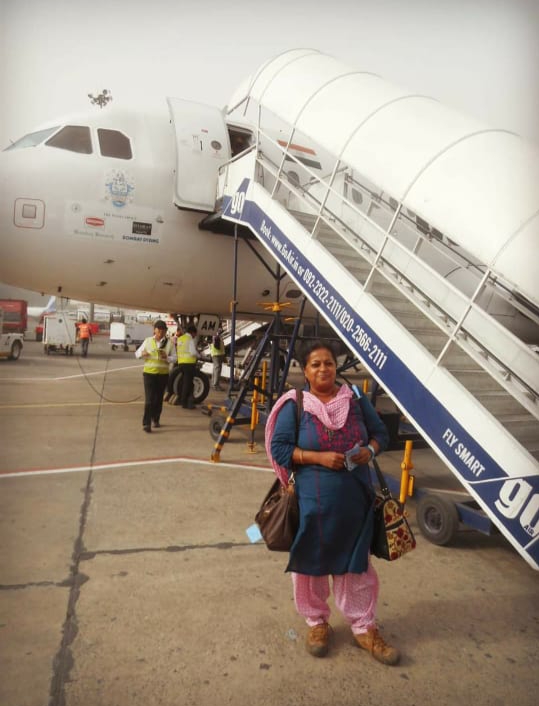 I haven't been a water baby, but Maa ensured that Dal Lake adds the colour splash to my life. Picture postcards were put to shame in front of Kashmir's beauty. I stayed with Maa and my travel buddies whom I met entour at Dal Lake. I felt like a 'Kashmir Ki Kali' in the traditional Kashmiri outfit that I wore. The highlight was the Gondola ride to Gulmarg Phase 2 which is the highest cable operating ride in India. Mother nature was kind enough to make me reach Phase 2 where I could see Pakistan Occupied Kashmir with Maa and do skiing in minus zero degrees. I learnt to drink 'Kahawa'. We battled landslides, roadblocks, zig-zag roads, anticipate Mughal Gardens. Here are 5 Budget Places To Stay In Leh Ladakh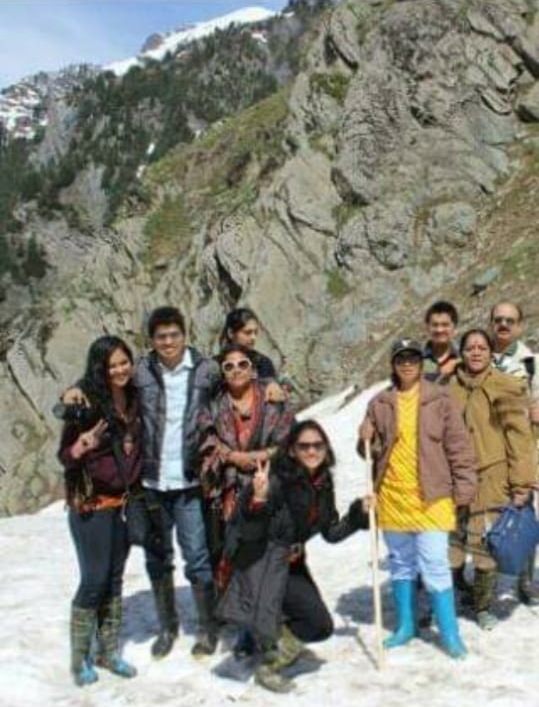 I was again zoned out when I landed in 2015 to India's paradise- Ladakh.  A junction famous for fitness, adventurous lovers seeing the night sky filled with gleaming stars at Pangong Lake was picture perfect.  India shares 30% of the water of this dynamic lake whereas Tibet shares the rest 70%. Couples camp in tents but I lived with Maa for 13 days. She ensured I ate Maggie, Momos as I was yet battling with motion sickness.  Ladakh is home to Tibetan style monasteries, humble Indian Buddhist culture and gratitude. When you're in Ladakh Explore The Natural Hot Water Springs Of Chumathang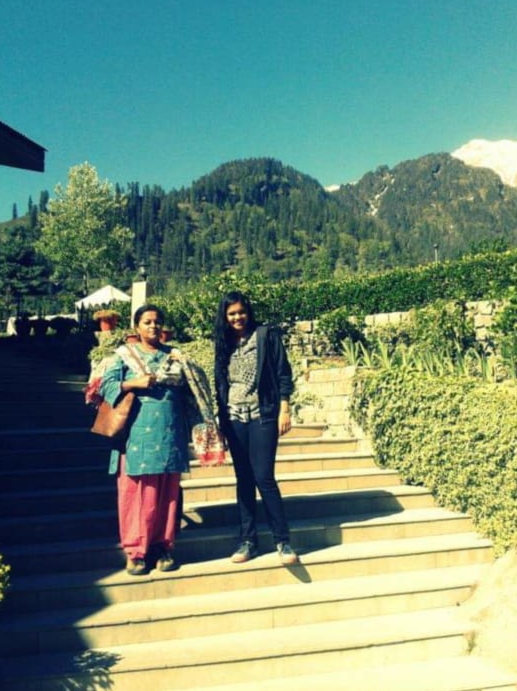 Learning Experiences Travelling With Maa
After years of travelling with mom, one thing I learnt is to talk, share experiences with people and be fearless. Afterall the legacy of being the daughter of a warrior queen should be continued. I learnt to interact with new people, and today I am the proud girlfriend of my man who is from the Indian Army. I met him coincidentally with Maa entour  to Ladakh.
This article was contributed to Curly Tales by Siddhi Chatterjee. If you have an article or similar experience to share, do write to us on hey@curlytales.com