Under 140 Characters
Book your tickets for India's first immersive performing arts and music festival, Wonderflip happening in Udaipur from 9th-12th Nov. 2017. NOW.
What Is It?
Wonderflip is a performing arts and music festival held in the rustic and rural Khempur which is a 45-minute drive from Udaipur. There will be fantastic and experiential art, music by some of the greatest live and electronic artists from around the world, great food and lots of crazy dance parties for 3 days and 4 nights i.e. 9th to 12th November 2017. 
Like they say, it's a magic circus!
Also Read: A Hidden Resort In Rajasthan With A Private Pool In Every Cottage Is Every Traveler's Dream
Where Is it?
Wonderflip is happening in a small Rajasthani village called Khempur in the real Best Exotic Marigold Hotel – Ravla Khempur. The village is rustic and surrounded by untouched lush green fields, low lying trees and infinite blue sky with no buildings around in sight. The circus is aptly located around and it is just the best place for the festival.
Their in-venue accommodation is Wonder Luxury. Mughal inspired and elegantly furnished swiss tents with soaring bedrooms, spacious living area and private ensuite shower & toilet will be your place abode here. There is also a sun deck which is ideal for bird-watching.
Also Read: Go On A Balloon Safari In Pink City & Float Over The Amer Fort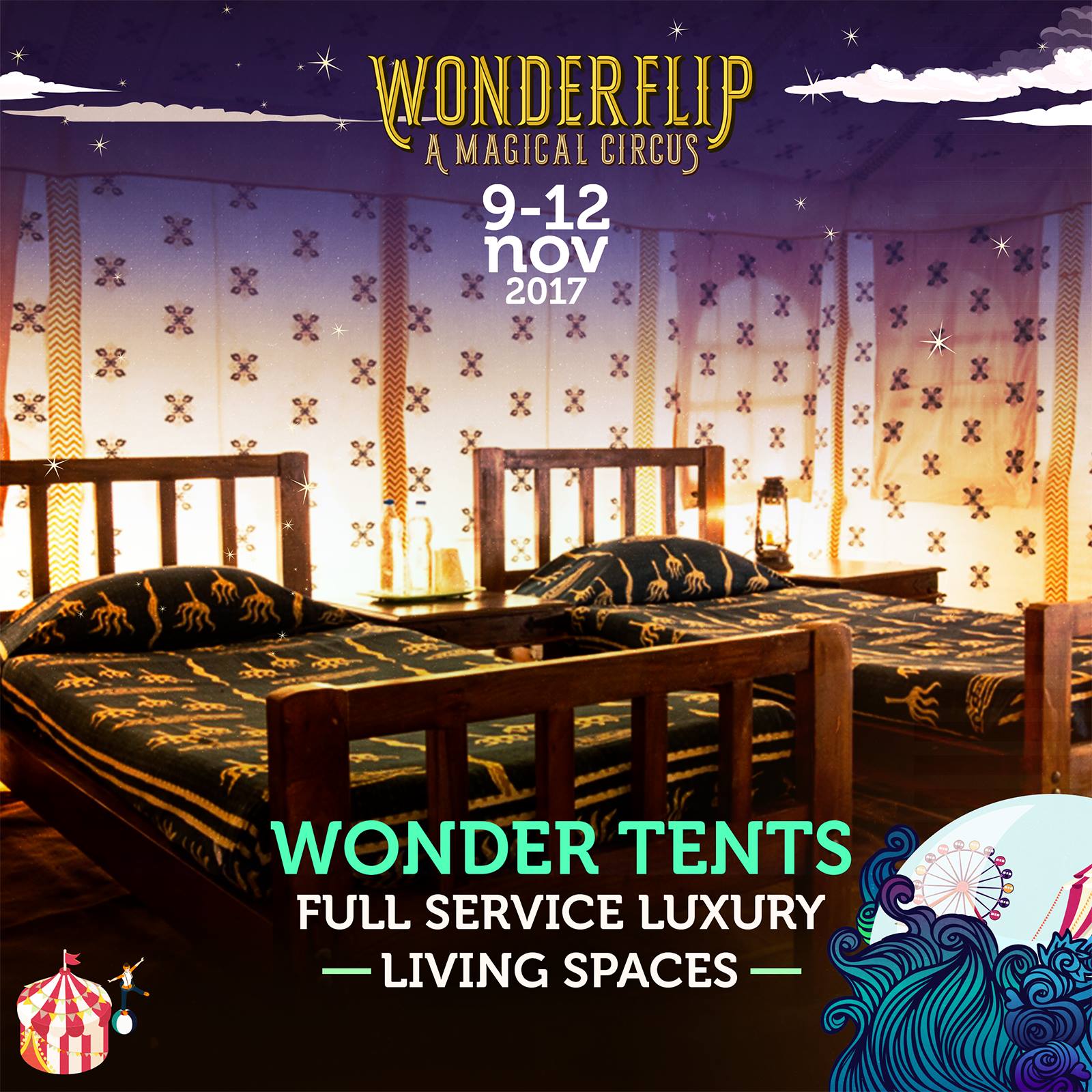 What's In It?
There is never a circus without performers! Wonderflip brings to you the best in mind-blowing, world-altering, jaw-dropping, stuff-dreams-are-made-of shows all through the festival. They have collaborated with Natya Nectar Dance which is a renowned dance company to build an experience of a lifetime for us. The 3 days will have 3 themes "Vintage Circus", "Salvador Dali" and " Fairyland" and there will be incredible performances in costumes.
Also Read: Here's How To Make The Most Of 48 Hours In Udaipur
Klove Light Design's room of reflection and illusion is a sight not to be missed. Also some death defying stunts by professionals from Royal Enfield will make you hold your breath.
Music by DJs such as Patrice Baumel, Eagle And Butterflies and Ankytrixx along with live bands Gipsy Sound Revolution, Clown with a Frown and The Chizai Quartet will keep you on your feet for the 3 days and 4 nights.
What Else?
Gourmet food, intoxicating music and also drinks to accompany will be your partners in the festival. There is an incredible spa where you spend an afternoon or take a horse ride into the nearby forest, relax and enjoy sunset cocktails at the Oasis deck or simply, lounge around in one of our many chill areas and read a book.
Also Read: 5 Luxury Trains Of India That Will Make You Feel 'Nawabi'
Deets
Where: Khempur, Near Udaipur, Rajasthan
When: 9th – 12th November 2017
How Much: Tickets: ₹10,500; Camping (in a luxury tent)for two: ₹26,500 for three nights
Aren't you packing already? Put in a pair of sunglasses and also sunscreen!
LIKE Curly Tales on Facebook | Instagram| Twitter
You can also subscribe to our newsletters