When it comes to the best diamantaires in the world, India tops the list. Do we even need to mention the number diamantaires that are there in Gujarat alone? However, this time Hyderabad has bagged the limelight when it comes to ruling diamonds. A Hyderabad-based jeweller just bagged the Guinness World Record for the most number of diamonds set one ring. Did this take you by awe? Kotti Srikanth, from The Diamond Store by Chandubhai in Hyderabad, created a diamond ring with 7801 natural diamonds.
Also read: Jeweller In Surat Makes Diamond-Studded Masks Worth ₹4 Lakhs
The Ring Is Made Of 7801 Diamonds
The jeweller named the ring 'The Divine — 7801 Brahma Vajra Kamalam.'  The name was inspired by 'Brahma Kamalam', a rare flower found in the Himalayas. First conceptualised 2018, the ring took over 11 months to make. Due to the Indian culture, the flower was chosen as the design inspiration. In India, Gods are offered a garland of flowers that signifies the essence of purity. Try Out Some Diamond Or Gold 'Bling' In Your Coffees At Di Bella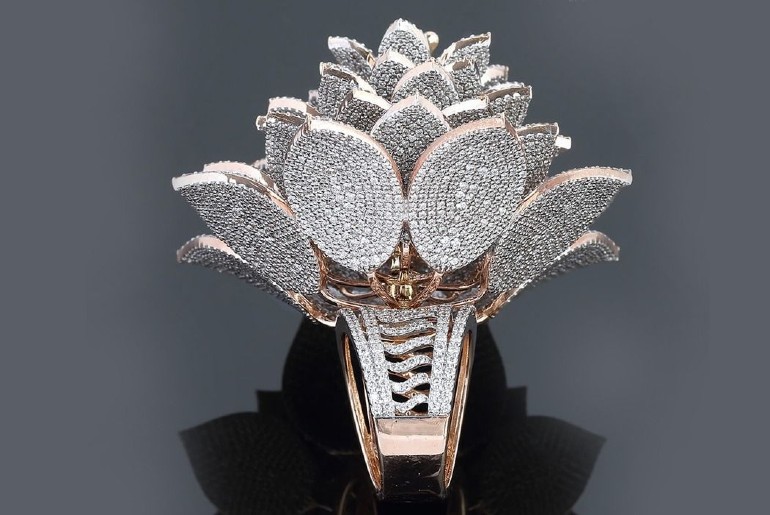 The Ring Is An Amalgamation Of Traditional & Contemporary
The jeweller mentioned that that they worked with several designs and out of these, the Camellia allowed an amalgamation of traditional and contemporary design and was also visually most appealing. The design was submitted to the prestigious record-counting organisation in August 2019 and in September 2020, the Hyderabad-based jeweller bagged the record. Check Out This Diamond-Encrusted Emirates Plane
Isn't this an incredible feat and achievement?