Sachin Tendulkar is very rightly known as the 'God of Cricket'. He has garnered a lot of love and blessings from his fans all through the years. The nation came to a standstill when he announced his retirement. But even after his retirement, he still receives the same amount of love and respect, in fact even more now. Recently, Trident welcomed Sachin for his stay for IPL 2022,  by recreating his journey in a very sweet and warm manner. 
A Walk Down The Memory Lane With A Sweet Gesture
On Thursday, Sachin Tendulkar checked into The Trident Bandra Kurla, ahead of IPL 2022. When he entered his suite, he was welcomed with a bag with his name and the Indian Tricolour on it. Then when he looked at the table, he was stunned to see his journey's edible recreation. There were pictures of all the important and iconic moments of his life each accompanied by a different sweet. From his initial days with Vinod Kambli to his wedding to the birth of his kids to the last world cup win, Trident had captured it all. His bed had a pillow with the iconic moment of the double century being embossed on it.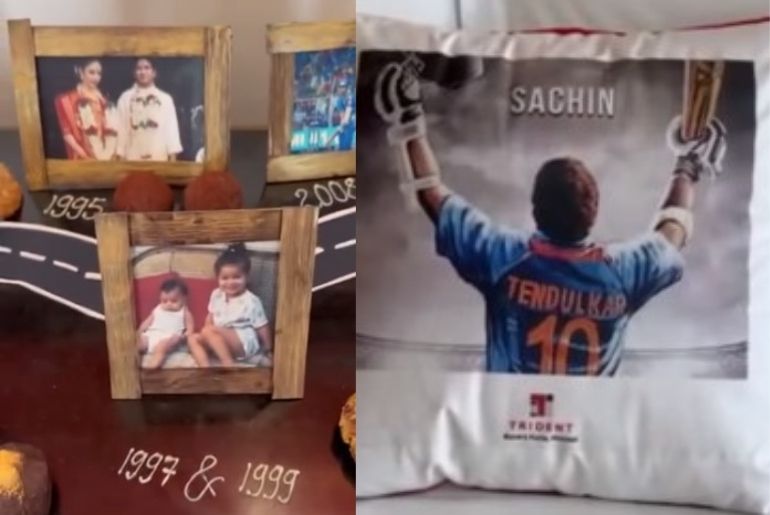 Touched And Humbled By The Efforts
The cricketer was very touched by the efforts put in by The Trident Bandra Kurla team in his welcome. He was so humbled and filled with gratitude that he took it to the Gram and appreciated the team. He posted a video showing how the team had covered everything so well and how much thankful was he for this stunning welcome.  
View this post on Instagram
Mumbai Indians At Trident
The Trident Bandra Kurla will be hosting the entire team of Mumbai Indians throughout IPL 2022. Sachin Tendulkar will be a part of the strict bio-secure environment as the mentor of the team. This year all the matches will be played across four stadiums between Mumbai and Pune. 
View this post on Instagram
Also read: Eat Healthy & Relish Guilt-Free Cocktails At Mumbai's New Restaurant In BKC