What do popular films like Queen, Da Vinci Code, Ratatouille or even the award-winning show Marvellous Mrs Maisel have in common? The most romantic city in the world- Paris has appeared in all of them. From the majestic Eiffel Tower, world-renowned Louvre Museum to the amazing Disneyland, Paris is a dream destination for many. It was undoubtedly a significant part of my bucket list too. So I just had to make my plans and visit this remarkable European city.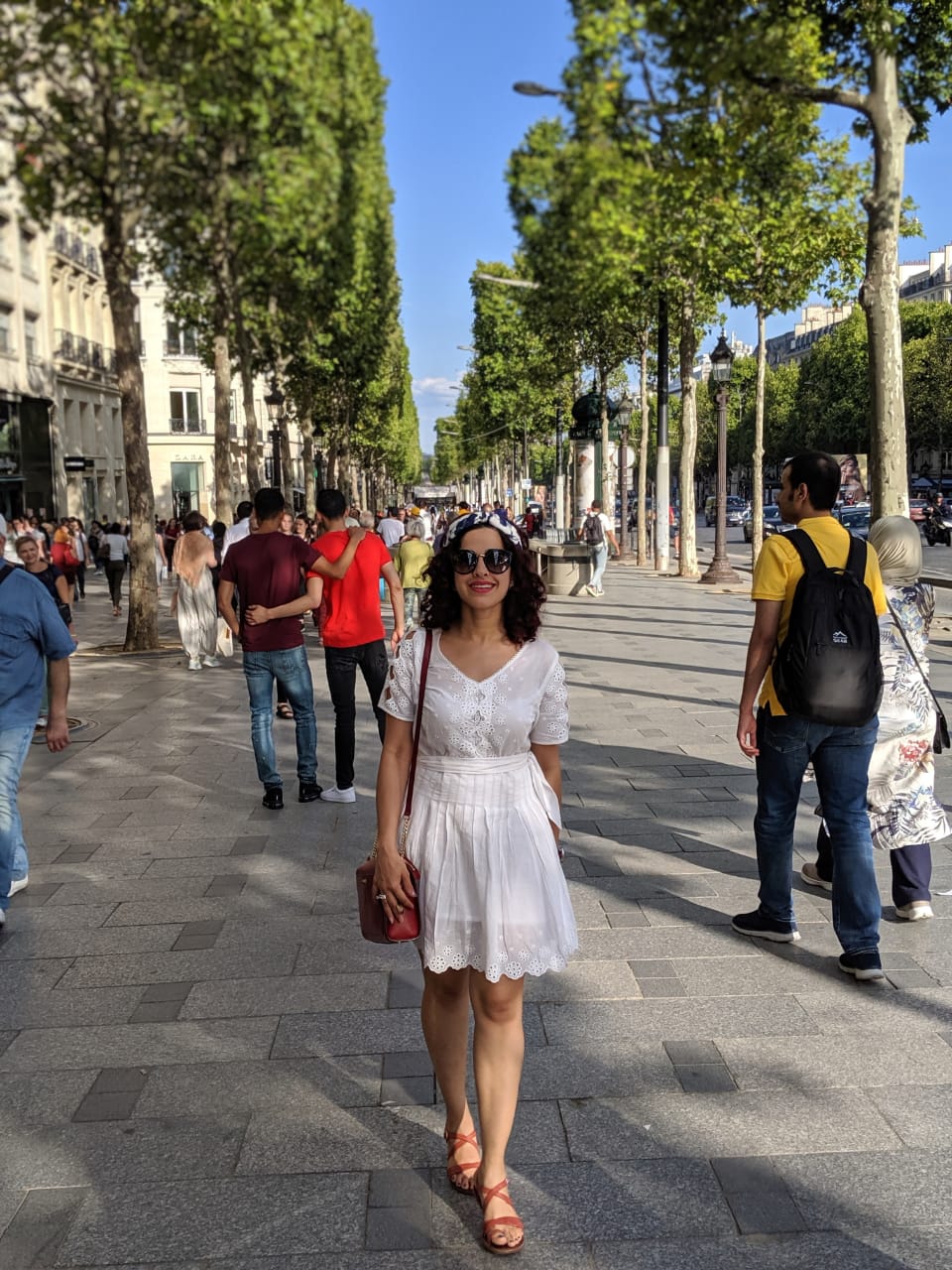 When I decided to visit Paris, I was bamboozled about where to start my planning? With so many amazing sightseeing spots and Parisian experiences to look forward to, there had to be one common website or app where I could do all my bookings in advance.
So that's how I came across Klook. My last-minute bookings, airport transfers, places to visit and experiences to opt for were all taken care of. I could customize my trip to Paris and make an itinerary that suited me in a paperless hassle-free manner. All I need is my phone to access the QR codes to my bookings, and I could travel conveniently. So here's what I did on my 4-day trip to Paris.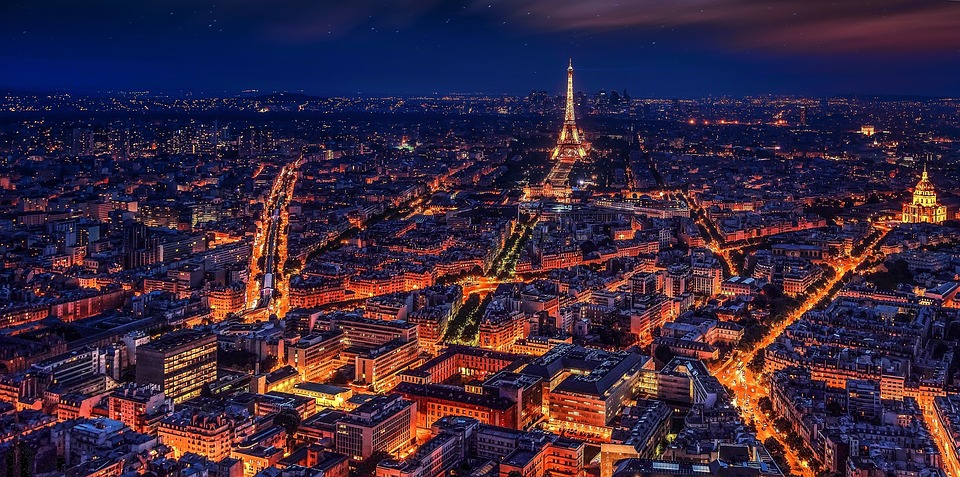 Day 1: Enjoy A Glitzy Evening At The Lido Show
When I reached Paris, the first thing I wanted to do was just immerse myself in the art and culture of this beautiful city. What better way to do this than to visit the world-famous Lido show? Located in the historic Champs-Elysees,  Lido De Paris is a cabaret and burlesque show which was established in 1946.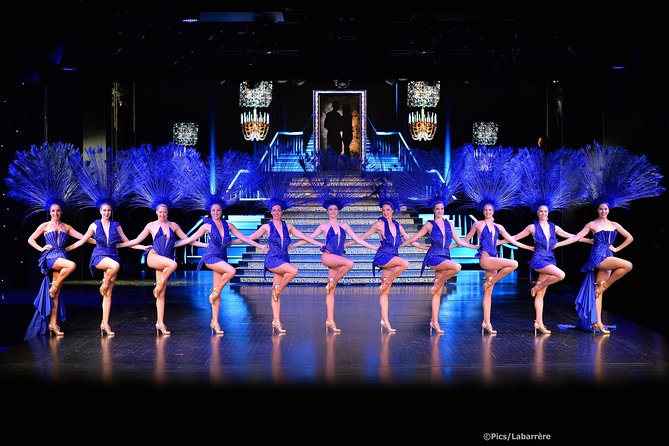 It's known for its magical evenings of music, dance, incredible costumes and magnificent sets. And trust me it's not easy to get a seat here. So I made my bookings in advance with the Lido Show In Paris for ₹6,717 which also includes a lavish dinner.
I had an out of the world experience here watching Lido's 'Paris Merveilles'. It's like entering a different musical dimension. I also enjoyed an exquisite dinner prepared by Chef Phillippe Lacroix and sipped really good red wine. I would suggest you definitely pamper yourself here.
Lido show in Paris- ₹6,717 (approximately)
Day 2: Iconic Attractions On A Hop-On-Hop-Off Bus
You come to know a lot about how a city functions through the efficiency of its public transportation system. I felt the best way to explore Paris is to use public transport. How did I do that? I booked myself the Paris Pass with 1 Day Hop-On-Hop-Off Bus Tour at ₹9,246 with the Klook app. You can choose from a 2,3,4 or 6-day package depending on your stay. With this Paris Pass, I could enjoy unlimited Paris' public transportation network along with one day of unlimited rides on the Hop on Hop off Bus Tour.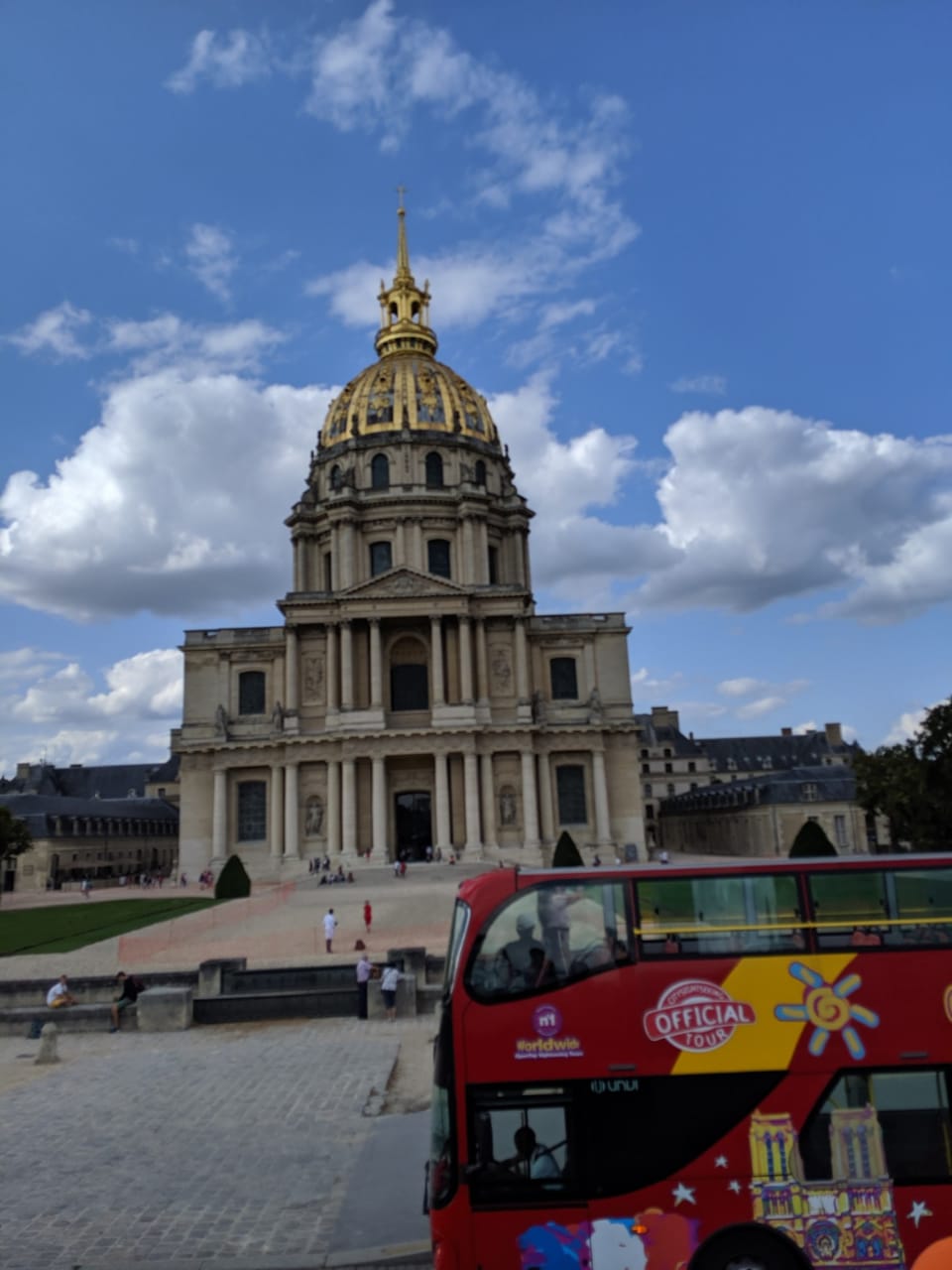 The red rouble decker Hop-On-Hop-Off bus gave total Europe feels. Sitting on the top deck, I could enjoy the pleasant breeze while getting a great view of the splendid streets of Europe housing magnificent buildings. Apart from exploring Paris leisurely, I also saved EUR 74 (₹5870)  on ticket costs. And that's not all, thanks to the Paris Pass, I could also gain free access and fast track entry to top Paris attractions and museums. Talk about having the perfect Parisian experience.
Paris Pass with 1 Day Hop-On-Hop-Off Bus Tour- ₹9,246
Arc De Triomphe
The first stop in my exploration of Paris was the Arc De Triomphe. This over 200-year-old monument honours martyrs of the French Revolution and Napoleonic Wars. The names of all the French generals and victories are inscribed on the inner and outer planes of this monument.
But more than anything, the view from the Arc De Triomphe is what attracts tourists to this triumphal arch. Well, I booked myself the Arch De Triomphe Skip-The-Line in Paris for ₹948 on the Klook app in advance. So I could go right to the top of this monument without the hassle of standing in the long queue. Let me tell you, the 360-degree view of Paris from the top of Arc De Triomphe is simply gorgeous!
Arc De Triomphe Skip-The-Line Ticket in Paris- ₹948 ( approximately)

Eiffel Tower
Need I say anything about my next stop? The ultimate landmark of Paris, the breathtaking Eiffel Tower. Sitting on the grass watching this lovely monument made my day. As they say, romance is in the air. French music being played by musicians, tourists capturing every moment of this haven, people just letting down their hair witnessing the glory of this magnificent monument are just some of the things you can experience here.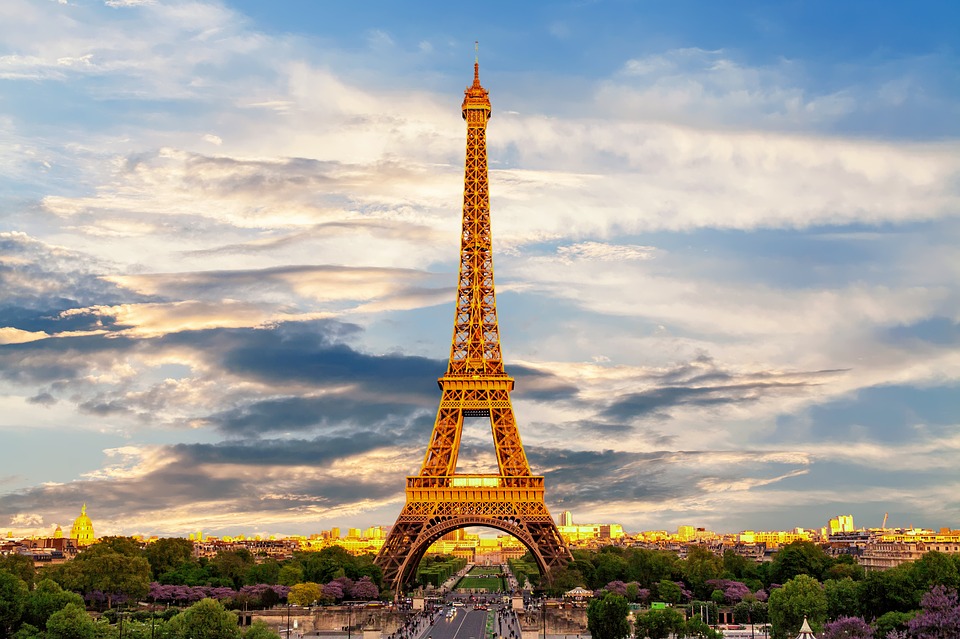 I took the Eiffel Tower Skip-The-Line Entry Ticket at a great rate of ₹3,686 to not let anything stop me from visiting this monument. Not even long queues! With my tour guide inclusive in this ticket, I could discover the rich history and heritage of this monument. Ascend the high-speed lift and enjoy the picturesque view of the entire city with your loved ones.
Eiffel Tower Skip-The-Line Entry Ticket- ₹3,686 (approximately) 
Total Trip Duration- 2 hours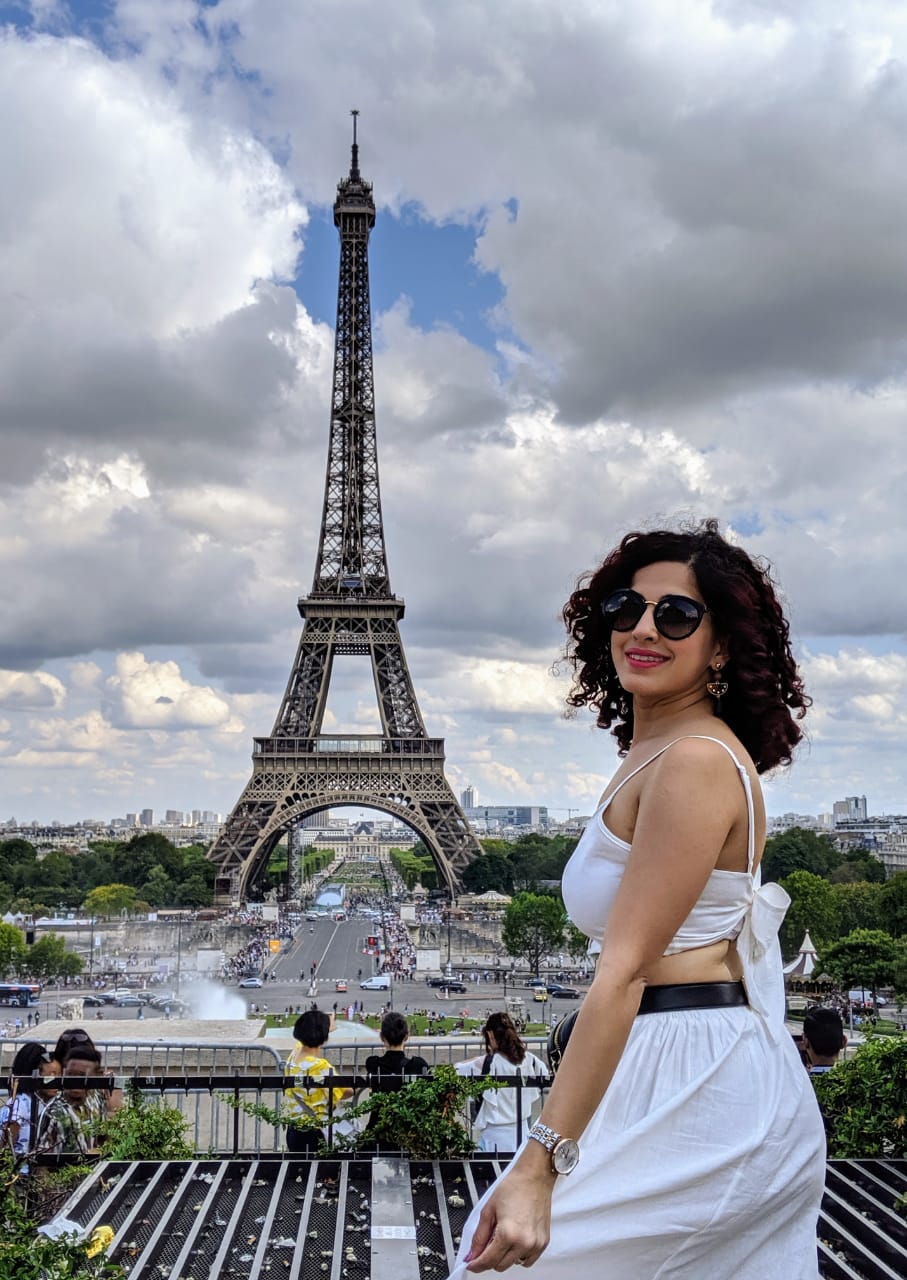 Flyview Experience
The last time I watched Alladin with my family, I wished I had a magic carpet, so I could fly across the city singing 'A Whole New World' (I bet you're imagining this!) Well, I might not have my own magic carpet but I did get a chance to fly over Paris.
How? I booked the Flyview Experience and I had an incredible virtual reality experience flying over Paris on a jetpack. I could see the famous monuments of this European city in a whole different perspective.
Flyview Experience- ₹948
Total Trip Duration: 40 min
Sit By A French Cafe
When you're exploring Paris, I suggest you take a pause from your day and visit one of the quaint outdoor cafes. Enjoy a glass of wine and gorge on delicious French cuisine. I had a great time dining at a French cafe with my glass of fine wine giving me company.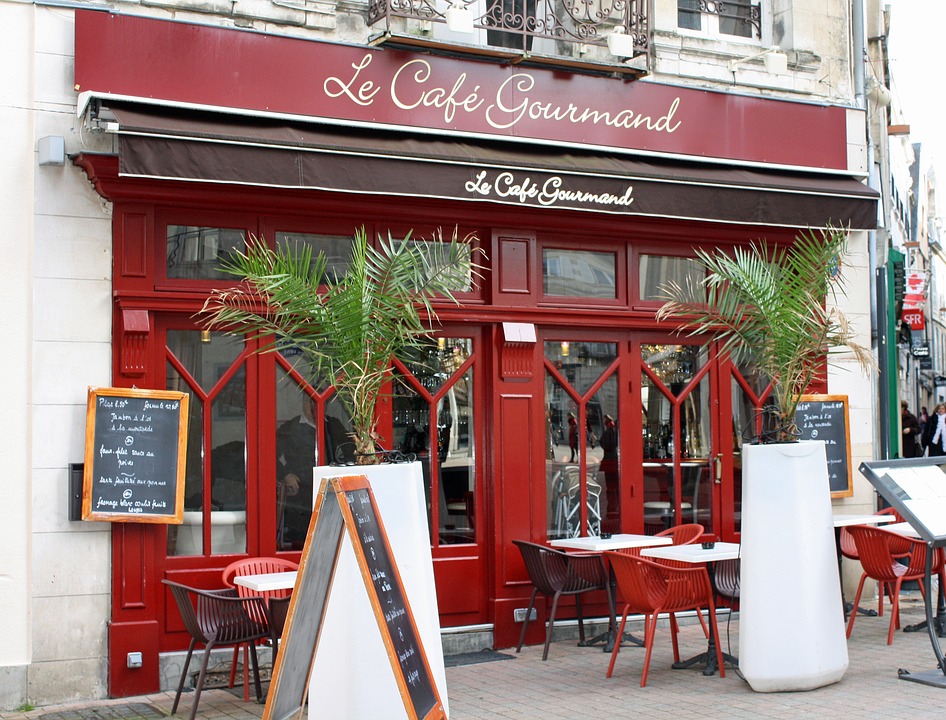 Seine River Cruise
Now that I explored Paris with public transport and the Hop-In-Hop-Out bus, a cruise adventure is just what I needed to end my day in style. So I took the Seine River 1 Hour Sightseeing Cruise Direct Entry Ticket for ₹474 (pre-booked). The beautiful city lights, Parisian architecture and the brightly lit Eiffel Tower looked spectacular as we sailed along the gushing waters.
Seine River 1 Hour Sightseeing Cruise Direct Entry Ticket- ₹474 ( approximately)
Total Trip Duration- 1 Hour
Day 3: Visit To Disneyland Paris
They say dreams come true at the happiest place on earth. So I had to find out for myself. With my Paris Pass, I took a train to Disneyland. Oh My God! Just stepping into that magical world, unleashed my inner child. With the signature Minnie Mouse hairband in place, I went on to explore the umpteen joyrides here. I prebooked the Disneyland Paris One Day Ticket of ₹3,547 on the Klook app as I just had to experience every single thing at the happiest place on earth.
From gorgeous street parades, gigantic Disney castles, amazing shows to classic attractions, I watched fairy tales literally come to life. I experienced total thrill at the Tower of Terror, Star Tours, and other exciting rides. 'It's a Small World' at Disneyland Paris, was such a cute magical world by itself. Disneyland should be on your to-do list on your visit to Paris.
Disneyland Paris One Day Ticket- ₹3,547
Day 4: Explore The Neighbourhood
On my last day in Paris, I wanted to explore the neighbourhood on foot. I spent a relaxed day walking along the streets of the Champs-Elysees, which is the world's most beautiful avenue. When I walked here it just reminded me of the picturesque postcards that I've seen as a child.
If you're a shopaholic, then a visit here must be on your to-do list. As you stroll along this path you will notice a variety of renowned French brands selling some of the most exquisite French products like Eric Bompard cashmere sweaters and Le Pliage foldable bags just to name a few. And if you want to just window shop and soak in the Parisian culture, a stroll here is truly beautiful.
So with this my wonderful 4 days trip to Paris came to an end. But what made this trip so memorable was the fact that I could plan and execute my trip exactly the way I wanted without a tour guide. I had the flexibility to decide where I wanted to go, when I wanted to go and how I wanted to reach my destination. I could do all this and more with a little bit of advanced planning and booking through the Klook app.
Also Read: The Ultimate Itinerary: Exploring Switzerland In 5 Days