On July 22, there will be a celebration honouring the King of Fruit, the mango, known as National Mango Day. For all the UAE mango fans, we have thus offered some deals on this particular occasion. You have one last opportunity to enjoy these mango recipes before mango season ends. So, let's know more about the offers around UAE. 
1. Golden Dragon's Mango Tango 
The humid summer months have arrived, and Dubai's oldest Chinese restaurant, Golden Dragon, has made the eagerly anticipated "Mango Tango" food festival announcement.
Golden Dragon will welcome visitors to its restaurant during the "Mango Tango" on National Mango Day, which runs through July 31.  With a wide selection of delicious dishes inspired by mangoes, including Thai Mango Salad, Mango Chicken Bao, veg and non-veg Mango Sushi, Smoothie, and desserts—all with a mesmerizing twist of fresh premium mangoes. 
Mango Delicacies to Try: Mango Banana Smoothie, Thai Mango Salad, Mango chicken Bao, Mango Sago pudding 
Address: Building – Shop No. 3 – 4, 13th St – off Umm Hurair Road – Oud Metha – Dubai
Contact: 04 357 7022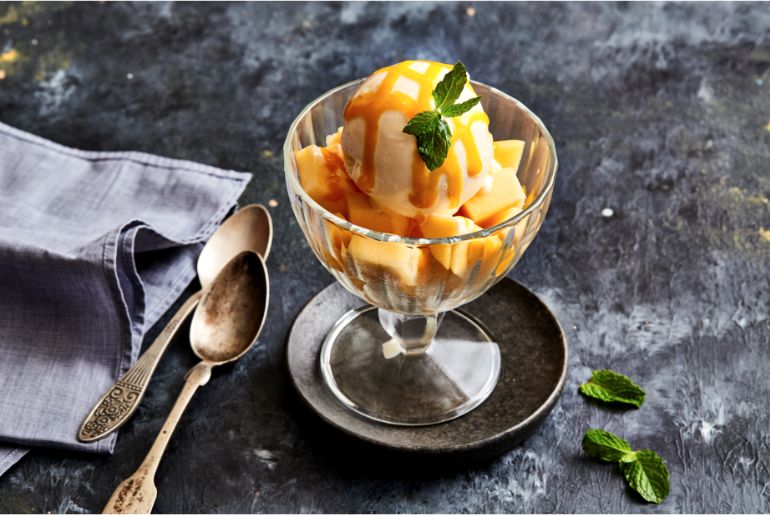 Also Read: Dubai Is Getting A New Board Game Cafe And We Can't Keep Calm
2. India Palace 'MangoLicious' Festival 
The India Palace, renowned for its award-winning service and authentic Indian food, has launched the 'MangoLicious' festival, which is only held during National Mango day. There is a little bit of everything on the menu, including mango rasmalai and saffron mango milkshake and other beverages and sweets.
Visit India Palace today since the end of summer is never complete without a good meal of delicious mangoes, which will compel you to visit a mango orchard.
Mango Delicacies to Try: Saffron Mango Milkshake, Mango Rasmalai, Fresh Mango Lassi, Fresh Mango with Vanilla Ice cream
Address: Across all 12 India Palace outlets in the UAE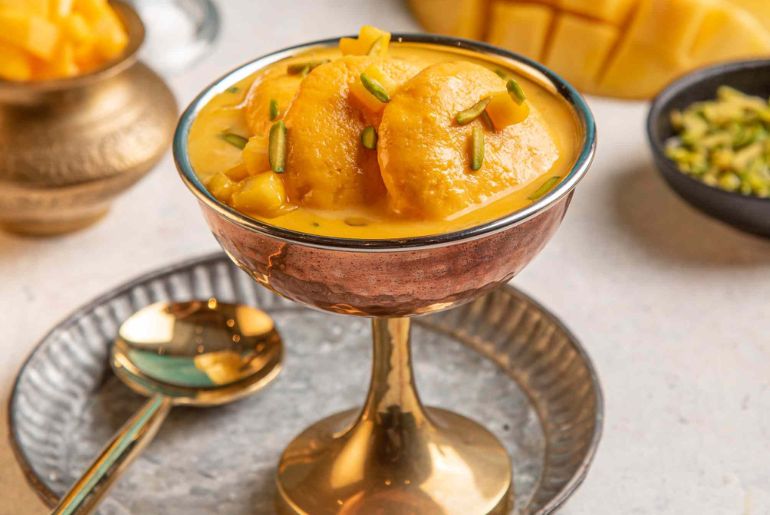 3. Dhaba Lane Mango Dessert Platter
The well-liked local Punjabi eatery Dhaba Lane is back with an excellent deal for you this summer. With Dhaba Lane's Meethe Aam Di Thaal, also known as the Mango Dessert Platter, you may avoid the summer heat till the end of June.
Mango Kulfi Falooda, Mango Rasmalai, and Mango Phirni are among the classic Indian sweets that have been given a sweet makeover to give you a taste of the mango's vibrant tropical flavour. All of this cost only 30 AED. This dish, which includes top mango kinds including Alphonso and Badami, will surprise mango enthusiasts with its flavour and freshness.
Address: Across Dhaba Lane outlet in Dubai and Al Garhoud.
Contact: 043583554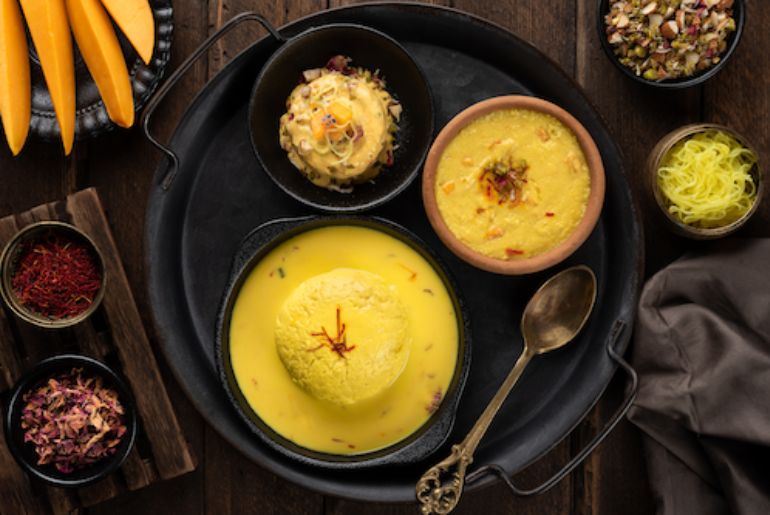 Also Read: This New Restaurant In Dubai Will Transport You To Mexico
4. Mango Menu of Jehangirs With Master Cooking Class 
A trendy Mughlai restaurant called Jehangirs is offering a unique mango menu that is flavorful and features your all-time favourite summer fruit: the mango! Mango's adaptability makes it a go-to ingredient for the many treats on this carefully prepared menu on the occasion of National Mango Day. 
The mango menu offers a variety of satisfyingly nutritious sweet dishes, including mango malai kulfi (AED 21), mango mousse cake (AED 26), and aamras poori (AED 24), aamrakhand (AED 18), and mango milkshake (AED 24). If that weren't enough, Jehangirs would host a Mango Master Cooking Class every Tuesday from 4 to 6 pm for enthusiastic home cooks and aspiring chefs.
Address: M Square Building – Shop No. 5 – Sheikh Khalifa Bin Zayed St – Al Mankhool – Dubai – United Arab Emirates 
Contact: +971 4 591 6167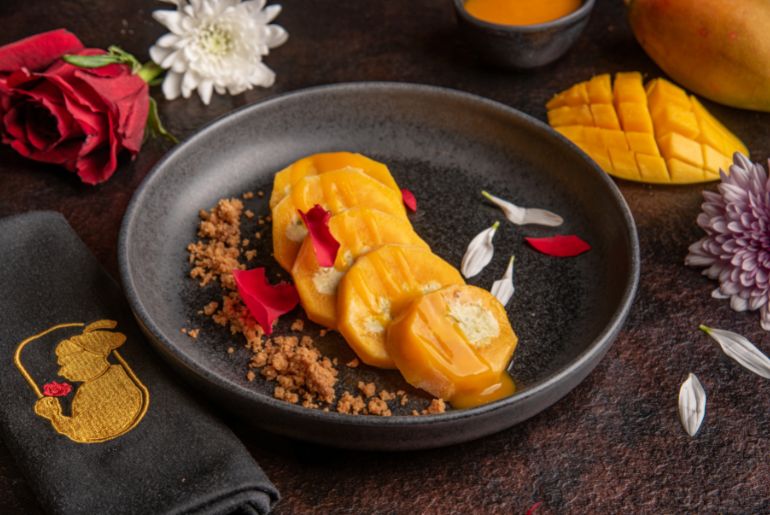 5. Mango Drunch at High Note Sky Pool & Lounge
The brand-new "Wednesday Mango Drunch" has arrived at the new party destination, High Note Sky Pool & Lounge. Give succumb to unique tropical beverages like the Mango Mojito or Aam Panna on the occasion of National Mango Day. Starters like Mango Habanero Chicken Wings and Raw Mango Fish Tikka go well with these sumptuous cocktails.
Don't you like Non-Veg? Try making stir-fried mango and baby corn and Achari Mango Paneer Tikka. Moreover, Mango Butter Chicken, Mango Machar Jhol or Choley Amchoori, and Mango Paneer Makhani are the main course's top offerings. Drench yourself in Wednesday Mango Drunch for AED 99 pax. 
Address: Rooftop Level, Aloft Al Mina Hotel – Dubai – United Arab Emirates
Contact: +971 58 591 8153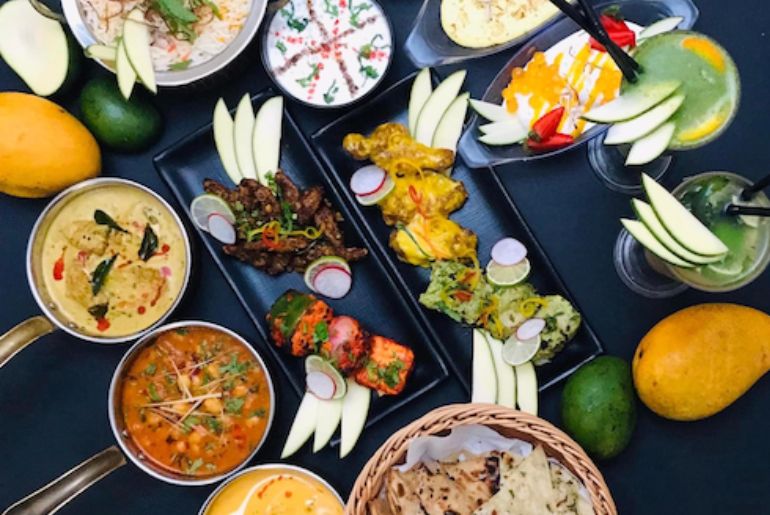 Also Read: 5 Places To Try The Best English Breakfast In Dubai
6. Sagar Ratna 
Sagar Ratna, a Marwari restaurant in JLT and Oud Metha, is giving you the clean, juicy, and delicious Aam Ras and Aam Ras Puri on the occasion of National Mango Day. Enjoy the authentic flavour of Aam Ras at Sagar Ratna this summer, where you can have it for 18 AED or 25 AED if you want it with four crispy and crunchy Pooris. 
Address: 34GX+W35 – Jumeirah Lakes Towers – Dubai – UAE
Contact: +971 4 453 3364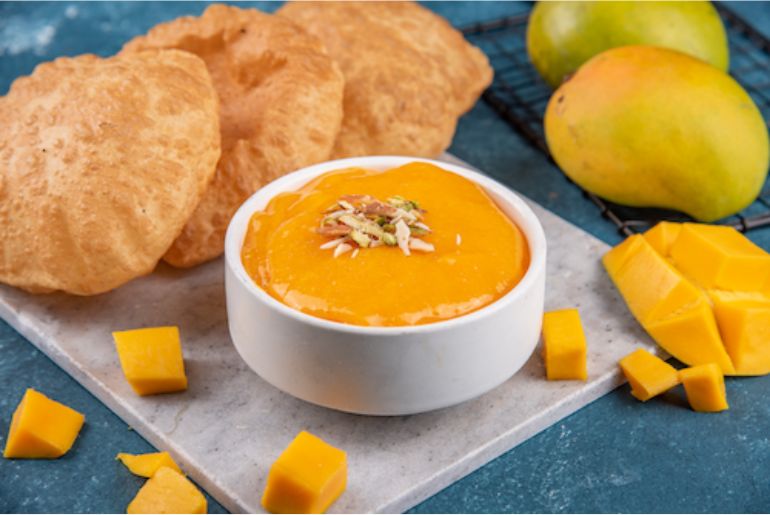 Also Read: 5 Places To Try Cheesiest Burgers In Dubai