Under 140 Characters
Midnight cycling in Mumbai is a new trend, is ultra fun and an active way to socialize on the weekends.
What Is It?
Midnight cycling in Mumbai is a crazy new trend that has spread like wild fire in the last couple years. The activity has been attracting new local thrill seekers wanting to blow off steam and tourists wanting to explore the bustling metropolis. Since Mumbai is know for its narrow streets and dense traffic, midnight has become the ideal hour to peddle through as temperature and vehicle traffic fall making "hostile" Mumbai roads traversal. Cyclists usually ride in groups, kinda like a motorcade or a peloton, but is not a race to the finish, rather a graceful expression of camaraderie. Many riders like to be protected using appropriate gear like helmets, reflective jackets, tail lights. Riding for a cause is also common, so many groups are specifically dedicated to raise awareness and/or funds for their particular causes. Midnight cycling groups are a great way to keep fit, socialize, meet like minded adventurers and experience the city. Highly recommended!!
Also read: 5 Things To Do In Powai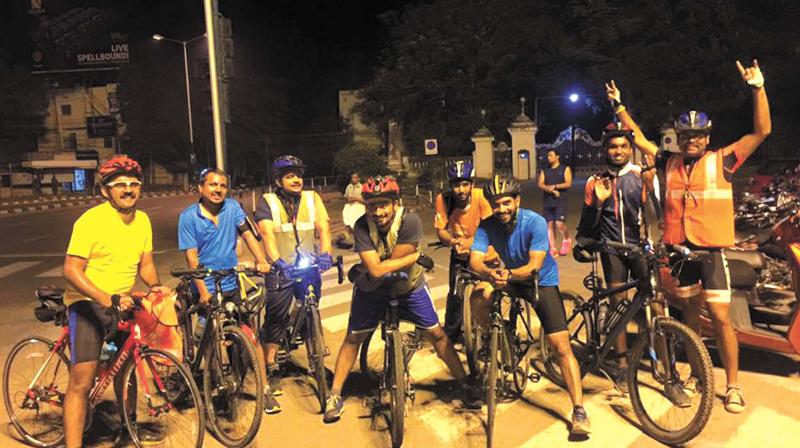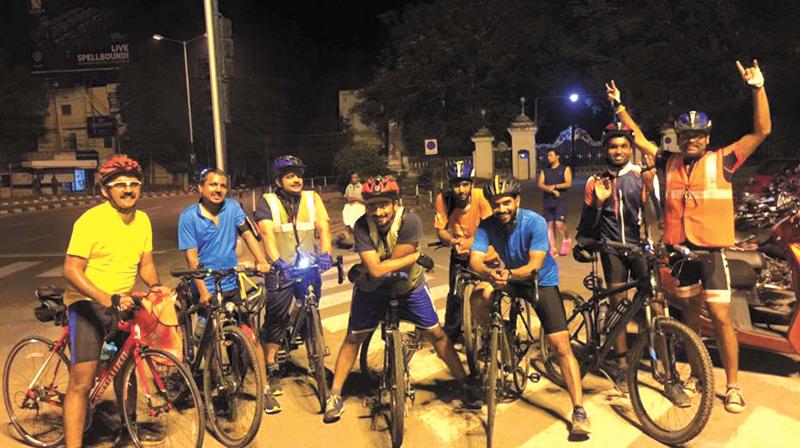 image credits: Deccan chronical
Whats In It?
An experience unforgettable lies in it, cruising alongside the coastline of Mumbai in the company of fellow cyclists. Groups usually cycle on the weekends, Friday, Saturday and Sunday nights. Midnight cycling groups cover all kinds of distances, you're likely to find short distance social groups the do anywhere from 6-60 km routes, most popular routes are NCPA(marine drive) to Bandra and back. shorter routes do exist too. There are many organizers that offer cycle and safety gear rental to those that wish to have this experience. Some organizers even provide for a safety car. So go out, challenge your self.
Also read: Mumbai: Get Ready To Cycle Around SoBo This Saturday!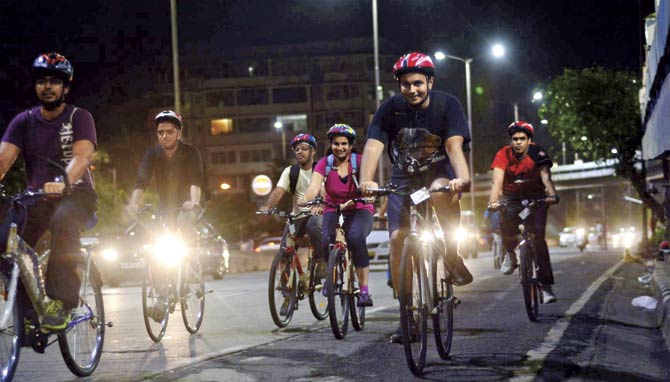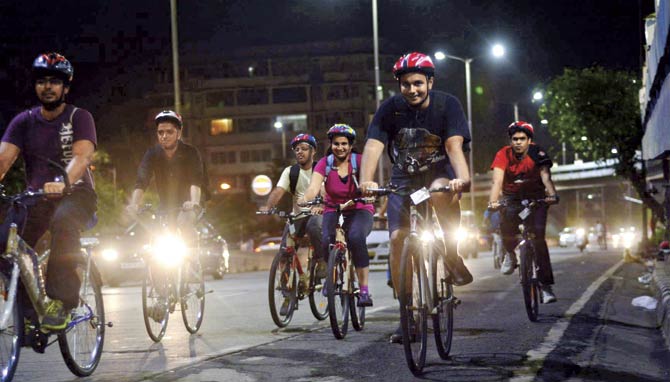 image credits: mid-day
Deets
Here are something's one must keep in mind if they're new to Mumbai or cycling:
With hot and humid conditions one tends to get dehydrated quick in Mumbai, to carry on yourself at least one liter of water is recommended. Mumbai roads and traffic discipline is considered to be pretty bad, it's always recommended to ride in groups if one is not confident about their riding abilities. Various groups have various rules to follow, respect them for everyone's safety.
These are details for some of the cycling groups:
For bookings on events high click here

                                                                   LIKE Curly Tales on Facebook | Instagram | Twitter
You can subscribe to our newsletters