Himachal Pradesh has many soul-soothing destinations for us to explore. With the magnificence and magical nature of the state, it is safe to say that Himachal is a paradise on earth. From mountain peaks to snow, from rivers to valleys, you will find every piece of nature here. Even after being some of the most mesmerising destinations in India, there are some destinations in Himachal that are the most dangerous places for travellers. Here are the Himachal destinations are very risky.
5 Most Dangerous Places In Himachal Pradesh
1. Kinnaur
Kinnaur is a tiny quaint district of Himachal Pradesh and is a very popular destination. This place is considered one of the most dangerous places in Himachal as the roads here are absolutely terrible and the risk increases to a higher extent in the monsoon season. Accidents are very common during downpours and landslides. If you really want to visit Kinnaur, avoid travelling in the monsoons.
View this post on Instagram
Also read: Skip Manali And Visit This Hidden Gem In Himachal With Views Of The Dhauladhar Ranges 
2. Reckong Peo
Reckong Peo is considered one of the most dangerous roads in the state due to the way the road has been carved out. The roads are very narrow and literally, giving you not a single chance to do any mistake while driving. The steep is extremely deep.
3. Sirmour
Another district of Himachal Pradesh that is quite scary to travel to in the rainy season is Sirmour. The rainy season in Sirmour is dreadful and we can often hear about accidents during this time. Travelling on roads can get out of control due to rainstorms and landslides.
Also read: Think Twice Before Taking These Most Dangerous Roads In Himachal Pradesh
4. Rohtang Pass
Nestled at 4000 m, Rohtang Pass has some deadly stretches leading from Manali. Travelling through this pass is extremely dreadful during snowfall, downpours, and landslides. The water level here rises in the rainy season from the overpouring Beas river. Accidents occur often here and it is always the best idea to avoid this place during these seasons.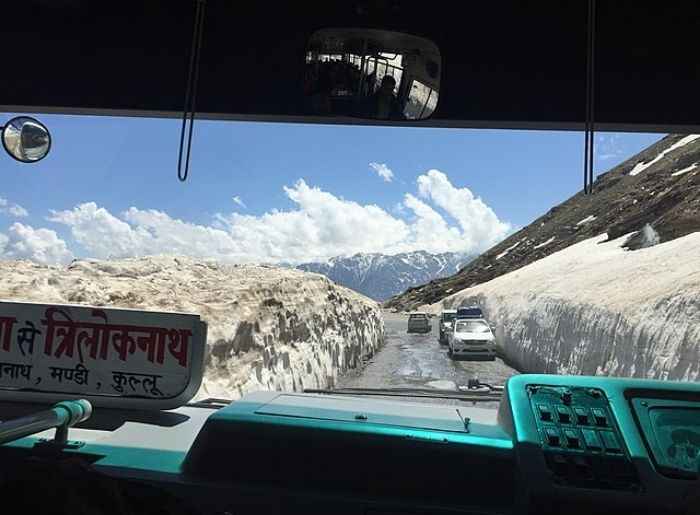 5. Mandi
Mandi in Himachal is known for its pristine lakes and many temples. The journey to reach Mandi is beautiful but it becomes very risky during the rainy season. The roads are some of the most dangerous places to cross and the chances of accidents are very high.