What does Dilli style Chole Bhature taste like? For a foodie like me who hasn't been to India's street food capital, Delhi yet, I've often pondered over the flavours of authentic Chole Bhature, especially while watching food videos. Well, if you're guilty of doing the same, then let me introduce you to Natraj Chole Bhature. The only 'NCB' you'd want to visit has two outlets in Bangalore- Jayanagar 4th block and Indiranagar. Serving piping hot Chole Bhature that will transport you to the gullies of Paharganj, here's why Natraj Chole Bhature must be on your go-to list.
Natraj Chole Bhature In Bangalore Celebrates Old Delhi Street Food
Natraj Chole Bhature's outlet in Jayanagar 4th block is unmissable thanks to the huge crowds of Bangaloreans bustling around the standing tables. Celebrating Old Delhi's vibrant street food, the hearty restaurant has a welcoming vibe to it. Just like a street food stall, the sights and smells of freshly prepared snacks and chaats will tantalise your senses. Devoid of fancy seating, this eatery beckons you to order your dishes, prop around a standing table, and experience each mouthful as you listen to the city sounds.
Also Read: This Tea Shop In Bangalore Serves Insta-Worthy Red, Yellow, Blue & Purple Tea Made From Fresh Flowers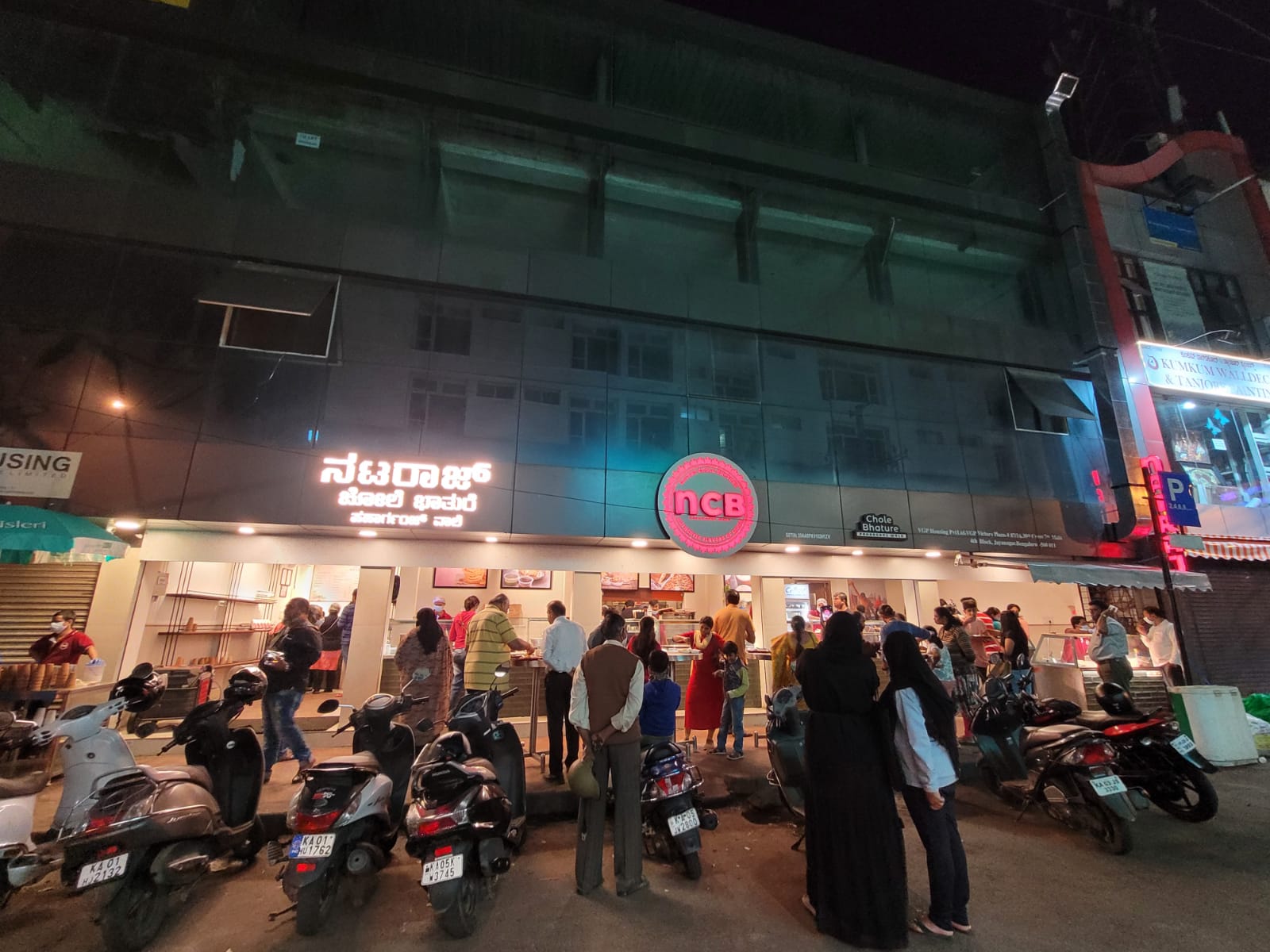 Also Read: Relish Authentic Gujarati Thali For Just ₹190 At This Bangalore Restaurant
Gorge On Authentic Dilli-Style Chole Bhature
The Dilli style Chole Bhature plate consists of two piping hot fluffy bhatures, served with spicy flavoursome chole. The bhatures are made of whole wheat flour, unlike the maida counterparts you'd have often eaten. Crushed paneer stuffed in the bread act as a pleasant surprise. While the black masala chole with its powerful flavours perfectly complements the wholesome bhatures. The accompaniments of sliced onions, green chillies, picked amla smeared with masala, and a fiery green chutney, add a whole new dimension to it. For those with a smaller appetite, you can opt for a half plate that comes with one bhatura instead of two, and it's priced at ₹70. 
View this post on Instagram
Also Read: From Kulfi Paan To Perfume Paan; Try Over 100 Varieties Of Paan At The Paan Studio In Bangalore
NCB Serves Mouth-Watering Pav Bhaji
Apart from the bestseller Chole Bhature, you can order an array of chaats and snacks like samosas, pani puri, dahi puri and more. While I visited a Chole Bhature eatery, my favourite ironically, was the Pav Bhaji. It was so good, that I just wasn't patient enough to click a photograph of it. The bhaji melted in my mouth and had the perfect balance in flavours, compelling me to crown it as the best Pav Bhaji I've ever tasted. Let me warn you that the dishes here are super delicious with a fiery kick. So, as I gasped for breath, yet dunked in for more, my eyes instantly searched for a sweet or drink that could extinguish the heat.
View this post on Instagram
Also Read: Enjoy Horlicks Ice Cream At This 60-Year-Old Legendary Eatery Near Bangalore
End Your Meal On Sweet Note With Lassi & Jalebis
That's when I spotted kulhads of cold lassi and sizzling jalebis fresh out of the pan. Well, it's never either or for me, it's always both! I'd suggest you wash down the snacks with a glass of refreshing lassi that's creamy with a hint of cardamom. Seal the deal with a plate of crunchy hot jalebis, prepared with pure desi ghee. It tasted divine and simply irresistible, and I'm sure you'd agree with me if you tasted it too. So foodies, stop wondering how Dilli style street food tastes like and just head to Natraj Chole Bhature as I did!
View this post on Instagram