Drive away the blues, welcome the yellow sunshine, paint the town red,  and watch the world go green with envy as you sip  Insta-worthy colourful tea. Chai Kraft in Bangalore's Jayanagar 1st block serves experimental cups of tea that not just look beautiful but are prepared from freshly crushed flowers. Loaded with antioxidants and other health benefits, you'd want to sip a cup of blue or purple tea as you watch the world going by.
Chai Kraft In Bangalore Serves Blue & Purple Butterfly Pea Flower Tea
Chai Kraft attracted chai lovers from across the city when it first announced blue coloured tea made from butterfly pea flowers. The Blue Brew is sweet, healthy and has healing properties. It's an infusion of flowers, sugar and a dash of ginger. While the butterfly pea flower doesn't have a unique taste it lends its intoxicating blue colour to the beverage. Squeeze in some lemon and watch your Blue Brew magically turn into a lovely shade of purple. Chai Kraft's Purple Classic has a lemony twang apart from its distinctive purple hue. If you like lemon tea, you'd probably want to order this.
Also Read: Sip Green Chilli Chai At This Bengaluru Cafe That Soothes Your Throat With Its Spice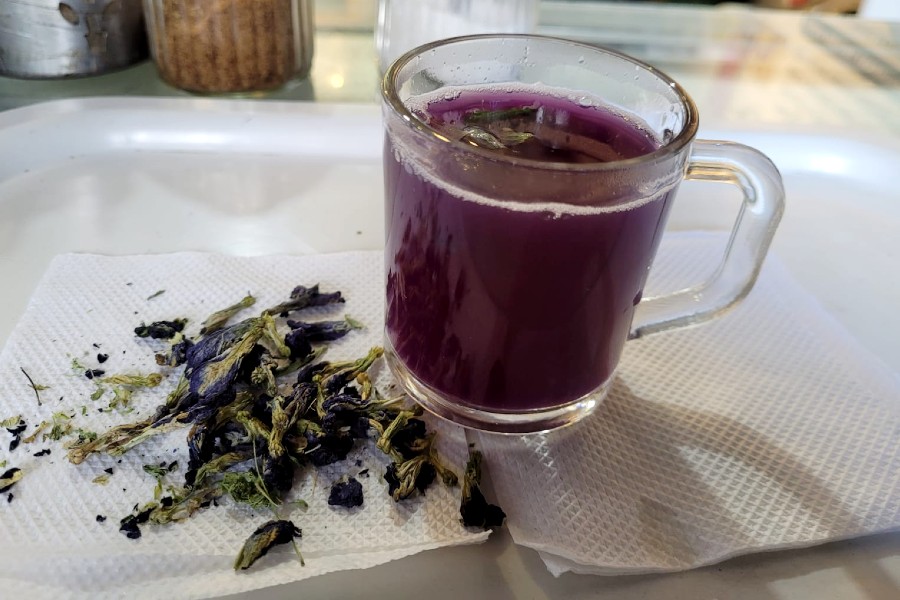 Also Read: Enjoy Insta-Worthy Rainbow Ice Cream Sandwiches At This Bangalore Restaurant
Try Aromatic Hibiscus & Chamomile Teas Made With Fresh Flowers
This chai kiosk recently introduced new tea flavours like Hibiscus, Rose, Jasmine and Chamomile, made from fresh flowers. The Hibiscus tea is a bright red coloured beverage where you can taste the sweetness of the flower. When it comes to Chamomile tea, it would probably be one of the best chamomile tea you've had since it's prepared with freshly crushed yellow chamomile flowers, instead of the common tea bags you'd commonly find. Here's where you'd jump with joy. All these gourmet teas, prepared with real flowers start from just ₹25 for a regular cup and ₹40 for a medium cup.
Also Read: Enjoy Horlicks Ice Cream At This 60-Year-Old Legendary Eatery Near Bangalore 
View this post on Instagram
Also Read: Relish Authentic Gujarati Thali For Just ₹190 At This Bangalore Restaurant
Pair Your Tea With Veg Sandwiches & Freshly Baked Pizzas
Pair your favourite beverage with their fresh pan pizzas. You can try their Mexican Green Wave, Chilli Paneer and Veg Paradise Pizzas. If you're craving something lighter on the stomach, order a sandwich and savour it with your hot chai. Chai Kraft's Veg Cheese Corn and Spicy Paneer Toast sandwiches are something you can sink your teeth into.  Since it's a small kiosk there's no place to sit, but you can stand with your cup of vibrant chai and snacks, as you savour every bit of the beautiful Bangalore weather.
View this post on Instagram